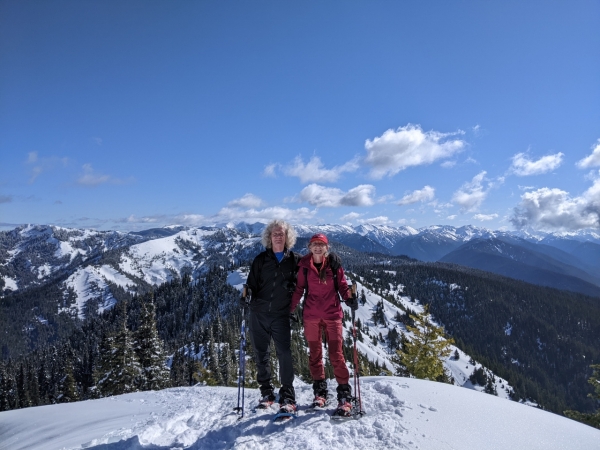 While the previous two years certainly had more big and unexpected plan changes for us, our first full year of living back on land was surprising in the new hobbies and activities we participated in, most that we'd not even considered six months earlier. Another very nice surprise for us was that Spitfire the "wonder cat" reached his 19th birthday this year, and is well on his way to turning 20.
One activity we weren't surprised to find ourselves doing was hiking. Of the many reasons we loved spending time in Norway, one was the countless boat-accessible view hikes. Washington state's mountain hikes aren't nearly as close to the water, but they do compete well with Norway for fabulous scenery. When we'd previously lived full-time in Seattle, we spent most of our free time boating and generally only hiked shoreside trails. Now that we were back in Seattle and boat-less, we were looking forward to exploring Washington's mountain ranges. But first, we needed transportation.
When we first moved aboard in 2009, we sold everything that didn't have a place on the boat, including our car. In returning to Seattle, we had to start from scratch. In the latter half of 2021 we moved from a hotel room to an empty apartment and started the process of recreating our household. We continued the task in January of this year with the purchase of a car. It's the first car we've had in the family for 13 years, having lived on the boat or in dense urban areas during that time.






Left: Spitfire the "wonder cat" turned 19. Right: A 2022 Honda Passport, our first vehicle in 13 years, is working out really well.
We really don't need a car for day-to-day shopping and going back and forth to work, it's all only blocks away. What we wanted the car for is recreational weekend trips. With that goal, we made an unusual choice for us and bought an SUV rather than a sports cars. We now have a 2022 Honda Passport that we bought mainly for its carrying capacity, but find it performs surprisingly well.
Olympic National Park, at the northwest corner of Washington State, was high on our list of places to visit. Growing up in Victoria, Canada, James has hiked and camped there many times, but Jennifer had yet to go, so that was the destination for our first real hike since returning to live in Seattle. We loved being back out hiking again and really enjoyed the trek through old-growth rainforest and the views to Crescent Lake and the Strait of Juan de Fuca.
We also made several day driving trips throughout western Washington, and a number of hikes in the Cascade Mountains east of Seattle, including iconic Snoqualmie Falls, featured in the Twin Peaks television series; Heybrook Lookout, a forest-fire lookout tower with excellent mountain views; Twin Falls, a double waterfall along the Upper Snoqualmie River; and frozen Franklin Falls, where icicles encrust the cliff face.






Left: Winter hike to Mt. Storm King in Olympic National Park. Right: Hiking to frozen Franklin Falls.
Snowshoeing didn't initially appeal to us as a winter sport. The gear seemed cumbersome, and our perception was that we'd be mostly walking along level ground through snowy woods or meadows. While we enjoy winter scenery, that just didn't strike us as very exciting, and it's the views that draw us out to the trail.
Winter hiking is really what we wanted, but most of the good view hikes were under deep snow. When we learned that lightweight, compact snowshoes were available with enough grip to hike steep terrain, we jumped on the chance to make those summer view hikes accessible in the winter.
Our first snowshoe hike was a weekend trip to Hurricane Ridge in Olympic National Park, and we loved it. We also did many day hikes around the major mountain passes in our area, including Snoqualmie Pass and Stevens Pass.
After initially wishing the snow would melt so we could get out and hike more, once we started snowshoeing we ended up disappointed that winter would soon be over. We extended our snowshoe season with weekend trips to the higher mountains such as 10,786 ft (3,288 m) Mt Baker, 14,411 ft (4,392 m) Mt Rainier and 11,249 ft (3,429 m) Mt. Hood.






Snowshoeing at Mt. Baker, left, and Mt. Hood.
The warmer weather did give us an opportunity to finally experience some of the area's impressive summer hikes. We enjoyed three fabulous days of summer hiking at Mt. Rainier, with the trails bursting in color during the short wildflower season and "The Mountain" dominating the clear sky every day. We also hiked popular trials closer to Seattle, including Mt. Si near North Bend and Granite Mountain Lookout a little farther east, both with excellent Cascade Mountains views.






Left: Summer wildflowers at Mt. Rainier. Right: Hiking to Granite Mountain Lookout.
Like snowshoeing, we initially weren't interested in camping when we moved back to Seattle. We found the crowded campsites unappealing. What brings us out camping is a love of nature, rather than a love for our neighboring camper's music. The other problem was we didn't like being cold and wet. A combination of learning about wilderness camping and setting up our car for sleeping in got us out camping. Wilderness camping involves a little more work in finding a campsite, but the reward is isolation with fabulous views. And setting up the car to sleep in keeps us warm, dry and comfortable even when the weather isn't.
We've been finding some amazing secluded campsites in the nearby Cascade Mountains, our camping gear has worked well, and we have been having a great time. Rain fell every time we were out for the first half-dozen trips and this was not an issue at all. We stayed warm and dry under an SUV awning and at night in our car.






Left: The warm, dry and cozy bed in our car. Right: Wilderness camping in Mt. Baker-Snoqualmie National Forest.
We're not serious offroaders, but searching for the best wilderness campsites has us taking on some challenging roads. Over the course of the summer, we become progressively more daring on the terrain we would tackle in our little SUV. Jennifer was often out of the vehicle directing us around deep ruts and large rocks.






Left: Camped with a view to Mt. Rainier in Gifford Pinchot National Forest. Right: Offroading with only three wheels on the ground.
In addition to hiking, snowshoeing, and camping, we've made a few multi-day local trips in the US west, including a wonderful gathering of the Hamilton clan in Santa Barbara, an amazing trip to Joshua Tree National Park and Palm Springs, and we attended the NASCAR South Point 400 in Las Vegas. Other weekend excursions included Ruston Point in Tacoma, the inspiration for Frank Herbert's epic science-fiction novel Dune; Friday Harbor in the San Juan Islands, a place we've visited many times by boat but never by car; a train trip to Portland, Oregon to some craft beer tasting; and we tried fresh hop beer for the first time in Ballard and later in Yakima, WA at the Fresh Hop Ale Festival.






Left: Hamilton clan gathering in Santa Barbara. Right: Joshua Tree National Park.






Left: With NASCAR driver Ross Chastain at the South Point 400 in Las Vegas. Right: Fresh Hope Ale Festival in Yakima.
We're often asked if we miss Dirona, but boating for us was mainly a platform for adventure and we've not been lacking in that since returning to Seattle. We still enjoy the downtown lifestyle and its easy access to restaurants, sporting events and other entertainment. James continues to enjoy the job, and since we're finding a way to keep adventuring, we'll probably stay in Seattle for another year or so.
We expect to return to boating, but in the interim we plan to cover some of the areas we missed in our around the world trip in Dirona. Earlier this year we travelled to Switzerland. The scenery, particularly in the Alps, was spectacular, the food was delicious and we really enjoyed the various modes of travel ranging from high-speed trains to gondolas to cog wheel railways to ships.






Jungfraujoch at elevation 11,716 ft (3,571 m), left, and the Matterhorn in Switzerland.
We had been to the Caribbean on Dirona, but the trip was abbreviated by Jennifer's broken collar bone needing surgery. So we decided to return, but this time aboard the 169,116 gross ton Norwegian Encore. We're not particularly interested in large cruise ship travel, but we're very interested in large cruise ship technology. We felt it would be entertaining at least once, so we headed to Miami for a one-week Caribbean cruise. Large ship cruising has upsides and downsides, but we enjoyed it far more than we expected.
We've always been drawn to high-latitude cruising and really would have liked to have brought Dirona to Antarctica. We probably should have, so we made up for that gap this Christmas on the National Geographic Endurance. The vessel is far larger than Dirona at 407 feet (124 m) long, but is still a fairly small ship with only 69 cabins. And while we've broken some thin, fresh ice in Dirona, the Endurance can operate year round in first year ice with some old ice inclusions. The Endurance also an Ulstein X-Bow inverted bow design. We saw dozens of X-Bow commercial ships in Norway, and even passed by the Ulstein yard while in-country, but had never been on one. We had an exceptional time, and will post highlights on the web site.






Left: Visiting the USVI aboard the Norwegian Encore. Right: We spent Christmas in Antarctica aboard the Nat Geo Endurance.
Click below to view previous annual summaries: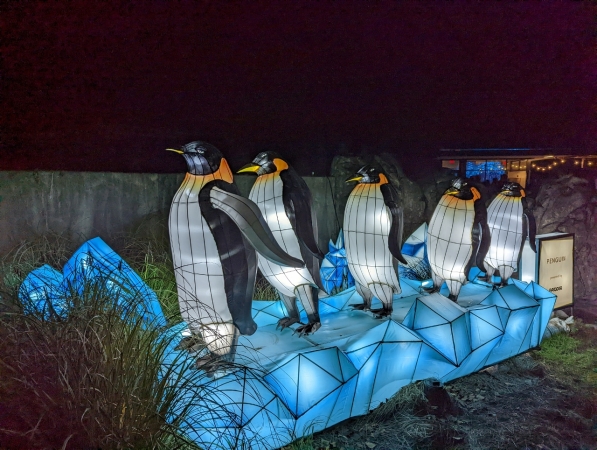 Wild Lanterns holiday light display at Woodlands Park Zoo in Seattle.