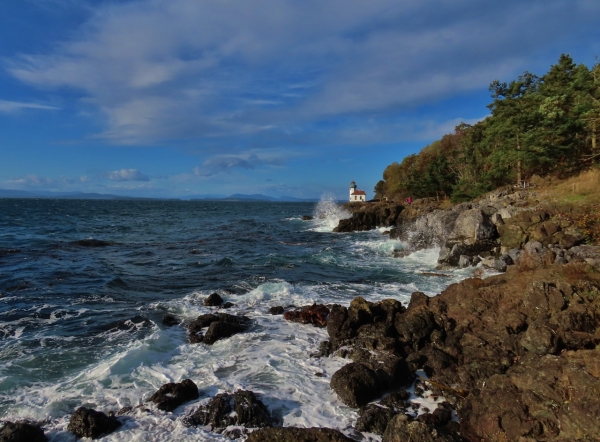 Friday Harbor is the only incorporated town in the San Juan Islands and the main transportation hub, with frequent ferry, float plane and small craft traffic. The many restaurants, bars, and other attractions, plus a wonderful waterfront setting, make the town an exceedingly popular summer tourist destination, and accommodations, flights and ferry reservations book up weeks in advance. Several times this year we'd tried to setup a trip, but failed due to unavailability of accommodations or transport, and finally made it there in early November.
Our initial plan was to take a float plane from Lake Union, within walking distance of our apartment, but the flight was canceled due to bad weather. We instead drove north to Anacortes and traveled by ferry. This took several hours longer, but ended up working well in the end in that we had a car and could explore San Juan Island. We'd visited Friday Harbor many times in Dirona, but had never had a car on the island, so were able to explore areas we'd not previously visited. We particularly enjoyed a tour of the the island's west coast, with stops such as Lime Kiln Point State Park, pictured above.
Below are highlights November 4th through 6th, 2022. Click any image for a larger view, or click the position to view the location on a map. And a map with our most recent log entries always is available at mvdirona.com/maps.
11/4/2022
Flight Canceled

We were scheduled to take a Kenmore Air float plane from Lake Union to Friday Harbor in the San Juan Islands this morning, but flight was canceled due to bad weather. So we'll drive up instead and take the ferry across.
Puddle

The storm that caused our flight Friday Harbor to be canceled also brought a lot of rain. This huge puddle is outside a gas station near the Anacortes ferry dock.
Our Honda

Reaching Friday Harbor by car and ferry takes about four hours versus about an hour if we flew. But it will be nice to have our car with us.
On Board

It's cold, but fun to be outside enjoying the view. We've not been to the San Juan Islands for well over a decade.
Liferaft Systems

This evacuation slide on board the Samish by Australian company Liferaft Systems looks like a well-engineered system.
Willow Island

Looking north across Willow Island as we transit Thatcher Pass between Blakely Island at right and Decatur Island.
Approaching Friday Harbor

A first view to Friday Harbor as the Samish arrives at San Juan Island.
Friday Harbor House

Our beautiful room at Friday Harbor House overlooking the harbor.
Balcony View

View to the harbor, and the ferry Samish that we arrived on, from the balcony of our room at Friday Harbor House.
Dinner

A great meal at the Friday Harbor House restaurant overlooking the water.
Evening

Enjoying the last evening views to Friday Harbor with a glass of wine on the balcony.
11/5/2022
Two Ferries

The lower grounds of Friday Harbor House with one ferry departing and another arriving. Friday Harbor is a busy ferry terminal serving both inter-island ferries and vessels to/from Anacortes and Sydney, Canada.
Marina

The large pleasure craft marina at Friday Harbour aglow in the morning sun.
Fluke

The polished aluminum sculpture Fluke by Pacific NW artist Micajah Bienvenu.
San Juan Brewing Co

At San Juan Brewing Co for lunch. The brewery is new since the last time we were in the islands, and we're looking forward to trying it.
Brewery Interior

The airy and light-filled interior of the San Juan Brewing Co restaurant. We had a great lunch there.
Ballot

We filled out our ballots for the Midterm Elections over lunch. There are many good reasons to vote, but you can't make much of a difference when there's only one candidate.
Springtree Suite

The lovely tree-covered entrance to Springtree Suite in Friday Harbor.
Ballot Box

Dropping off our ballots in the box outside the San Juan County Court House.
Fairbanks Morse

After lunch, we set out for a drive. Our first stop was Roche Harbor, once a lime plant and now a very popular resort and marina. This is one of the Fairbanks Morse generators once used to power the plant, offices and housing.
Lime Kilns

The original lime kilns at Roche Harbor date from the late 1800s. At one point, the plant here had the highest lime production west of the Mississippi.
Hotel de Haro

Lime company owner John S. McMillan built the Hotel de Haro in 1886 and lived there with his family until his own house was built in 1910.
Hokulani

Nordhavn 68 Hokulani is one of many large yachts moored at Roche Harbor.
San Juan County Park

At San Juan County Park overlooking Haro Strait on the west side of the island. We've been past here by boat, but have never been previously ashore in this area.
Lime Kiln Lighthouse

Looking north to Lime Kiln Lighthouse, completed in 1919, in Lime Kiln Point State Park.
Driftwood

A big tangle of driftwood at Lime Kiln Point State Park. Nowhere in the world have we seen even close to the amount of wood in the water as in the Pacific Northwest.
The Blow Hole

We loved the name of the snack bar at Lime Kiln Point State Park: "The Blow Hole: Snacks with a Porpoise".
Wells Cargo

The well-known Wells Fargo financial corporation, founded in 1852, probably is not thrilled about the play in their name this container company made. But it is creative.
Strait of Juan de Fuca

Looking to the Strait of Juan de Fuca across Cattle Point at the southern tip of San Juan Island. In past visits to the island we've not had a car, and we're enjoying seeing areas we've not been to before.
Radio Building

The old radio-compass building, completed at Cattle Point in 1921 as an aid to navigation.
Cattle Point Lighthouse

The first light at Cattle Point was erected in 1888 and the current building was completed in 1935.
Windy

It's windy today, with the storm that resulted in our flight cancellation still in play.
Waves

Waves crashing into Cattle Point with the Strait of Juan de Fuca beyond.
Downrigger's

A good dinner at Downrigger's, with a view to the ferry terminal just outside.
Skybar

We stopped in for a nightcap at Skybar, a second-floor wine bar whose terrace has a great view to the harbor.
11/6/2022
Chelan

Boarding the Chelan in Friday Harbor for our return trip to Seattle via Anacortes.
Friday Harbor House

A view to our hotel, Friday Harbor House. Our room was at the top right of the brown section. We really enjoyed our stay there and would definitely return.
Friday Harbor

A last look at Friday Harbor as the Chelan departs, with our hotel at top right.
Lopez Island

The ferry from Anacortes went directly to Friday Harbor, but our return trip makes a brief stop at Lopez Island. The dock near shore has sustained some pretty major damage (click image for a larger view).
Foot Passengers

Soggy foot passengers boarding at Lopez Island. A heavy rain has been falling all morning.
Anacortes

Arriving into Anacortes about ninety minutes after departing Friday Harbor.
Rainbow Bridge

Crossing the Rainbow Bridge over the Swinomish Channel near the town of La Conner. We've passed under this bridge by boat many, many times.
Lunch

An enjoyable lunch at a great table along the water at La Conner Pub. We love watching the boat traffic, and saw a Nordhavn 40 pass by, reminding us of the 12 years we spent on Nordhavn 52 Dirona.
Skagit River

Crossing over the Skagit River en route to Seattle after lunch in La Conner. The river looks quite high after the recent storm.
Power Lines

The storm that caused our flight to be canceled toppled trees and downed power lines throughout the region. Trucks servicing power lines and clearing debris were a common sight on our way home from Anacortes.
| | |
| --- | --- |
| | Click the travel log icon on the left to see these locations on a map. And a map of our most recent log entries always is available at mvdirona.com/maps. |