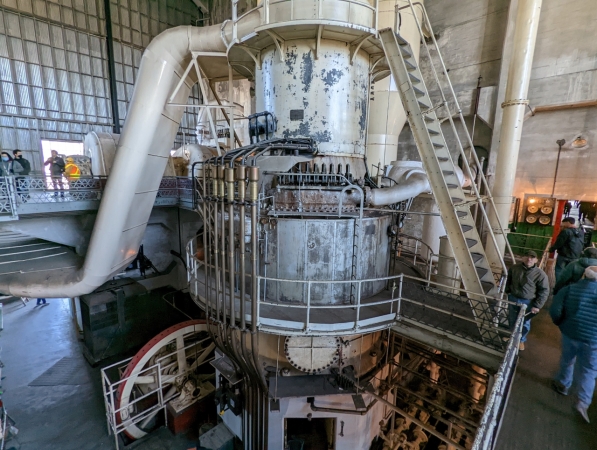 The Georgetown Steam Plant was built in 1906 along the Duwamish River to power Seattle's streetcars. The advent of hydropower soon made the plant noncompetitive, and it was used only as an emergency backup starting in the 1920s. Decommissioned in 1977 and declared a National Historic Monument in 1984, the plant houses the only two Curtis Vertical Steam Turbines remaining the world, pictured above.
We visited the plant during a November open house and joined an excellent tour of the facility. We also spent time with the builders of two tiny operational gas-powered stationary engines who were on hand for the event. And that evening we had a great time attending The Smashing Pumpkins concert at Climate Pledge Arena.
Below are highlights from November 12, 2022. Click any image for a larger view, or click the position to view the location on a map. And a map with our most recent log entries always is available at mvdirona.com/maps.
Kelsey Wildstone

Our tour guide Kelsey Wildstone did a great job of explaining the history and operation of the plant. James and Kelsey used to work together on AWS, so that made the tour even more memorable.
Vertical Turbine

The Georgetown Steam Plant houses the only two Curtis Vertical Steam Turbines remaining the world.
Boilers

Inside the massive boiler room at the Georgetown Steam Plant. Boilers are on both sides of the room, allowing access to the oil nozzle systems that feed the boilers.
Model Engine

We spent some time talking with the builder of this tiny model as the gas-powered stationary engine operated on the table. Here the engine builder is explaining the valve train operation.
2nd Model Engine

Another operating model engine, with the governor central above the machine.
Ghostfish

Lunch at Ghostfish craft brewery after our tour of the Georgetown Steam Plant.
All Saints

A vast number of stage lights strung from the ceiling of the All Saints clothing store in downtown Seattle.
Le Caviste

Dinner at Le Caviste wine bar before heading to a concert at Climate Pledge Arena.
Poppy

Super-energetic singer/songwriter Poppy on stage as the opening act for The Smashing Pumpkins.
Jane's Addiction

Los Angeles-based rock band Jane's Addiction did a great set as the second act before The Smashing Pumpkins.
Climate Pledge Arena

A sold-out Climate Pledge Arena as Jane's Addiction finishes their set.
Butterfly

A butterfly projected onto the stage shortly before The Smashing Pumpkins arrive.
Smashing Pumpkins

Frontman and guitarist Billy Corgan, left, guitarist James Iha and drummer Jimmy Chamberlin on stage during The Smashing Pumpkins concert. We've been fans of the band since living in Toronto in the 1980s. Bill Corgan's voice was somewhat impaired, but we still enjoyed the concert.
Cell Phones

Fans saluting The Smashing Pumpkins towards the end of their show.
| | |
| --- | --- |
| | Click the travel log icon on the left to see these locations on a map. And a map of our most recent log entries always is available at mvdirona.com/maps. |