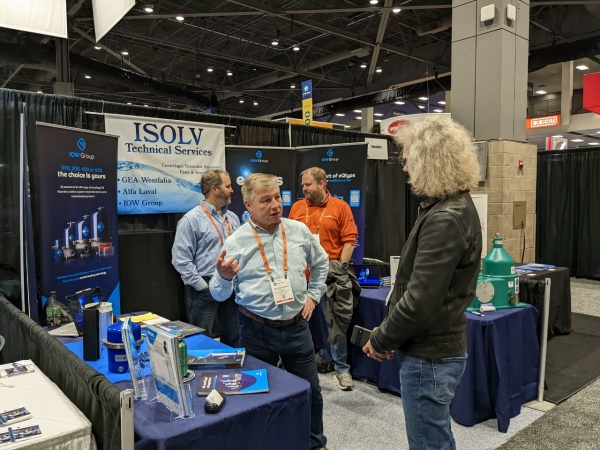 On a mid-November Friday evening, we attended the final few hours of the annual Pacific Marine Expo in Seattle. We always enjoy checking out the engines and equipment, reconnecting with people know from the industry, and learning about any new technology in the works. This year was no exception, and we spent time at the Cascade Engine and Northern Lights booths among others. We also enjoyed chatting again with Solvi Olafsson, pictured, who we'd met recently during our Ballard beer tasting tour outside his shop where his company ISolv specializes in centrifugal fuel and oil filtration systems.
Below are highlights from November 18th, 2022. Click any image for a larger view, or click the position to view the location on a map. And a map with our most recent log entries always is available at mvdirona.com/maps.
Marine Expo

Looking across the exhibitor booths at Pacific Marine Expo, held annually at the Lumen Field event center.
Cummins QSK38

Jennifer standing next to a big V12 38L Cummins QSK38 marine engine, capable of producing 1,400 HP.
Hi JET

A Hi JET 600 water jet by Hill Innovations has a 24-inch (610 mm) impeller and can be driven by up to 800 HP.
Mitsubishi

An 1,100 HP S12R-Y3MPTAW-4 Mitsubishi marine engine. The person who names their engines probably could moonlight as a secure password generator :-). These large heavy-duty engines are best known for being one of the last mechanically fuel-injected engines that can meet modern emission standards.
Solvi Olafsson

We first met

Solvi Olafsson

outside his shop during our Ballard beer tasting and spent some time with him at Pacific Marine Expo. His company ISolv specializes in centrifugal fuel and oil filtration systems.
Dusk

The view at dusk looking north from outside Lumen Field as we head home after Pacific Marine Expo.
Court in the Square

Court in the Square offers catered events in this airy atrium built in the space between two older brick buildings.
Firefighter

A striking back-lit cutout of a firefighter mounted above Seattle Fire Department Headquarters near Pioneer Square.
Collins Pub

Dinner at

Collins Pub

after attending Pacific Marine Expo. It's funny we've not been here for years and suddenly are back twice in as many months.
| | |
| --- | --- |
| | Click the travel log icon on the left to see these locations on a map. And a map of our most recent log entries always is available at mvdirona.com/maps. |