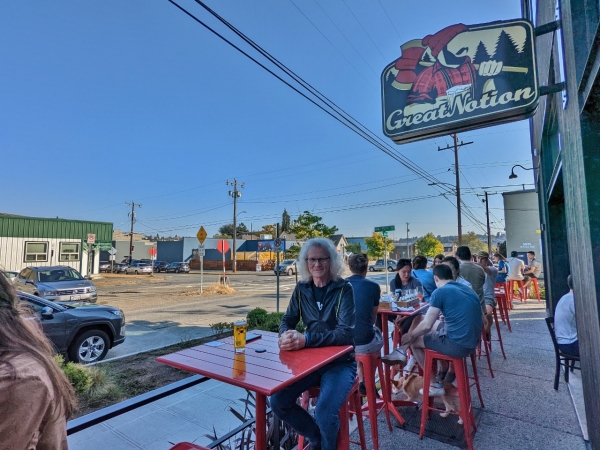 Autumn is fresh hop beer season in the Pacific Northwest. Most beer is made from dried hops, while fresh hop beers are made from hops that have never been dried. The beer must be brewed very soon after the hops are ripe, so can't be made very far from the fields. Since over 77% of the nation's hops are grown in nearby Yakima valley in eastern Washington, the majority of fresh hop beers are brewed in the area as well.
Dozens of Pacific Northwest breweries produce fresh hop beers, many clustered together in nearby Ballard, so we went there for an evening of beer tasting. This was our first time trying fresh hop beers, and we really liked them. The same way fresh and dried herbs taste similar, but different, so do fresh hop beers compared to dried hop beers. In some ways the fresh hop flavors are a little more intense, but also a little less bitter.
We had an absolutely amazing evening and loved the Ballard vibe. We'd not spent time in Ballard for over a decade and the area is now full of craft breweries. In less than a mile we visited eight pubs and walked past several more. We'll definitely be back. And thanks to James' colleague, Tom Stickle, who first told us about fresh hop beer and recommended the Ballard tasting tour.
Below are highlights from October 1st, 2022. Click any image for a larger view, or click the position to view the location on a map. And a map with our most recent log entries always is available at mvdirona.com/maps.
Reuben's

Enjoying a pint of fresh hop hazy IPA at Reuben's Brews, the first stop on our Ballard fresh hop beer tasting tour.
Great Notion

Stop number two on the fresh hop beer tasting is Great Notion. We didn't have to walk far—our first stop, Reuben's, is the orange and blue building on the opposite corner of the intersection directly left of James.
Obec

Obec Brewing is just around the corner from Great Notion. They didn't have a fresh hop beer, so we didn't stop (we have standards :-)), but they have a beautiful brewery.
Stoup

At Stoup Brewing, a half block down the road from Obec, for the third stop on our fresh hop beer tasting. James is just visible in the shadows at center (click image for a larger view). The weather is wonderfully clear and warm for October.
BBQ

We ordered dinner from the BBQ food truck parked outside Stoup Brewing. Our next stop, Urban Family, is visible across the road at left.
Urban Family

Stop number four on our fresh hop beer tasting was Urban Family. We're just sharing a pint at each venue so we have some hope of still being able to walk at the end of the evening :-).
Wheelie Pop

Fresh hop beer tasting stop number five at Wheelie Pop, a block from Urban Family. We've not been to Ballard for ages and are just loving all the craft breweries that have sprung up. It's a wonderful area.
Trailbend

Ballard is just chock full of appealing-looking pubs. Trailbend Taproom is next door to Wheelie Pop, but we didn't go in because we are sticking to fresh hop breweries. And even being that restrictive, we still won't be able to visit all the fresh hop breweries within walking distance or taste all the fresh hop beers on offer at the breweries we will visit.
Decision

A decision to make: beer to the left and beer to the right. It actually was an easy call, since we've already been to Wheelie Pop. So we'll head right to Lucky Envelope.
Solvi Olafsson

Solvi Olafsson is president of ISolv Technical Services, who specializes in the service of marine industry centrifugal separators. His shop is across the road from Lucky Envelope Brewing and contains all sorts of interesting hoses and equipment that caught our attention. We stopped to chat and spent an enjoyable 20 minutes with him discussing marine technology and boating.
Lucky Envelope

Lucky Envelope Brewing, stop number six on our fresh hop beer tasting.
Biodiesel

Dr. Dan's Biodiesel across the road from Lucky Envelope Brewing looks a bit primitive, but they're serving biodiesel.
Sasquatch

Sasquatch mural on NW 49th St. by prolific local artist Ryan Henry Ward. Under the professional name Henry, he has painted over 2,800 canvases and 500 murals, and features Sasquatches so much that he's become known as the "official Sasquatch artist".
Night of the Living Draft

We got a giggle out of this poster advertising an upcoming beer festival, Night of the Living Draft. Hosted by the Phinney Neighborhood Association (PNA), the 35th annual winter beer tasting will feature microbrews from more than 30 Northwest breweries and cideries, with some beers custom-made for the event. What a wonderful part of the world we live in :-).
Fair Isle

We took a wrong turn on the way to our next fresh hop brewery and reached Fair Isle Brewing. They didn't have a fresh hop beer, but had such an appealing outdoor bar that we broke our rule and had a pint there anyway.
Bale Breaker

At Bale Breaker, the seventh fresh hop brewery and the eighth stop on our beer tasting.
Last Stop

Celebrating the last stop on our successful fresh hop beer tasting with a fresh hop IPA from Bale Breaker. We had an absolutely amazing evening, really enjoyed the fresh hop beers, and loved the Ballard vibe. In less than a mile we'd visited eight pubs and walked past several more. We'll definitely be back.
| | |
| --- | --- |
| | Click the travel log icon on the left to see these locations on a map. And a map of our most recent log entries always is available at mvdirona.com/maps. |