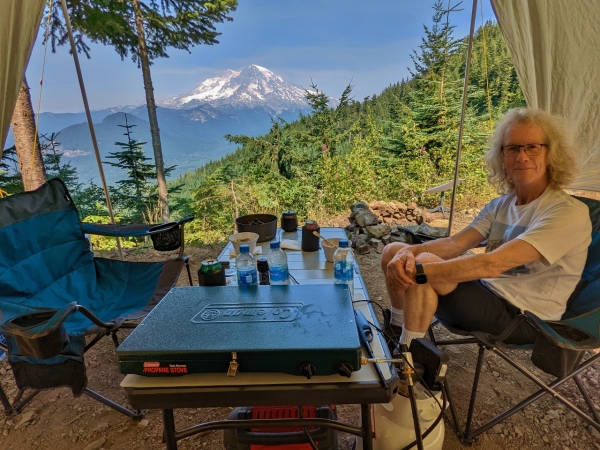 September was warmer than usual for Seattle, with the temperature frequently above 80°F (27° C) even late in the month, more than 10 degrees above average. The warm, clear, and dry weather was ideal for camping and we made two multi-night trips. The first was a three-night stop in Gifford Pinchot National Forest with a spectacular view to Mt. Rainier, pictured above. The second, our last camping trip of the year, was a two-night stop overlooking Kachees Lake.
We also made an overnight trip to Portland, Oregon, a major craft beer center full of many excellent pubs. We'd last visited in 2012 on our Columbia River trip in Dirona and this time traveled there by train. We had a great time taking in the scenery as we crossed rivers and highways and passed through various towns along the way. And we very much enjoyed exploring Portland and visiting several pubs. Our visit also coincided with the annual dragon boat festival, held right outside our hotel room, and we took in some of the racing and activities while there.
September also brings the start of the NFL season. We attended two regular season Seattle Seahawks games, one where James got an opportunity to be on the field during warm-ups.
And Spitfire the wonder cat continues to do well. He's 19 years old and several years ago was diagnosed with chronic kidney disease. His condition has slowly deteriorated over the years, and he's notably lighter and less mobile than before. But he passed this month's bloodwork test with flying colors, seems content and comfortable, and remains playful and lovable. He continues to enjoy our apartment, spending much of his time asleep and the rest "helping" James get some work done by forcing his way in front of the computer screen.
Below are highlights from September 1 through 30th, 2022. Click any image for a larger view, or click the position to view the location on a map. And a map with our most recent log entries always is available at mvdirona.com/maps.
9/1/2022
Pumping Concrete

We love all the innovation happening in the construction industry. Here a cement distribution boom is mounted centrally on top of a building under construction. Cement is pumped from the street and up the center of the building to the distribution crane. The crane allows quick pours over the entire building so the construction crew can do a pour, raise the central tower by one floor, assemble another floor of forms, and then repeat the process with another pour.
Spitfire

Spitfire "helping" James get a little work done in the evening. Spit has learned the best place to get attention is directly in front of the computer screen.
Sunset

Dramatic flares as the sun sets over the Olympic Mountains.
Garden

Looking down from our patio to the wonderfully-designed gardens between the two buildings in our apartment complex.
9/2/2022
Gifford Pinchot National Forest

In September, we went on our longest wilderness camping trip to date, of three nights over the Labor Day weekend. Since we had a more time than usual, we ranged a little farther near Mt. Rainier. After three hours of driving and exploring, we finally found a wonderfully private campsite with a spectacular view to Mt. Rainier, pictured above. We spent the first of three nights there, exploring the area on foot and enjoying that fabulous view to "The Mountain". We continue to keep finding "the best spot ever", and this one will be hard to top.
9/3/2022
Forest Road 8430

Mt. Rainier, and pretty much everything in between, was obscured by low clouds when we got up on our first morning at camp in Gifford Pinchot National Forest. Over the course of the day, however, the clouds cleared and our wonderful mountain view returned. In the afternoon, we explored up to the end of the Forest Road 8430 and beyond for some great views east across the forest.
9/4/2022
Day Three at Camp

Our initial plan for the Labor Day long weekend camping trip was to camp at two or three different sites. But we couldn't imagine finding a better site than the one along Forest Road 8430, so we stayed put. After two days at camp though, it was time for a real test of our Kradl Portable Camping Shower. We both got full, hot showers though and were clean and comfortable.
9/5/2022
Heading Home

We finished our four-day Labor Day weekend camping trip with a tour through the area near our site in search of other campsites and found several good possibilities. Our plan after that was to have lunch at the Packwood Brewing Co. But the road into town was jammed for the annual Packwood Flea Market, one of the largest flea markets in the western US that attracts hundreds of vendors and thousands of shoppers. We instead headed out of town and had a great meal at White Pass Tacqueria just outside town.
9/6/2022
Duck Dodge

74 boats competing in the final Duck Dodge race of the season on Lake Union. The name is said to derive from the number of ducks that must be avoided during while sailing the course.
9/7/2022
Cat Carrier

We've seen a few of these pet carriers around town recently. It's an interesting backpack design.
Foundation

Another level of foundation has been poured at the Fourth & Bell construction site.
Sunset

Beautiful sunset over the Olympic Mountains and Elliott Bay.
9/8/2022
Spitfire

Spitfire doing what he does best, and most :-), sleeping in the sun.
Norrona

Jennifer's

Norrona Lyngen jacket

we purchased in

Bergen

a couple of years ago is literally wearing away at the seams from so much use. We really like it, so ordered another from Norrona in Norway, and it arrived three days later.
9/10/2022
Seattle to Portland

Portland, Oregon is a major craft beer center full of many excellent pubs. We'd last visited in 2012 on our Columbia River trip in Dirona and recently decided to make a quick overnight trip by train from Seattle.

We booked a cabin on the Starlight Express train, a 35-hour overnight train from Seattle to Los Angeles. We'd not taken a train trip in the US before and had a great time taking in the scenery as we crossed rivers and highways and passed through various towns along the way. And four hours later, we were in Portland.
9/11/2022
Portland to Seattle

The Portland Dragon Boat Festival was well underway as we departed our hotel on Sunday morning with a Portland fire boat demonstrating prior to the start. On our way to the train station, we stopped at Jake's Famous Crawfish for a great seafood lunch with craft IPAs in view of the historic Weinhard Brewery Complex, completed in 1908.

We had an enjoyable train ride back to Seattle, retracing our route past several historic Portland buildings and back across the rivers, and had a surprisingly good pasta dinner delivered to our cabin.
9/12/2022
Seahawks vs Broncos

The Seattle Seahawks opened their season with a Monday Night Football home game against the Denver Broncos. Making the game even more exciting, this was the first where quarterback Russell Wilson was playing against the Seahawks rather than for them. The Seahawks won in an exciting and closely-contested match that we were expected to lose, and the stands were packed right to the end.

Prior to the game, James got an opportunity to be on the field during warm-ups. Being at field level is a very different experience. The linemen are bigger, the receivers are faster, and even Taimi the auger hawk, the Seahawks live mascot, looked fiercer.
9/13/2022
Gravel

Truckloads of gravel being transferred by conveyor to the far side of the Fourth & Bell construction site prior to another cement pour.
Kraken Locker Room

James entering the Seattle Kraken locker room at Climate Pledge Arena for a work meeting.
9/14/2022
Urban Animal

In line at 8:00am to get a walk-in appointment at Urban Animal for later in the day. Spitfire is doing fine, but is due for bloodwork.
Uptown Hop House

Dinner at Uptown Hop House near Climate Pledge Area where James had a two-day offsite.
9/16/2022
Cement Poured

The cement has been poured over the load of gravel that was recently distributed at the Fourth & Bell construction site.
Wrong Way

The driver of the white car got surprisingly close to oncoming traffic before noticing they were going the wrong way on Fourth St.
9/17/2022
Salmon Homecoming

Members of the Suquamish tribe arriving by canoe for the annual Salmon Homecoming and to bless the recently refurbished Pier 62 landing. It's looking rough out there this afternoon.
Leschi

The Seattle fire boat Leschi performing a pump display as part of the re-opening of the Pier 62 landing.
Ramp

View to the ramp up from the lowest level of the parking at the Fourth & Bell construction site, with the elevator shaft on the left.
9/20/2022
| | |
| --- | --- |
| | Naval Base San Diego is the second largest surface ship base of the United States Navy and the main home port of the Pacific Fleet of over 50 ships. On a recent trip to the city, James got some great views to the naval base, San Diego Bay and the city skyline as his plane circled in for a landing. The early-morning flight also yielded striking dawn views over Mt. Rainier and the Columbia River. |
9/21/2022
Smoke

Looking across Lake Union to a smoke-filled sky from the many forest fires that are currently burning.
9/23/2022
Kachees Lake

In what would turn out to be our final camping trip of the year, we found a fabulous site at the end of a road with a sweeping view southeast across Kachees Lake. We'd been improving our skills in pre-scouting online for a campsite, and drove straight to this one without investigating any other potential sites.
9/25/2022
Nissan Homy

A Nissan Homy, with a Tokyo license plate, parked on the street near Lumen Field as we walk to the Seahawks game. The caravan was sold domestically in Japan as the Homy between 1965 and 1997, and in other countries under a variety of names, including Caravan, Urvan and King. It still is produced today and sold as the Caravan in Japan.
Bratzooka

The Seahawks' "Bratzooka" firing cooked, packaged and ready-to-eat bratwurst sausages up to the crowd. While not very refined, it is vaguely entertaining :-).
Collins Pub

Post-game chicken wings at Collins Pub near Lumen Field. James came to Collins often when we lived in Seattle and his office was nearby, but hasn't been here for ages. The Seahawks lost to the Falcons 27-23, but it was a great game and we really enjoyed it.
Heather Brewer

Blog reader Heather Brewer, who was also at the Seahawks game, noticed us at Collins Pub and stopped to say hello.
9/27/2022
Moving Car

We needed to move our truck today while the garage is being cleaned. Our apartment includes a third parking spot that looks very tight for our not-that-large SUV.
Tight Spot

Our Honda Passport wedged into a tight spot as far over as we can get. It's still pretty dirty from the weekend of camping as we didn't get a chance to wash it yet.
9/28/2022
Candlestick Point

Candlestick Point State Recreation Area, roughly at center, with old Hunter's Point Naval Shipyard at upper left and Highway 101 at bottom right, viewed as James' flight descends into San Francisco. Candlestick Point State Recreation Area is the former site of Candlestick Park, the home of the San Francisco Giants Major League Baseball from 1960 to 1999 and the home of the San Francisco 49ers National Football League team from 1971 through 2013. The venue was also used for concerts and famously was the location of the Beatle's last concert together in 1966. To commemorate the stadium prior to demolition, former Beatle Paul McCartney played the stadium's final concert in 2014.
The Office

James has a very portable office. His current one is the patio of his room at Rosewood Sand Hill hotel in Menlo Park where he is attending a conference.
9/29/2022
Tight

Looking down out the driver's door as we back our SUV out of its super-tight temporary parking spot. On the right is the reflection of the BMW in our door, with barely a few inches between the two vehicles.
Car Wash

The soap dispenser at our apartment building's car wash seemed to be on overload today.
Guadalupe River

The Guadalupe River winding under the Southbay Freeway as James' flight takes off from San Francisco. The large green shape is the Topgolf driving range.
Wastewater

The San Jose-Santa Clara Regional Wastewater Facility, top, with Zanker Landscape Materials in the foreground and a bit of the Coyote Creek estuary at right.
Dusk

Dusk over Elliott Bay on a calm and clear night.
9/30/2022
Parked Car?

Parking skills vary widely, but this one pushes the definition of parked.
Wood

A wood surface installed at the Fourth & Bell construction site prior to the next level of rebar and cement.
| | |
| --- | --- |
| | Click the travel log icon on the left to see these locations on a map. And a map of our most recent log entries always is available at mvdirona.com/maps. |