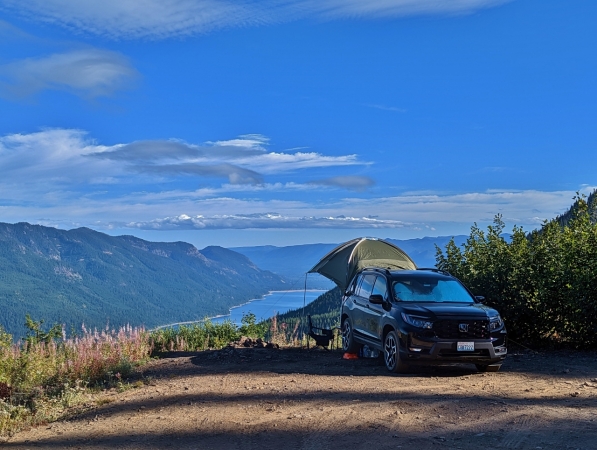 In what would turn out to be our final camping trip of the year, we found a fabulous site at the end of a road with a sweeping view southeast across Kachees Lake. We'd been improving our skills in pre-scouting online for a campsite, and drove straight to this one without investigating any other potential sites.
The weather was warm and clear all weekend, with the last of the summer wildflowers still in bloom and the fall colors starting to show. Besides enjoying the great views from our campsite, we made a short hike to tranquil Baker Lake, along an unmarked but well-maintained trail. At the other end of the spectrum from tranquil, Naval Air Station Whidbey Island uses this area for training runs and we loved seeing several fighter jets roar across Kachees Lake during our time there.
Below are highlights from September 23rd through 25th, 2022. Click any image for a larger view, or click the position to view the location on a map. And a map with our most recent log entries always is available at mvdirona.com/maps.
9/23/2022
Loading Truck

Spitfire in his carry case in the passenger seat, ready for a stay at

Wagly

, as we load up the truck for a two-night camping trip.
Traffic

I-90 westbound is closed at Mercer Island for construction this weekend and the traffic is backed up for miles.
Military Vehicle

An eight-wheel military vehicle being transported east on I-90 by flatbed truck, likely heading to the Yakima Training Center just east of Ellensburg.
Mt. Rainier

A great view to Mt. Rainier along Forest Road 4934. It felt a little early to stop, and we were interested in checking out a site a little further along, so didn't stop and risked that that the spot might be taken if we couldn't find anything better.
Lake View

We'd scouted a potential site online at the end of Forest Road 4948-133 and it turned out to be amazing, with a sweeping view southeast across Kachees Lake.
Cleaning Truck

Our online research skills were improving, and this was the first time we'd driven directly to a campsite without any sidetracking along other roads. So our truck wasn't nearly as dirty as when we normally arrive at a camp, but it still needed a wipe down. Here Jennifer is just finishing up before we setup camp.
9/24/2022
Dawn

The dawn view to Kachees Lake from inside our truck as we get up in the morning.
Sunrise

The morning sun setting the wildflowers aglow beyond our campsite.
Offroading

Several vehicles at speed near our campsite. It's rare to see anyone, so this is not really a problem.
Fall Colors

Vibrant fall colors in the hills beyond our campsite.
Three Queens

The triple-summit of Three Queens (6,687 ft; 2,038 m) at center and Hillbox Mountain (6,547 ft; 1,996 m) at left, just visible in the distance in the Alpine Lakes Wilderness. Viewed on an afternoon walk from our campsite.
Target

Shooting is allowed on most National Forest land and is very popular. We often hear gunshots in the distance when we are out camping in the National Forests. Unfortunately, some shooters leave shell casings and used targets.
Ruts and Rocks

The route to our camp at the end of Forest Road 4948-133 is full of ruts and big rocks. We find it amazing what our little

Passport

can get through.
Alta Mountain

The view north from Forest Road 4948-133 to 6,152-ft (1,875 m) Alta Mountain in the Alpine Lakes Wilderness.
Baker Lake Trail

The topo maps showed Baker Lake, but no obvious trail to it. We expected we could likely reach the lake, and found a very well-trod trail leading there from Forest Road 4948-133.
Cutout

The trail to Baker Lake was not just well-trod, but also well-maintained, with steps chainsawed into several fallen logs.
Baker Lake

We reached tranquil Baker Lake after about a ten-minute walk along the trail.
Campsite

Our fabulous campsite overlooking Kachees Lake at the end of Forest Road 4948-133. We continue to find spectacular view sites in the area.
9/25/2022
Sunrise

Another striking sunrise view from our campsite at the end of Forest Road 4948-133.
Breaking Camp

All packed up and ready to head home from camp.
Drop-Off

A narrow section of Forest Road 4948-133, with a steep drop-off to keep it interesting. The scenery is amazing, but you need to keep your eye on the road.
| | |
| --- | --- |
| | Click the travel log icon on the left to see these locations on a map. And a map of our most recent log entries always is available at mvdirona.com/maps. |