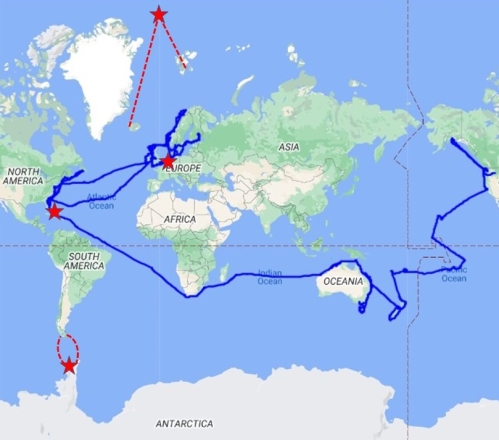 In the decade we spent traveling around the world in Dirona, we visited some remarkable and memorable places. Many destinations, such as Fjordland in New Zealand, had been on our list of special places to visit for nearly as long as we'd been boating. Others, such as Western Australia's famed Kimberley region, we learned about through locals when in-country.
Fiordland, left, was long on our list of special places to visit, while the Kimberly we learned about in-country.
Since returning to Seattle, we've been having a wonderful time doing land-based adventures in the Pacific Northwest. We've also been making plans to cover some of the areas we missed in Dirona. Earlier this year we made a trip to spectacular Switzerland, a country not accessible by boat. And we just returned from a fabulous one-week Caribbean cruise on the Norwegian Encore, since our time there in Dirona was abbreviated by Jennifer's broken collar bone needing surgery.
At the Matterhorn in Switzerland, left, and in St. Thomas, USVI.
We've always been drawn to high-latitude cruising and really would have liked to have brought Dirona to Antarctica. We probably should have, so we're making up for that gap this Christmas on the National Geographic Endurance. The vessel is far larger than Dirona at 407 feet (124 m) long, but is still a fairly small ship with only 69 cabins. And while we've broken some thin, fresh ice in Dirona, the Endurance can operate year round in first year ice with some old ice inclusions.
The Endurance also an Ulstein X-Bow inverted bow design. We saw dozens of X-Bow commercial ships in Norway, and even passed by the Ulstein yard while in-country, but have never been on one. It should be an exciting adventure!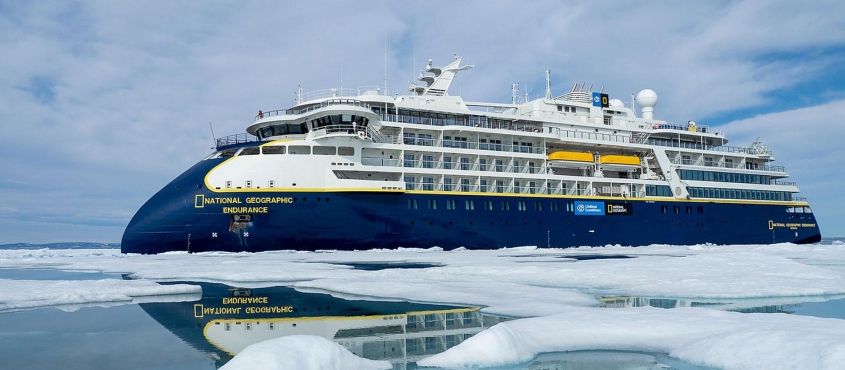 This Christmas we will travel to Antarctica aboard the Nat Geo Endurance.
At the other end of the globe, we brought Dirona to Tromso, Norway, well above the Artic Circle. Cruising further north to Svalbard held great appeal, but so far we have only visited there by air. To fill in this gap, and then some, next summer we will board Le Commandant Charcot for a cruise through Svalbard then well beyond to the geographic North Pole. The pole is accessible by boat, but could never be reached in a small boat like Dirona and, in fact, only a handful of boats in the world can make the journey safely. Le Commandant Charcot is a unique vessel in holding the highest ice-class rating of any ship in the world.
In Tromso, left, far above the Arctic Circle, and 600 miles from the North Pole in Svalbard.
Polar vessels are assigned a
Polar Class
based on their capability and operational strength. The highest rating, Polar Class 1, are ships capable of operating year-round in all polar waters, and the lowest, Polar Class 7, are ships that can operate in summer or autumn in thin first-year ice. The
National Geographic Endurance
that we'll be taking to Antarctica is rated Polar Class 5, capable of year-round operation in first year ice with some old ice inclusions.
No ships today exist of Polar Class 1. Le Commandant Charcot is the only ship in the world designated Polar Class 2 (year-round operation in moderate multi-year ice conditions), and can break through 8 feet (2.4 m) of multi-year ice. The ship is powered by two 17 MW azipods to push 270 cabins, whereas the Norwegian Encore we took for the Caribbean cruise used two 20 MW azipods to push 4,200 cabins. Ice is amazingly challenging and takes an enormous amount of power to break through.
The return route for the North Pole cruise will take us to Iceland, another country that was on our list of places to visit by boat. We'll get a small taste on this trip, and likely will be back for more. Our plan is to keep looking for adventures that we've missed, and we'll probably need to buy another boat to complete this mission.
Next summer we'll be traveling aboard the French cruise ship Le Commandant Charcot to Svalbard, the North Pole and Iceland.