Fiordland has been on our list of special places to visit for nearly as long as we've been boating. We were captivated after seeing a photograph taken from way above Milford Sound of a lone boat heading into a narrow channel between soaring, jagged peaks, its long wake slowly heading out for the shoreline.
Fiordland is 4,826 square miles, the largest national park in New Zealand, and comprises fourteen sounds and inlets. Having now travelled to every arm of every sound, and anchored in most, we know Fiordland is even more beautiful than that first picture evoked. At the top and bottom of this post are panoramic pictures taken at Deepwater Basin in Milford Sound, and at Hall Arm in Dusky Sound. The pictures below are from the mouth of Caswell Sound and at Precipice Cove in Bradshaw Sound.
Milford Sound is the only one with direct road access, and was the busiest for boat traffic. Watching the tour boat traffic in Milford was part of the adventure. The other sounds are unspoiled and close to uninhabited. Boat traffic was much less, and mostly included the occasional pleasure craft or tour boat, and commercial or recreational hunters and fishers . Besides the scenery, one of the attractions of Fiordland is the excellent fishing. We were lucky that many shared their catch with us.
Impressive waterfalls are everywhere in Fiordland, and are a nice reward after rainy weather. Pictured below are Bowen and Stirling Falls in Milford Sound, and Marjorie Falls in Charles Sound.
We also visited several dramatic canyons where water gushed through narrow clefts or over ledges into large pools. The left photo below is at the Windward River at the head of Gold Arm in Charles Sound. The canyon wasn't mentioned in any of our guides, and we couldn't even tell it was there until we got quite close. We worked the dinghy inside, secured it to the rock wall with a grapple anchor, and had an exciting lunch spot. The video at right is along the Lumaluma River at the head of Edward Sound. There we ran the dinghy into a large basin below gushing falls.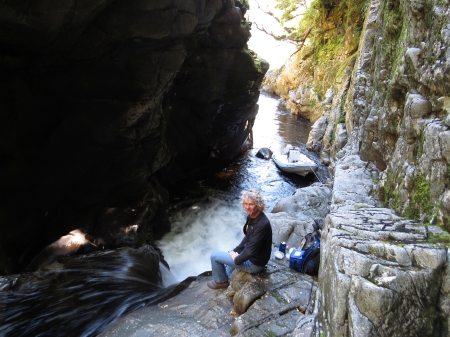 Perhaps the most unusual "water feature" we visited was the Manapouri hydroelectric power plant tailrace tunnel in Doubtful Sound, at right below. This is an incredible piece of engineering–the 9.1m-diameter tunnel runs 10km northeast from the the West Arm of Lake Manapouri, rising from a depth of 40 meters below sea level to discharge into Deep Cove. We always have to investigate, so we explored inside the tailrace to where the water comes up. As we shot back into the channel in the strong current, a tour bus arrived. They must have been surprised to see a dinghy pop out.
Fiordland has much wildlife, some unique to the area. We were thrilled to make our first penguin sighting: a Fiordland Crested Penguin. Other memorable sightings included Bottlenose Dolphins and New Zealand fur seals.
Several major New Zealand hiking tracks reach Fiordland, including the Milford Track, pictured below left. About 14,000 people walk the famed Milford Track each year–the 53.5km, 4-day track is considered one of the finest walks in the world, and is one of New Zealand's nine Great Walks. We've never seen such well-managed trails in all our travels. New Zealand's Department of Conservation does an excellent job, and the tracks throughout the country are incredibly well-maintained. Each track comes with its own rewards: beautiful waterfalls, roaring rivers, dramatic peaks, or incredible views back into the sounds.
Besides walking the maintained tracks, we made several ad-hoc climbs for excellent views. The left photo below is above Precipice Cove in Bradshaw Sound, and the right photo is at Hall Arm in Doubtful Sound.
| | |
| --- | --- |
| | |
We also donned our drysuits and explored Fiordland underwater. The first thing we saw after descending was a Nudibranch, among our favorite sea creatures. Over 3,000 Nudibranch species live throughout the world's oceans–their fantastic forms and psychedelic colors seem unreal. Had we seen nothing but the nudibranch, the dive would have been a success, but we really did want to see black coral. Fiordland contains some of the largest populations of black coral in the world. Typically a deep-sea species, black coral grows in 15 to 50 meters in Fiordland where a 2-3-meter layer of freshwater, with a visibility of about 3 meters, lies over the saltwater. Black coral looks white because of the thousands of white polyps that grow over the black skeleton. We saw many black coral on the dive, some nearly two meters wide. The visibility once under the freshwater layer was at least 15 meters, but the light isn't great. Some clearer pictures are here.
| | |
| --- | --- |
| | |
The southern sounds in particular have several historically significant sites. In 1773, Captain Cook cleared an acre of land at Astronomer Point in Dusky Sound. William Wales, of the Board of Longitude, setup a temporary observatory there to fix the position of New Zealand. His observations made New Zealand the most accurately located place in the world at the time. The Department of Conservation maintains a nice boardwalk around the site. Ruins of several early 19th-century European ventures in Preservation Inlet included a steam donkey, tramway and gold mine.
| | |
| --- | --- |
| | |
| | |
| --- | --- |
| | |
Click the travel log icon on the left to see these locations and more on a map, with the complete log of our cruise through Fiordland.

On the map page, clicking on a camera or text icon will display a picture and/or log entry for that location, and clicking on the smaller icons along the route will display latitude, longitude and other navigation data for that location. And a live map of our current route and most recent log entries always is available at http://www.mvdirona.com/maps/LocationCurrent.html.