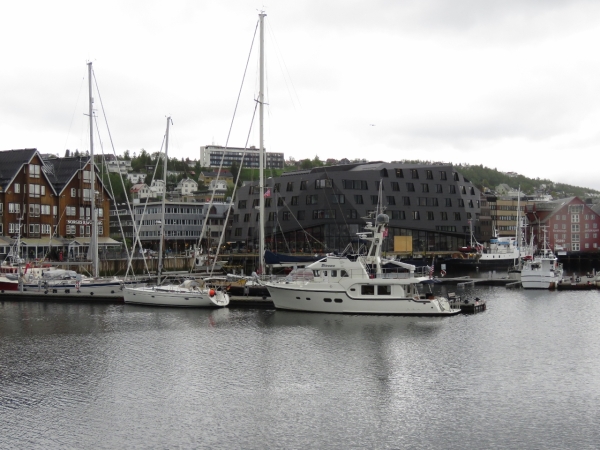 A couple of years after first planning it, we finally arrived in Tromsø, Norway. At 69°39'N, Tromsø is the most northerly destination we would bring Dirona this year. With a population of 67,000, the city is the largest in northern Norway, with the highest number of pubs per capita than any other in the country—our kind of town. :)
Tromsø has for centuries been a common departure point for those heading to north to Svalbard, and also is a suprisingly feasible place to over-winter a boat. Despite its location well above the Arctic Circle, the harbour is ice-free in the winter due to the warming Gulf Stream waters.
After refueling, we moored in the guest harbour then spent the day exploring the city including a visit to the Polaria Artic Circle museum and a tour of the Mack microbrewery. Below are trip highlights from June 11th in Tromsø, Norway. Click any image for a larger view, or click the position to view the location on a map. And a live map of our current route and most recent log entries always is available at mvdirona.com/maps
6/11/2018
Tires

On the dock at Bunker Oil to take on 1,260 gallons (4,770 liters) of diesel. We've used a fair bit since fueling in Helgoland in late April. The dock is designed for much bigger boats that Dirona, so we need to be a little creative with fender placement to keep ourselves off those big tires.
Kystbunker II

Kystbunker II blowing a big puff of black smoke as it comes on the dock just barely behind us. Although the master did an excellent job of placing the boat, we couldn't help but feel a little exposed as they came in.
Sea Life

Normally the water around a commercial fuel dock is fairly polluted, but the water around Bunker Oil is among the cleanest and healthiest we've seen with lots of sea life.
Bunker Oil

On the dock at Bunker Oil with Kystbunker II behind us.
Pinhole Leak

We didn't even travel for an hour today, but when James went down to the engine room after shutting off, he found a light mist of antifreeze in the air and droplets over the engine room starboard wall and the stairs up to the master stateroom. The weird thing is the engine was clean and dry, without any anti-freeze on it anywhere. But, clearly it's not spaying out of the walls. We found a tiny pin hole in the return coolant hose from the aftercooler. The hose only leaks under pressure so rather than running down the hose it sprays outward.
Tromsø Guest Harbour

Docked at latitude 69°39′ N in the Tromsø Guest Harbour for a week or two. This is the farthest north we'll be going in Dirona on this trip. It's wild to actually be here in Tromsø—we've been planning this trip for ages.
MS Polstjerna

We'd planned to tour the old sealing vessel MS Polstjerna, but it's not open until June 15th, so we'll visit next week. We're enjoying being a little early in the season, with fewer crowds.
Arctic

The Polaria museum focuses on Northern Norway and Svalbard, with two good movies and excellent multimedia displays. We really enjoyed it.
Bearded Seal

Polaria has several cold-water aquariums and a big seal pool with two bearded seals and three harbour seals. This is one of the bearded seals during their feeding/training period.
Ølhallen

Ølhallen, opened by Mack brewery in 1928, is the oldest pub in Tromsø. We were going to stop in for lunch, but they don't serve food, so we're off to sample another of Tromsø's many restaurants. We'll be back.
Emma's Under

An exceptional lunch at Emma's Under in Tromsø. Emma's exceeded their excellent reputation.
Tromsø Domkirke

Lutheran Tromsø Domkirke, built in 1861, is one of the largest wooden churches in Norway.
Tunnel

Tromsø has an extensive tunnel system beneath the city. This is looking into the entrance north of the harbour. From here you can drive underground all the way south to the Polaria museum, north to the Botanic Gardens or northwest across the island. Norway never backs away from an engineering challenge or a little cost.
Catholic Church

Also built in 1861, this claims to be the most northern Catholic Church in the world.
Macks

Ludwig Markus Mack founded Mack Brewery in Tromsø in 1877. It's the fourth largest brewery in Norway and one of it's strongest brands. Here we are in their brewery store prior to a tour.
Microbrews

In 2000, Macks opened a microbrewery. These are their beers.
Microbrewery Tour

The main Macks brewery recently moved about 70km from Tromsø, but retains a pub, administration and microbrewery on their historical site. The microbrewery tour included a movie detailing the history of the company, a description of the brewing process and a walk through the facility.
Vats

The vats in the Macks Microbrewery are painted with the images of famous musicians. Iggy Pop, second from the left, had heard his likeness was on one of the vats and came in for a tour while in town for a music festival.
Click the travel log icon on the left to see these locations on a map, with the complete log of our cruise.

On the map page, clicking on a camera or text icon will display a picture and/or log entry for that location, and clicking on the smaller icons along the route will display latitude, longitude and other navigation data for that location. And a live map of our current route and most recent log entries always is available at mvdirona.com/maps.