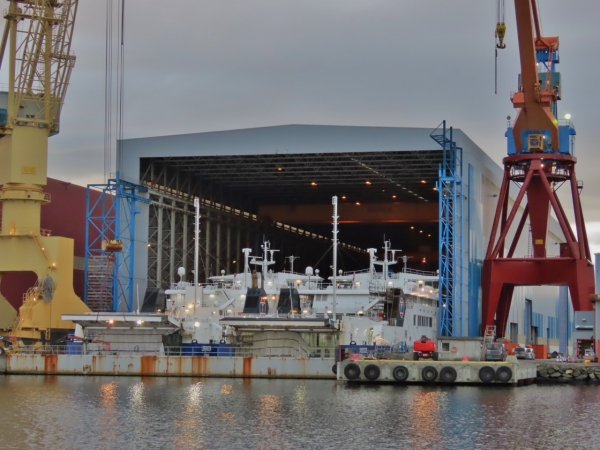 The coastal town of Floro, roughly midway between Sognefjord and the headland Stad, was founded in 1860. Today Floro is the administrative center for the area and supports diverse industries with branches of several national and international companies, including Westcon, EWOS and CHC.
Westcon is a major shipyard company, with facilities along the Norwegian coast, EWOS is among the biggest international suppliers of feed and nutrition for farmed fish and CHC, based in Richmond, BC, Canada, is one of the largest commercial helicopter operators on the world. And nearby is Brodrene, who specialize in high-speed carbon composite ferries, including Vision of the Fjords, Legacy of the Fjords and Future of the Fjords, based on their visionary Seasight design.
From Fordefjorden, we continued north to spend five nights exploring the waterways in and around Floro. While there we made several long tender trips, including a detailed pass through Floro, and checked out the various industries in the area.
Below are highlights from November 25th through 29th, 2020. Click any image for a larger view, or click the position to view the location on a map. And a live map of our current route and most recent log entries always is available at mvdirona.com/maps.
11/25/2020
Stavang Church

The Stavang Church was completed in 1957 on a site where a church has stood since the 1300s.
Modern Home

Beautiful modern home in Stavang, with an open-space concept and floor-to-ceiling glass windows.
Stongasundet

Approaching the 49-ft (15m) bridge across the channel Stongasundet.
Osstrupen

Because of the angle, the bridge across Osstrupen looks much lower than its 49-ft (15m) clearance.
Osstrupen Anchorage

Our anchorage at the head of Osstrupen in 145 ft (44m) on 420 ft (128m) of rode. The anchorage is deep, but we quite liked the setting, surrounded by steep cliffs and waterfalls.
River Current

A strong river flow enters the head of Osstrupen, with the current visible in the water behind Dirona. It looks like we're underway, but that's the water rushing past us at anchor.
Osstrupen Waterfall

One of the many dramatic waterfalls that spill into our anchorage at Osstrupen.
11/26/2020
Poles

We've seen several of these red-and-white pole pairs, such as this set while underway up Eikefjorden. They look like

range markers

, but aren't charted nor in a place requiring them.
Eikefjorden

View west as we turn towards our intended anchorage at in Pollen at the head of Eikefjorden
Eikefjorden Anchorage

Our anchorage tucked into snug and sheltered Pollen at the head of Eikefjorden in 51 ft (15m) on 200 ft (61m) of rode.
11/27/2020
Insulation

Adding a piece of thick foam to insulate the cockpit shower and reduce the likelihood of damage due to freezing as the temperature falls.
Dirona

Dirona anchored in Pollen at the head of Eikefjorden with snow-dusted mountains in the background.
Logs

Logs ashore at Eikford ready to load for marine transport, viewed on a tender tour of the area.
Kleivaelva

The river Kleivaelva flowing in two branches under a road bridge in Eikford.
Brodrene

Hull form at Brodrene, who specialize in high-speed carbon composite ferries. We've seen many of

their vessels

, including the fast ferry

Fjordfart

, the ambulance boat

Rygerdoktoren

and their visionary

Seasight

models,

Vision of the Fjords

,

Legacy of the Fjords

and

Future of the Fjords

.
Coastal Road

Norway is famous for it's early 19th-century roads strung along cliff edges. Here is a portion of the old road along the north shore of Eikefjorden supported with an extensive rock wall.
Old Tunnel

A small part-tunnel through the cliff on the old 19th-century road along Eikefjorden. Tunneling was expensive back then, so the engineers only resorted to it when necessary. Here they also added rock and avalanche protection.
Storoysundet Bridge

Passing under the small bridge across Storoysundet to the island of Store Helgoya in Eikefjorden.
Hasteinen

View down Hoydalsfjorden to snow-capped 3,060-ft (933m) Hasteinen.
Salmon Hatchery

The Barlindbotn Settefisk salmon hatchery in Eikefjorden annually produces about 2 million juvenile fish.
265 Hours

We just crossed 265 hours on the "

new tender

". We've really been winding the hours on this year, with over 100 hours since arriving in Norway late July at 163 hours.
11/28/2020
Forward Spotlight

The forward spotlight illuminating the shore ahead as we depart before sunrise from the anchorage in Pollen at the head of Eikefjorden.
CHC

CHC, based in Richmond, BC, Canada, is one of the largest commercial helicopter operators on the world, with major markets in Australia, Brazil, Ireland, the Netherlands, Norway, and the UK. The company operates a helicopter rescue service in Floro using an AS332L1 SuperPuma and a crew of six is on 15-minute standby.
EWOS

Huge EWOS facility in Floro. Until purchased by Cargill in 2015, EWOS was one of the largest suppliers of feed and nutrition for farmed fish.
Stabben Lighthouse

The Stabben Lighthouse just north of Floro was established in 1867 and takes up most of the islet it stands on.
Floro

View to Floro Harbour as we pass by to the north. Floro has a population of 11,000 and is Norway's westernmost town.
Westcon

Westcon's huge shipyard in Floro, one of several the company operates in Norway. We toured past their

Olsfjorden

facility earlier this year. The indoor shiphall, pictured, measures 656 x 131 ft (200 x 40 m). We were planning to continue through here to an anchorage, but new causeways not shown on our chart blocked our path.
Norsea Fighter

The 269-ft (82m) offshore support vessel Norsea Fighter moored off Floro.
Energy Empress

The Multi-Purpose Support Vessel (MPSV) Energy Empress was completed in 2019 following the Ulstein X-Bow design.
Crushed Cars

A massive pile of crushed cars ashore on the outskirts of Floro.
Massoya Anchorage

Our anchorage off the island fof Massoya, just west of Floro, in in 38 ft (12m) on 175 ft (53m) of rode.
Kinn Marina

Kinn Marina near Floro, seen on a tender tour of the area, offers year-round land storage and indoor, heated winter storage for boats.
Figure

A small figure supervising traffic on the narrow waterway near Kinn Marina.
Havhesten

The glass-enclosed Havhesten swimming facility near Floro has beautiful sea views from its pools.
Small Boat Channel

Running a narrow and shallow small-boat channel at Floro back to Dirona. There's barely room for the tender, and with a fast current, some care is required just to stay off the wall.
11/29/2020
Norddalsfjorden Anchorage

Our anchorage at the head of Norddalsfjorden in 116 ft (35 m) on 375 ft (114 m) of rode.
Swamped

We dropped the tender right after anchoring at Norddalsfjorden, in a rush to get out and tour the beautiful area. Don't launch your tender without the hull drain plug in.
Tender Tour

Out on a tender tour of the complex and shallow channels around the head of Norddalsfjorden with Dirona visible in the distance.
Lakselva Channel

We were able to run the tender all the way through the intimate channel to Lakselva, much farther than the charts indicated.
Otters

Two of a group of six otters playing along the shore in the channel to Lakselva. They sure are cute.
Click the travel log icon on the left to see these locations on a map, with the complete log of our cruise.

On the map page, clicking on a camera or text icon will display a picture and/or log entry for that location, and clicking on the smaller icons along the route will display latitude, longitude and other navigation data for that location. And a live map of our current route and most recent log entries always is available at mvdirona.com/maps.