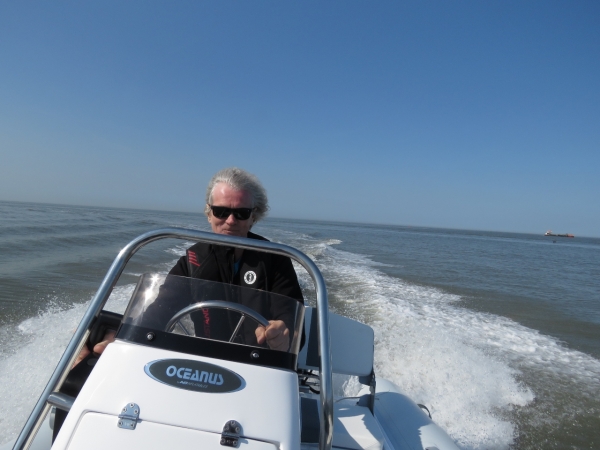 Tender selection on a small boat can be complex. Big tenders don't fit and it's more challenging to make multiple tenders work without giving up prohibitive amounts of deck space. Finding the "just right" compromise can be challenging.
Back in 2009, we bought an AB 12VST and have used it for the intervening 9 years. We love the boat's speed and range. When the main boat is a slow, ocean-going vessel, it's nice to have a tender that will do 30 MPH and can easily carry the fuel for an 80-mile round trip. The tender is big enough to make a great dive platform, allows moving our two bicycles to shore easily, can move a full load of groceries, and still fits on the boat deck.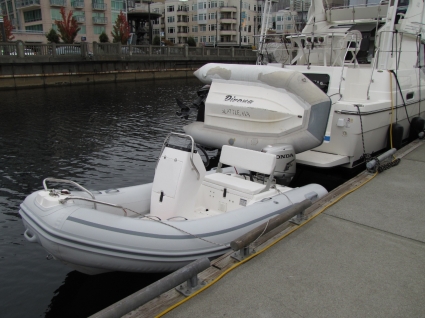 The only issue we found, and it's a big one, is that you really can't land a 700-lb monster onto the beach in the surf. We tried it once and, well, it was kind of exciting. We ended up adding a 7-ft rollup micro-tender with a 2.3hp Honda to our repertoire. It's takes up little space, can be deployed quickly, it's easy for two people to carry at under 70 lbs complete, and is a backup should crane problems prevent our launching the larger tender.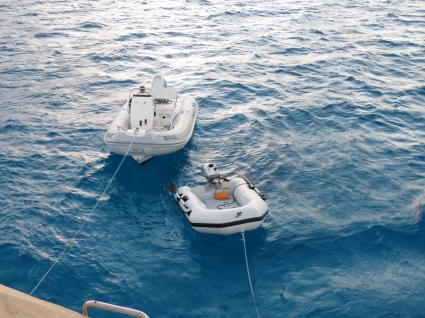 We're happy with the overall set of compromises we ended up with and that boat we got back in 2009 is now 9 years old. It's had a new fuel tank, the console has been re-attached, numerous props have been changed, the fiberglass bottom has cracked and been patched, the boat been holed, seams have failed, but it has just kept on going.
Our goal was to get ten years from it, but that started to look less practical last fall. While running at full speed in rough water in the cold waters of Scotland's Orkney Islands, the right side tube went from solid to completely empty almost instantly. Even more exciting, the tube actually vacuumed onto the attachment point on the boat essentially disappearing. What had happened is a large seam at the rear of the tube had failed all at once, creating a negative pressure that completely evacuated the tube.
| | |
| --- | --- |
| | |
It's really quite amazing to be sitting up on the tender seat seeing water almost directly below and just to the right of where you are sitting. The boat was on plane and so it didn't heel over, but the water was rough and the tender looked highly likely to take on water if we were to slow down. It won't sink with two other tubes still intact but it definitely sat low in the water once we slowed down. We kept it on plane back to the boat and transferred it to the boat deck by crane where we were able to repair the tube the next day. The experience left us convinced that it was time for a replacement tender before spending this summer in Norway.
The only regrets we have had with our current tender is we wish we had gone for an aluminum boat to get the increased efficiency and better top speed for a given engine. So the first decision we made was to go for an aluminum boat this time. The next decision was to go with another AB. This was driven by four primary factors: 1) they are pretty good value, 2) if we go with the same dimensions as the current boat, we can use the same tender chocks, lift harness, and cover, 3) the current boat has lasted quite well and 4) we really like how capable the current tender is in rough seas.
With those decisions made, we knew we wanted an AB 12ALX, the aluminum version of our current tender. We had also planned to get a Yamaha as our next outboard. Our fuel-injected Honda 40 has never missed a beat, has never failed to start, and has required no service calls, but we find the Yamaha 4-strokes to be very quiet and many of our friends love them.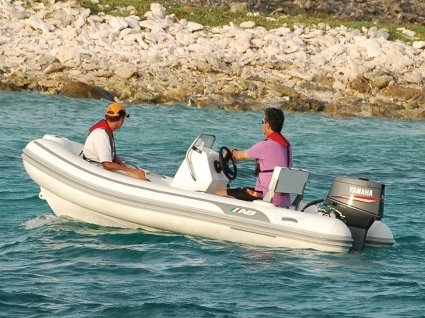 Since the 12ALX is rated to use up to a 30hp engine rather than the 40hp on the fiberglass 12VST, we decided to quickly check the 12ALX's theoretical speed to ensure it really would be slightly faster than the current one. Aluminum is lighter and weight usually translates to speed, so this check was largely a formality, but we did want to go a bit faster in the new boat. In researching this, we found a couple of interesting anomalies.
The 12ALX is much lighter at 315 lbs than our fiberglass 12VST at 405 lbs. However, the maximum HP rating on the 12ALX is 30hp whereas we have the max-rated 40HP on our 12VST. Adding the weight of the 30hp Yamaha (224 lbs) and working through the weight-to-HP ratio, the aluminum boat is 17.96 lbs/HP. Ironically, our current far-heavier AB 12VST fiberglass boat with a 214lb Honda engine has a weight-to-HP ratio of 15.48 lbs/HP. For boats of similar size and bottom shapes, weight-to-HP is an excellent predictor of speed. The aluminum boat would actually be slower than our current configuration.
| | | | | |
| --- | --- | --- | --- | --- |
| Boat | Weight | Engine | Total Weight | Weight:HP |
| 12ALX | 315 lb | Yamaha 30, 224 lb | 539 lb | 17.96 lbs/HP |
| 12VST | 405 lb | Honda 40, 214 lb | 619 lb | 15.48 lbs/HP |
We absolutely did not want to give up speed on the new boat and were hoping to gain some, so we decided the aluminum boat wouldn't work for us. We could of course put a 40HP on it but we hate the idea of running higher than the manufacturer's maximum-rated HP. If there were an incident it's possible we would appear to be irresponsible and insufficiently focused on safety with an engine larger than the max rating, and we could imagine that data point being used to adjust responsibility unjustly our way. We really want to keep within the manufactures engine limits, so just going with more HP on the aluminum boat doesn't seem like the best answer for us either.
Looking at weight-to-HP to pushed us back to the fiberglass 12VST instead of the very similar and much lighter aluminum 12ALX. What was even more interesting is the rating on the 12VST has changed in the intervening years since we purchased ours. The boat hasn't changed in hull form or weight but the manufacturer's maximum HP had increased from 40 to 50HP.
The Honda 50, and the Honda 40 we previously, had are exactly the same engines at exactly the same weight with only difference being engine tuning. So the 50 HP Honda is the same 214 lbs as the 40 HP Honda we have been using. The Yamaha 50 uses the same engine as their 60, so is considerably heavier at 247 lbs. Weight matters when it comes to tender performance so this pushed us back to the Honda. Of course if we really wanted a light Yamaha, we could go with the 2 stroke Yamaha at 192 lbs but we've come to love the longevity of 4-strokes, and their fast, reliable starts. Also, they are better for the environment and legal in all jurisdictions. In this case the 2-stroke Yamaha is only 22 lbs less than the 4-stoke Honda and, since we have lots of spares for the Honda and have had good luck with our Honda 40 over the last 9 years, we decided to go with the AB 12VST and Honda BF50 combination. This decision allows us to get down to a very low 12.38 lbs/HP which is considerable better than the 15.48 lbs/hp of the AB 12BVST and Honda 40 combination and vastly improved over the 17.96 lbs/hp of the AB 12ALX.
Boat
Weight
Engine
Total Weight
Weight:HP
12ALX
315 lb
Yamaha 30, 224 lb
539 lb
17.96 lbs/HP
12VST
405 lb
Honda 40, 214 lb
619 lb
15.48 lbs/HP
Yamaha 50, 247 lb
652 lb
13.04 lbs/HP
Honda 50, 214 lb
619 lb
12.38 lbs/HP
We finally determined the configuration we wanted to buy: an AB 12VST with a Honda BF50. At this point, one would assume the project was all done: just negotiate price and get the boat delivered. The challenge is we were in the Orkney Islands and there are no AB dealers in the area. Of course, this wasn't a problem since we'd be in the UK for another 4 months and in early 2018 planned to be in Southampton, the UK boating capital. We got to work on pricing and came up with favorable terms, but the delivery times couldn't be made to work. There were no AB 12VSTs available in country and the dealer wasn't confident that they could get a tender delivered from AB before we left the UK.
We were disappointed, but found an alternative that looked quite good: Boot Akkrum in the Netherlands. Book Akkrum is a high-volume AB distributor servicing the Netherlands, Germany, and Denmark. We read about the company, they seemed to have mostly happy customers and we found their sales representative Joran Balstra to be responsive and knowledgeable. We talked through pricing and they were able to get us the nearly same pricing we had arranged to get in the UK. The advantage of taking delivery in the Netherlands is that we would get there after the UK, on our way from London to Norway in April. So there was plenty of time to get the new boat delivered.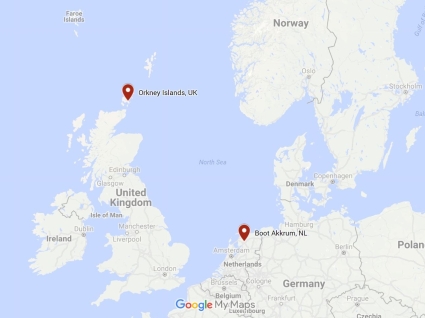 It's a bit unusual to be buying a boat in Akkrum Netherlands from the Orkney Island group of northern Scotland but, when you are constantly on the move, you need to be flexible. Joran and Boot Akkrum were very helpful in working through the details and agreeing to deliver the boat to us in Amsterdam. We were fairly confident that we had more than enough time for our goal of an April 1st delivery, five months away. We wired them an initial deposit for the tender and the order was placed. It turned out that Boot Akkrum got a major military order at around the same time which, in some ways, was good in that they have a much bigger order coming from AB. Unfortunately, the much bigger order took longer to get ready and it ended up being a big concern that the boat wouldn't arrive until we were past the Netherlands heading north to Norway.
The fallback plan if delivery missed us passing the Netherlands was to get it this winter in Amsterdam since we plan to spend several months in there over the winter. However, we really wanted the tender to use in Norway this summer. The weather is tough and the water cold so we would much prefer a new, more reliable tender.
The massive three-shipping-container delivery with our tender eventually shipped from AB in Brazil with an ETA of March 31st into Rotterdam and we were in frequently conversations with Joran of Boot Akkrum regarding the delivery date. The eventual solution was to delay our April 1st departure from  London by two weeks and stop briefly in Harlingen, Netherlands the week of April 16th to just pick up the tender on the way north. We hate cutting schedules tight when planning a major boat trip but we really wanted the new tender so we gambled the schedules would line up.
Of course, the shipment was late and didn't arrive into Rotterdam until April 5th and then was further delayed clearing customs and in regional shipping. The container with our tender finally arrived in Akkrum on Tuesday April 10th. Boot Akkrum worked quickly and was able to prepare the boat, install the instruments, and get it ready for delivery in only a couple of days. On Thursday, April 12th Joran sent us a photo of the new tender, ready for delivery.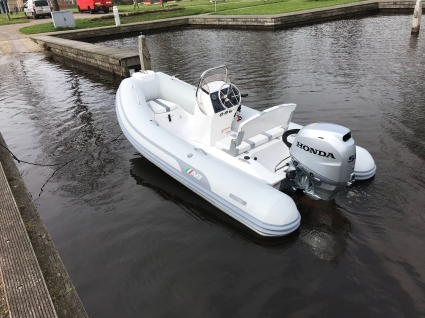 We wired a final payment to Boot Akkrum with a scheduled delivery date of April 18th in Harlingen, Netherlands and departed London on April 14th. Two days later, on April 16th, we arrived into Harlingen to await our tender. It seemed like everything was finally coming together, but there are always more opportunities for problems and delays. So we were super-relieved to see Joran round the corner approaching our berth in downtown Harlingen on the morning of the 18th with our new boat in tow.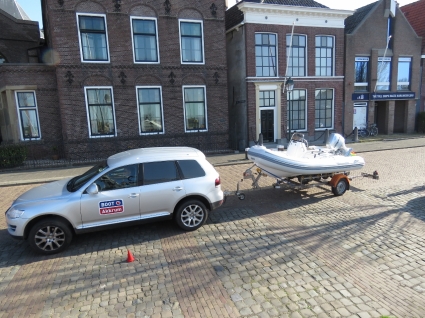 One issue with taking delivery in Harlingen is that no boat ramps are nearby. But Richard van Stekelenburg, the marina manager in Harlingen, has assigned us an ideal floating berth adjacent to the quay where vehicles can park alongside. We could simply move six feet sideways and moor against the quay to pick-up the tender. But, since it is downtown, the parking beside the boat fills up by mid-morning and stays busy all day. So, we moved over to the quay first thing in the morning and "reserved" two parking spots by picking up our existing tender and swinging it out over the parking area and lowering it across two spots. We love having a long-reach crane.
| | |
| --- | --- |
| | |
| | |
| --- | --- |
| | |
| | |
| --- | --- |
| | |
Once Joran arrived, we picked up the old tender and put it in the water on the other side of our boat. Joran maneuvered their trailer into the spot vacated by the old tender and we picked up the new boat and put it down on our boat deck. Book Akkrum was taking our old tender in trade-in, so we picked it up and lowered it onto their trailer. Finally, we picked up the new tender and lowered it to the water beside our boat for testing.
The engine then started a bit rough, but ran well. Man it was nice to be out in the new boat, and we're sure that Joran won't miss our constant "is it here yet?" email :-).
The "it started a bit rough" problem came up a few more times on the sea trial, where it would occasionally stumble slightly. The engine ran well but just had the occasional stutter. Not a big problem but a concern since we are about to leave the country and, if we need service, it'll be hard to arrange. The recommendation was to get five hours on it and expect it to smooth out.
The next day we were out and the light stumble became quite noticeable. The engine was down on power, eventually wouldn't run over 1500 RPM and before getting back to Dirona, it wouldn't run at all. We eventually got it started by pumping the fuel priming bulb but it was clear the engine had big problems. A plugged fuel filter, a failed fuel pump, or a sensor problem seemed like the most likely cause. This was a bit frustrating. Imagine how few engines per hundred have problems on delivery and somehow we managed to hit the "jackpot."
We weren't very optimistic at this point, but we contacted Joran the next day hoping to get it looked at as soon as possible. We didn't like the idea of having the engine apart if that was required, but really needed the issue resolved. Boot Akkrum responded incredibly quickly. They arrived with a trailer by 11am that day, took the tender back to Akkrum to investigate the problem at their service center, and had it fixed and back at Dirona 45 min away in Harlingen before end of day. What they had found was a fuel pickup problem where the pickup tube was up against the bottom of the fuel tank restricting flow.
We put another ten hours on the engine before leaving Harlingen, partly on an excellent canal tour all through the area. The engine started perfectly every time and ran without even a hint of problem. It's reliable, quiet, and very fast. It'll do 36 mph (31 kts), and is both stable and comfortable at those speeds.
We still have a fair bit of rigging work to do, but fortunately our tender chocks, lift harness, and canvas cover all fit the new tender. The rest of the rigging we could handle ourselves, but getting a new canvas cover or lifting harness made on short notice during this short stop in Harlingen would have been challenging.
We'll blog the rigging choices we made and the configuration we chose but, at this point, we're super happy with the new boat and are enjoying it in Norway. We're currently deep into Sognefjord, the longest Fjord in Norway, and are enjoying an anchorage surrounded by waterfalls and being able to roam far in a reliable tender. Boot Akkrum did a great job of getting the boat delivered and, when we were tight for time and had a mechanical problem, they managed a single day service turn-around from a different city in the Netherlands. It's really nice to have a new tender and, we'll aim to be still using it ten years from now.
Update 2018/05/30: We've posted our rigging choices and configuration at Tender Rigging.