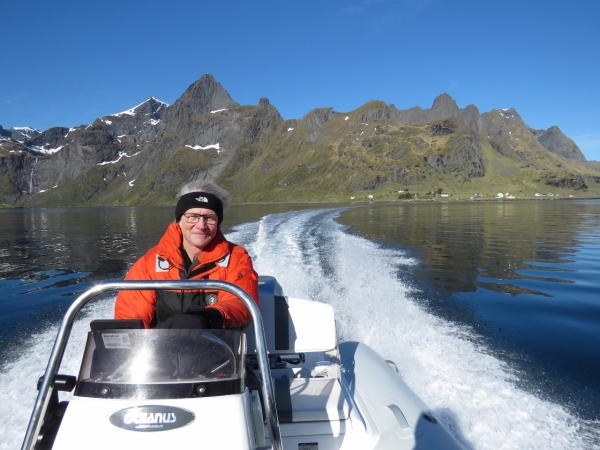 After 9 years of hard use and over 550 hours, we decided to purchase a new tender and we picked it up in Harlingen, Netherlands. It was long past time to replace our tender with the final straw being an eight-inch complete seam blow-out in the cold Orkney Islands group in Scotland. Our goal was to get ten years with the tender but we decided nine was enough. Now that we have had the new tender for a while, I suspect we should have replaced our last tender a bit earlier. The new one is performing wonderfully well.
We spent considerable time investigating options (see A New Tender for Dirona) but eventually concluded that getting exactly the same tender as we were replacing, an AB Oceanis 12VST, but with a more powerful engine was the right choice for us. In considering new tenders, one of our primary dimensions of focus was speed. Dirona is a wonderfully capable boat but doesn't do more than 9.5 kts wide open. A great addition to a slow boat is a very fast tender that can be used to explore the area around the Dirona. We use our tender all the time and already have 25 hours on the new one in just six weeks.
Being able to dress up warm in our Mustang Survival floatation suits and run at 31 knots (36 MPH) is an excellent additional tool to have in our adventure portfolio. The 12VST is a big enough platform that we can dive off of it, transport of bicycles to shore and carry lots of extra fuel for all day trips. And it's a nice dry ride. We've had the AB12VST carrying 30 gallons of fuel out in 4-ft seas and it just pushes through without issue with its deep V hull.
Of course, the tender is fairly big and is completely unable to land in the surf so we also have a micro-tender. It's a 2.3hp-powered 7-ft tender that we can easily carry between us. It can't go far and it won't go fast, but it super portable and takes close to no space.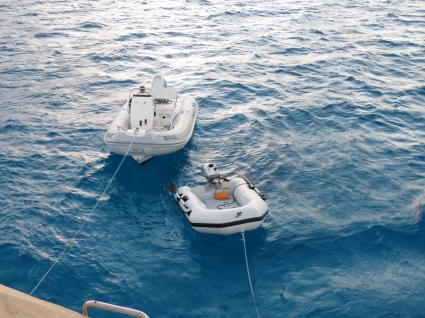 We ended up returning to the AB 12VST after testing it severely in rough seas and being impressed by how well it does in big seas. The deep V hull just cuts through the big waves. This seaworthy hull form gives up a little in speed for a given HP but the 12VST is rated for a maximum of 50hp so it's no slouch. We selected the 214lb Honda 50 engine to drive the 12 VST. In this trim, it's very stable, can take on rough water and is still capable of 32 kts (36 MPH). The speed really eats up the miles quickly and makes lots of trips that seem silly very practical. We have done some trips as far as 80 miles return—that would be almost a full day trip in Dirona.
Another reason to return to the AB 12VST is our existing deck chocks fit it like a glove. Nothing needs to change. Our lifting harness will work unmodified. The existing tender cover fits perfectly. All our tender tie downs work unmodified. When reflecting on how much work it takes to rig a tender, avoiding these big changes reduced the work greatly.
| | |
| --- | --- |
| | |
One of the issues that show up frequently with high HP small boats is, even with lots of power, they are very stern heavy and make the transition from displacement speeds to planning poorly and quite slowly. We have found that the Nauticus trim tabs are a wonderful solution. These work by forcing the bow down at low speeds and getting out of the way at high speed. They are actually fairly simple.: just a gas strut on a hinged trim tab. And, they are super effective allowing the new tender to come up on plane at low RPM levels and making the transition from displacement to planning a gradual one with the boat comfortable running at any speed without burying the stern. We're using Nauticus ST980-30 Smart Trim Tabs.
Some care is required in mounting the trim tabs. They need to be mounted just barely above the water flow at the transom of the boat. All screw holes need to be well sealed with 3M 5200 and the struts need to be sized correctly for the size and weight of the boat and placed correctly. It took nearly a half day to install them but, wow, what a difference.
We carry a lot of equipment in our tender including tools, a spare prop, a spare battery, two anchors, and lots of other gear. We need to be able to lock the storage areas to discourage petty theft and these locks need to be able to operate in salt water and the hardware needs to be highly resistant to corrosion. We chose HandyStraps stainless steel locking hasp and staple. For locks we went with three ABUS Titalium Padlocks. They are highly corrosion-resistant, fit the hasp, and are available in a package of three all using the same keys.
As much time as we do spend in the tender at full throttle, there are times when we are just putting around eating lunch or relaxing in the sun. It's nice to have a cup holder in an easy to reach location. We went with an American Technologies foldable cupholder so we can have it out of the way when not using it and easy to use when we are:
One mistake I've made over the years is leaving on electrical equipment when storing the tender. We've found an easy way to detect that is to put a voltmeter in the side of the tender that faces the lock when tied off and faces the boat deck when up on Dirona. The light of the side mounted volt meter both catches your attention when putting the boat away but also shows battery condition if it is on which is useful to avoid accidental deep discharges. We use an E Support DC 12V 24V gauge.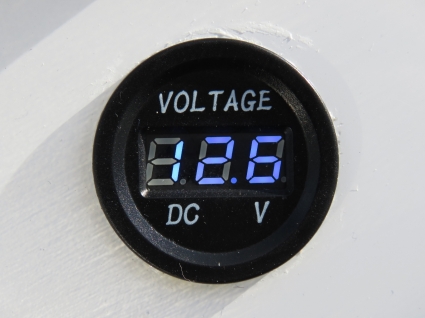 Tenders need identification. In many jurisdictions they are legally required to carry numbers or to be identified as a tender to a larger boat. With letters on, we find we get left alone and, when operating without letters, a fast boat is a magnet for law enforcement. We use an Avery product that is printed by special machines onto a spacing tape that peels of once the letters are applied. It's easy to apply and quite inexpensive from a local print shop. We'd applied the lettering to our previous tender while in Whangarie, New Zealand and bought three extra sets as we expected they would eventually need replacement. But the letters outlasted the tender and we still had all three sets left when we purchased the new tender.
All that is left is electronics and, for that, we have gone with an all NMEA2000 solution mostly dependent upon equipment from Maretron. This project is working out remarkably well and is described at Tender NMEA2000 System.