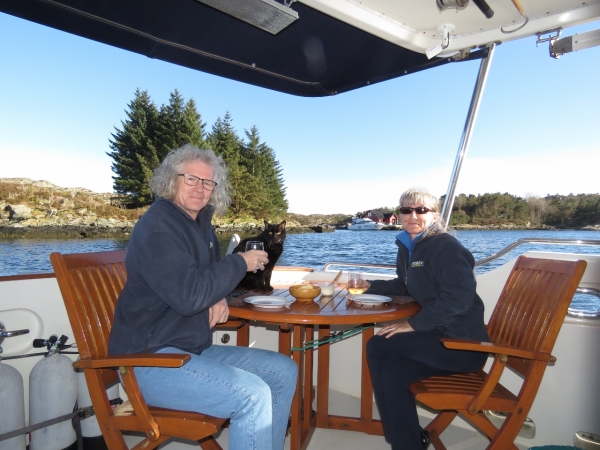 From the Netherlands we made a 500-mile, 3-night run to Norway with a pitstop in Helgoland, Germany for duty-free fuel. Conditions for the first two days were wonderfully calm and for the final night were rough in tight seas on the bow with pitching to 20.5° as we closed on the Norwegian coast. But we soon were in calm seas again as we entered Norway's "Inside Passage" near Stavanger and enjoyed our first Norwegian anchorage.
Below are trip highlights from April 26th to 29th, 2018. Click any image for a larger view, or click the position to view the location on a map. And a live map of our current route and most recent log entries always is available at mvdirona.com/maps
4/26/2018
Leaving Harlingen




The bridge across the entrance to Zuiderhaven opening for us as we depart Harlingen. The stop to pick up our

new tender

was successful, and we really enjoyed the time we spent in and around the city.
Pitching




We left Harlingen near high tide with the ebb current. The winds were predicted to be blowing in the 20s from the southwest. Once we we exit Vliestroom channel for sea, this will be fine because the winds will be behind us. But the winds will be on the bow against an ebb current as we passed through Vliestroom channel. We expected rough conditions there and were right—our maximum pitch reached 21.1°, with a maximum roll of 15.4°
Traffic




We're running just south of the busy traffic lanes north of the Netherlands and can see lots of ship AIS targets there, plus several oil rigs.
Conditions




As we expected, conditions settled right down once we turned to sea and put the wind behind us. It's still blowing 25 knots, but maximum pitch is now only 4° with max roll at 8.9°. Much nicer.
Oil Rig




One of the many North Sea oil rigs we've passed, lit up at dusk.
Wind Farm




The light is poor, but you can just make out the wind farm and get a sense for the scale. Each light is a multi-megawatt offshore windmill.
4/27/2018
Sunrise




A beautiful sunrise after a wonderfully calm night at sea shortly after we've turned north toward Helgoland, Germany.
German Ensign




Raising our German courtesy flag in preparation for landing in Helgoland, a small archipelago about thirty miles off the German coast.
Bunker Station Helgoland




As a German territory, Helgoland is part of the EU, but is not part of the EU

Customs Union

or

VAT area

. We're here at Bunker Station Helgoland to purchase duty-free diesel at a price of $4.81 per gallon. That's a fair bit by US standards, but without VAT is cheaper than we'd have paid in the Netherlands or the UK.
Sudhafen




Docked at Bunker Station Helgoland's Sudhafen facility. The dock has only been open a couple of years and caters mainly to commercial boats or those taking on at least 3,000L of diesel. When we were there, Sudhafen was available for pleasure craft until 10am daily and was booked for commercial traffic after.

The bollards are so far apart that we ran aft and stern lines to one roughly amidships. We could have used our 75-ft lines and reached the farther bollards, but it didn't seem worth the trouble.
Ladder




Jennifer climbing down the ladder back to the boat after tying off. It's a long way up.
Fueling




Taking on 940 gallons of diesel from Bunker Station Helgoland Sudhafen. The stop was super-efficient—we arrived at 8:10am, were fueling by 8:20 and were done and paid up by 9:30.
Rescue Ship




The 46m Hermann Merwede, based at Helgoland, is the largest in the German Maritime Search and Rescue Service's 46-vessel fleet.
Binnenhafen




Gasoline is only available at Bunker Station Helgoland's facility in tidal-constrained Binnenhafen, so we moved there to fill our two 29-gallon deck tanks. Until

Sudhafen

opened a couple of years ago, all the commercial traffic had to go here for diesel.
Langa Anna




Langa Anna is a 154ft (47m) sea stack off the north end of Helgoland. Besides dramatic scenery, Helgoland is famous for being the site of one of the biggest single non-nuclear explosions in history when the Royal Navy detonated 6,700 tonnes of explosives there on 18 April 1947. Our initial plan was to spend a day or two exploring Helgoland before continuing on to Norway, but weather conditions looked good for the North Sea run, so we decided to just to a gas-and-go and explore Helgoland on a subsequent visit.
Wind Farm




Passing around a grouping of three major wind farms: 302-MW 80-turbine Amrumbank West at the north end, 48-turbine 295 MW Nordsee-Ost at center and 880-turbine 288 MW Meerwind Sud/Ost at the south end. Three more wind farms are planned for the area.
100kt AIS Target




We picked up an AIS target travelling at 102 kts. It was the Danish search-and-rescue helicopter

RDAF SAR4

.
Conditions




Conditions have been wonderfully calm so far on our run from Helgoland to Norway. We'll take it while it lasts. Winds are forecast to pick up to 15-20kt from the north on our last night as we approach Norway, so we expect uncomfortable conditions for the final few hours.
4/28/2018
Fog




We passed the Horn Rev wind farm around midnight in a thick fog, so couldn't see the lights from any of the turbines. We also passed through some heavy traffic, with several fish boats, only visible on radar.
Spotlight




Our forward spotlight reaching out into the fog. We really like the light, both to see and be seen, particularly in poor visibility. Our experience with fishing boats is that the floodlight can be seen from much greater distances, particularly in fog, than the navigation lights.
Float




We're a long way offshore, but traps can be placed almost anywhere in the shallow North Sea.
Norwegian Ensign




Raising our Norwegian courtesy flag as we approach Norway. As you can see behind us, conditions remain wonderfully calm.
Breakfast




Jennifer having a 10:30am breakfast of fresh fruit and a granola bar following her off-watch shift.
Jutland Bank




To our southeast is Jutland Bank, where the famous World War I Battle of Jutland took place between Britain and Germany. The

HMS Caroline

that we toured in Belfast is the only surviving ship from that battle.
Temperature Sensor




James installed a temperature sensor on the exhaust cooling fan. If the fan

runs in reverse again

, the quickly rising temperature at the fan will trigger an alarm before parts are damaged.
Pitching




Instead of the 15-20 kts that were forecast, the wind has shot up to 25-30 kts over the past few hours. The seas are big and tight on the bow and we're pitching 20.5°. This isn't dangerous, but conditions are more uncomfortable than expected. We have to be careful moving around the boat and when opening any lockers.
4/29/2018
Conditions




Conditions are far from great, but are starting to settle down as we near the Norwegian coast. We're now pitching "only" 17.9° instead of our earlier 20.5°.

Our initial plan was to run offshore for a few more hours to Espevær, wait for a small system to pass, then continue running offshore while the weather held until we reached Tromsø. From there we'd work slowly south. But the miserable conditions of the past few hours had tempered our desire to run offshore. So when Bergen resident Trond Saetre encouraged us to run inshore and even plotted a recommended route, we didn't have to think hard about it. We adjusted course from outside the island of Karmoy to inside and are looking forward to some sheltered coastal cruising. Thanks Trond.
Land Ho




Our first view of the Norwegian coast just past 5am.
Liafjord




The Norwegian trawler Liafjord aglow in the morning sun just west of Stavanger.
Bergensfjord




The 557-ft (170m) cruise ferry

Bergensfjord

en route to Bergen after an overnight run from Hirtshals, Denmark to Stavanger, Norway. The

Bergensfjord

and its sistership

Stavangerfjord

, owned by Fjord Line of Norway, are the largest cruise ferries in the world to run entirely on LNG.
House




Many striking modern houses overlook the strait of Karmsund along the east side of the island of Karmoy.
Deep Endeavour




The oil industry drives much of Norway's healthy economy and we're seeing plenty of evidence here. The 423-ft (129m) Deep Endeavour is one of several capable-looking offshore supply vessels that we passed.
Gulf Energy and Bering Energy




The LNG carriers Gulf Energy and Bering Energy have been here long enough to be visible on the satellite imagery. They are owned by South Korean shipowner Sinokor Merchant Marine.
Bridge




Passing under our second bridge in a half-hour. Norway has excellent infrastructure, including many, many bridges.
Scenery




A small taste of the fabulous scenery we're expecting to see over the next few months.
Buavagen




We tried to anchor at scenic Buavagen, but the holding was poor and the swing room tight, so we continued on.
Norway Arrival




We're all out on deck to enjoy our first stop in Norway at Vorlandsvagen. This is the first country we've visited where we didn't have to complete any clearance formalities. We already

cleared into the Schengen Area

in Harlingen so no further immigration clearance is needed to enter Norway, also a Schengen country. And Customs didn't require our contacting them on arrival if we had nothing to declare and the boat would be in the country for less than six months.
Click the travel log icon on the left to see these locations on a map, with the complete log of our cruise.

On the map page, clicking on a camera or text icon will display a picture and/or log entry for that location, and clicking on the smaller icons along the route will display latitude, longitude and other navigation data for that location. And a live map of our current route and most recent log entries always is available at mvdirona.com/maps.