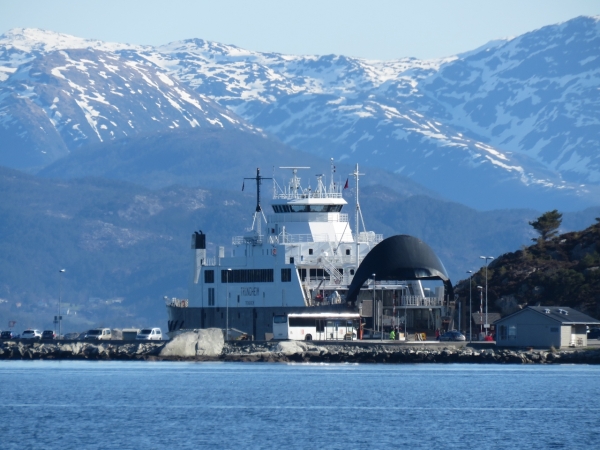 From our first Norwegian anchorage at Vorlandsvagen, we ran 105 miles north past Bergen to the mouth of Sognefjord in two day trips. Over that time we completed a few chores, explored in the tender, and enjoyed the relaxed running through Norway's sheltered and scenic 'inner lead'. En route we passed ships of all sizes and function, including offshore supply vessels, cargo ships, ferries, fishing boats, cruise ships and ambulances. Norway must set a high standard for ship maintenance—nearly every one looked brand-new.
Below are trip highlights from April 29th through May 1st in Norway. Click any image for a larger view, or click the position to view the location on a map. And a live map of our current route and most recent log entries always is available at mvdirona.com/maps
4/29/2018
Impeller




The hydraulic oil temperature rose to 160°F (71°C) while we were anchoring. The impeller had thrown all twelve fins, but luckily James found them all. It's really important to find every missing impeller blade because if you don't, where they'll end up is blocking the cooling tubes in the heat exchanger. After installing a new impeller, the temperature was back down to 119°F (48°C) under load.
T/T Dirona




We installed the lettering on our new tender as one of our final

rigging tasks

. We'd applied the lettering to our previous tender while in

Whangarie, New Zealand

and bought three extra sets as we expected they would eventually need replacement. But the letters outlasted the tender and we still had all three sets left when we purchased the new tender.

Most countries require even small powerboats to be registered, unless they are a tender to a larger vessel. With the letters showing our RIB was a tender to a larger boat, we'd only been stopped once in our previous tender, at night en route to watch the Moomba Festival fireworks in Melbourne Australia. But with the new unmarked tender, we were stopped within minutes by the Netherlands police asking for our registration. Hard to know for sure, but we suspect identifying the boat clearly as a tender helps avoid these concerns.
Failed Guage




Last August, while in Scotland, we

replaced all the hydraulic gauges

with gauge ports that allow a gauge to be snapped on quickly to check pressures without spilling oil. This removes the gauges from the system and avoids a failure mode where the gauge fails and the hydraulic system leaks its oil out through the damaged gauge. This can make a real mess, and if left, will cause serious damage.

American Bow Thruster (ABT), the manufacturer of the hydraulic and stabilization systems on Dirona, now does all new builds this way and recommends that older builds be upgraded. Today when changing the hydraulic cooling impeller, James noticed that he had missed one of these old gauges. This guage is both leaking and the indicator needle is floating in the bottom.
Vorlandsvagen




Our first Norwegian anchorage at Vorlandsvågen.
Bømlahamn




At the protected bay off Bømlahamn on a tender tour of the area. Norway must go through a lot of red paint—many of the buildings are painted red and most look recently painted.
M. H. Master




The offshore supply vessel M. H. Master and M. H. Merchant at Langavåg.
Ferry




Looking north past the ferry arriving into Langavåg. We're not yet in the most famous visitor attractions in Norway and already the scenery is spectacular.
Krone




We found a cash machine at Langavåg and got some of our first Norwegian Krone.
Mute Swans




After a great meal on deck we were visited by some hungry locals. Here, James is experimenting with how far up out the water they are willing to stretch to get a piece of bread. The Mute Swan, so called because they are less vocal than other swans, can be found year-round in southern Norway.
4/30/2018
Moon




The moon over on the south shore of Vorlandsvågen as we raise anchor just past 5am.
Mosterhamn




Looking west to the village of Mosterhamn, or Moster, population 1,354 in 2013. It is one of literally hundreds of villages in Norway, but holds a special place in Norweigan history. In 1024 King Olav held a meeting in the old Moster church that brought Christianity to Norway.
With Junior




The cargo ship With Junior just south of the bridge between Spyssøya and Nautøya islands.
Fish Farm




Norway has a lot of bridges, islands, villages, and also fish farms. And the coastline also is intricate and well-marked. As we work north we'll pass dozens of fish farms and hundreds of navigation markers. Small lighthouses, such as the one in the foreground, are installed throughout the coast and usually are turned off in the summer when it is never dark.
Siem Emerald




The 298-ft (91 m) offshore supply vessel Siem Emerald, launched in 2009. Norway must set a high standard for ship maintenance—all the ships we've seen look brand-new.
Bekkjarvik




The village of Bekkjarvik on the east coast of the island of Selbørn. The village once was a trading post, and the inn there has been in operation since the late 17th century.
Trondheim




Norway also has a lot of ferries. 105 ferry routes operated within the country in 2017—that's four times the number of routes that BC Ferries operates in British Columbia Canada. Here the ferry Trondheim is arriving into Hufthamar from Krokeide with more of that fabulous Norwegian scenery in the background.
Entry




Coming into the anchorage at Fargosen between the islands of Skarøya (left) and Krossøya.
Fargosen




At anchor in Fargosen with a view northeast to snow-capped peaks.
Fish Boats




A fleet of fishboats moored in Tornager just south of our anchorage at Fargosen.
More Lights than Boat




We've seen 100-ft trawlers with less lots on them than this boat in Tornager.
Trondheim Arriving




We could see the

Trondheim

arriving back at Hufthamar with bow lifted and went over to have a look.
Trondheim Loading




Cars loading onto the Trondheim through the "gate" of the raised bow. Norwegian ferry operations are incredibly efficient where the unload/load time is amazingly short.
Tjelden




The

Trondheim

wasn't the only ferry docking at Hufthamar—the high-speed ferry

Tjelden

also was there. Pwowered by twin 687HP Volva Penta D13B-L MP engines, the

Tjelden

has an operating speed of 25 knots.
Ambulanse




High-speed water ambulance tucked into a cove on the island of Storholmen.
Garbage Disposal




Our

garbage disposal

popped a breaker and wouldn't budge. We expected the motor was seized and the unit would need replacing, but found a small piece of metal wedged in the teeth. It looks like a short segment of solid-core alumnium home wiring, but the wierd thing is there's no solid core aluminum used aboard

Dirona

. We eventually conluded it was the metal piece that seals the end of a sausage. Once removed, the unit was fine. It isn't a critical appliance, but we do use it heavily and would miss having it.
Boat Wash




Here James is doing a final rinse of the swimstep with our power washer.

Dirona

was coated in salt from the

rough conditions

on the second night of our run to Norway. We spent an hour today to clean it off—much better. 
5/1/2018
Liafjord




The Norwegian trawler Liafjord that

we saw

early on the first morning of our arrival into Norway.
Endre Dyroy




The 209-ft (64m) trawler Endre Dyroy, launched in 2001, berthed just south of its home port of Bergen.
Black Watch




The 583 ft (177 m) Black Watch, of Norwegian-based Fred Olsen Cruise Lines, passing under a bridge at Bergen.
Ocean Response




The 222-ft (67m) Ocean Response, designed by Wärtsilä Ship Design and launched in 2013. It was built as a multi-purpose standby vessel and owner Atlantic Offshore plans to convert it to a dedicated oil recovery and oil spill response vessel.
Bergen




Looking east to Bergen strung below steep mountains. We're focused on getting north during the first part of our trip through Norway, but plan to stop and visit the city on our way back south.
Offshore Supply Ships




Several offshore supply ships moored at Bergen.
Alversund




The waterway becomes narrow and intimate off the village of Alversund north of Bergen.
Waterfall




Small waterfall next to an old building north of the village of Alversund.
Street Lamp




We've seen street lamps such as this one lighting the waterway as we've proceeded along the Norwegian coast. It seemed a little odd at first, but the Norwegian navigational marking system is practical, easy to follow and it's clear they've designed it to work in the dark, since that's all they have in the winter.
3.4 knots




The current in Fonnesstraumen, between Alverstraum and Fonnes, can flow at up to 6 knots. We'd normally do just under 8.5 knots in calm water at 1900RPM so in making only 3.4 knots we had about a 5-knot current against us with lots of upwellings and whirlpools.
King Olav




Statue at Skjerjehamn of the immensely popular King Olav V, who reigned in Norway from 1957 until his death in 1991. The Oslo city council commissioned the statue in the early 2000s, but the final result was rejected because it made the king appear more like a dictator than the "People's King" he was known as. Many municipalities vied for the rejected statue, but Skjerjehamn prevailed.
Markers




Looking forward to a few of the approximately 13,400 markers along the Norwegian coast as we pass through a tight spot north of Skjerjehamn.
Sognefjord




The hills dwarf two ferries at the mouth of Sognefjord. And these are small hills compared to the real mountains we'll see as we proceed up the fjord.
Rutledal




The wonderful view north across the mouth of Sognefjord from our anchorage tucked in between islets off Rutledal. Our initial plan was to run straight north and tour the fjords on our return trip south. But we've decided to take a few days to explore Sognefjord to see the mountains still thick with snow as much will have melted when we return in August.
Vacuum Cleaner




James working on the brush roll (often referred to incorrectly as a "beater bar") of our built-in vacuum cleaner. What happens in our vacuum is the slight salt air, even down below where it's stowed, causes the brush roll shaft to corrode and over time friction develops and it seizes. Here James is taking it apart using a wire wheel to remove the corrosion from the shaft, lubricating the shaft and reassembling it.
Leak Testing




Leak testing the main engine cooling system. We've been having an issue where air accumulates in the furnace heat exchangers, since that is the high point in the engine cooling system. The leak test at the full 20 PSI operating pressure detected no leaks over 20 minutes. We found aluminum corrosion at the outer seal of the radiator cap that almost certainly was the source of air in the system. This outer seal is used by the recovery system to pull coolant back into the system as the engine cools. If that seal leaks, it pulls in air rather than coolant. We sanded off the corrosion and made sure everything was sealing perfectly.

The header tank visible in the foreground of the picture was the culprit. It's a small aluminum tank used in automotive racing applications that we installed when the boat was new to get the radiator fill cap to be the highest point in the cooling system since those heat exchangers in the aft end of the boat are actually slightly higher than the engine header tank.
Swan




Swan swimming across our anchorage in the evening. At 8:40pm the sun isn't close to setting yet.
Click the travel log icon on the left to see these locations on a map, with the complete log of our cruise.

On the map page, clicking on a camera or text icon will display a picture and/or log entry for that location, and clicking on the smaller icons along the route will display latitude, longitude and other navigation data for that location. And a live map of our current route and most recent log entries always is available at mvdirona.com/maps.