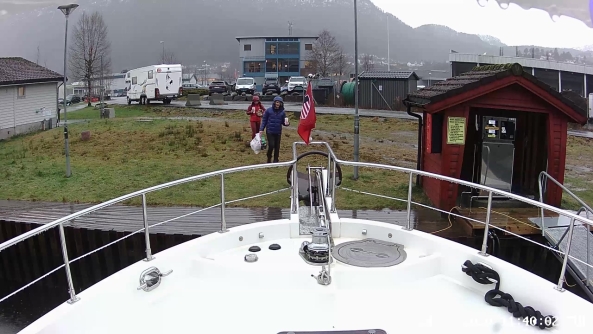 The town of Forde lies at the head of 19-nm long Fordefjorden, the next major fjord system north of Buefjorden. Forde is the commercial, industrial, and government center for the region, with good shopping opportunities for us to buy a little more winter gear.
We spent four nights exploring the fjord and approaches, including a two-night stop on the guest dock in Forde. While in the area, we encountered another major storm system that brought 64-knot winds and heavy rain to one of our anchorages, but on the plus side really brought out the waterfalls along Fordefjorden.
Below are highlights from November 20th and 25th, 2020. Click any image for a larger view, or click the position to view the location on a map. And a live map of our current route and most recent log entries always is available at mvdirona.com/maps.
11/20/2020
Heggoyna Anchorage

Our snug anchorage off the island of Heggoyna at the mouth of Stongfjorden in 53 ft (16m) on 200 ft (61m) of rode. We had considered anchoring in Eidsfjorden, a branch of Stongfjorden, but swing room was insufficient for the depth there.
11/21/2020
64 Knots

Another big storm system arrive last night, bringing gusts of 64 knots to our anchorage at Heggoyna (see tell-tale on wind speed guage at top right). The winds have settled to "only" a steady 30 now.
Winds at Heggoyna

Early morning view looking behind the boat as strong winds blow through the anchorage at Heggoyna. It's surprising how much the waves have kicked up in this tiny anchorage.
Windswept Smelvaerosen

We decided to depart the anchorage at Heggoyna for one with better wind protection. Conditions in exposed Smelvaerosen were rough, with the wind blowing steady in the 30s behind us and gusts to over 40. We were pitching over 14° and rolling 11.5° as we passed through.
Svanoya Anchorage

Our anchorage at the island of Svanoya in 70 ft (21m) on 300 ft (91m) of rode. We're only two hours away from our last anchorage, but it was rough enough out there that it's nice to be in a more sheltered more location.
Rainwater

We haven't seen this one before. We have no external leaks and frequently see strong winds with rain, and yet this storm was driving rain in so hard from behind us it actually brought a fair amount of water down the stack area and into the engine room. It's probably less than a gallon, but did make a bit of a mess.
Tender Cover

Our tender cover partially blew of in the storm, but fortunately was still held on by the bungee underneath the bow and across the engine. That's an expensive custom-fit cover, so we're glad we don't have to replace it.
11/22/2020
Wind

The winds aren't quite as strong as yesterday, but are steady in the 25-20-knot range, with gusts as high as 57 knots.
Asaholten

The view to (217m) snow-dusted Asaholten as we approach the anchorage off the village of Kvammen in Fordefjorden.
Kvammen Anchorage

Our anchorage near the town of Kvammen, partway along Fordefjorden, in 61 ft (19m) on 200 ft (61m) of rode.
Happy Hour

We're still enjoying Happy Hour outside in the cockpit, but now that the temperature is down to 44°F (7°C), we've started wearing our

Mustang suits

for extra warmth.
11/23/2020
Ship

What appears to be a navy ship under construction in Forde at the head of Fordefjorden.

Update: Blog reader Olav Bjorneset tells us this is a "nobody wants" 269-ft (82m) Palmer Johnson World Explorer, originally built for a Russian billionaire who died before the papers were signed.
Forde Berth

Our berth at Forde, at the head of Fordefjorden, with a single 16A shorepower, and water available (the Navionics chartplotter app we run on our phone has much better navigation detail). We're on the fuel dock since it's the only place available with sufficient depth for us, and even this is effectively less than we need if we experience a low tide. But we have 10ft of water now and will be fine during the current low tidal exchange.
Forde Views

Views to Forde from our berth (clockwise from top left: forward, aft, starboard and port).
Groceries

Returning to the boat with a load of groceries. The store was so close we just brought their cart to the boat and walked it back.
Visitors

Dirona is fairly prominent on the dock in Forde, and several locals came by to chat. One was a ferry captain, and they're all interested in boats, so we had a great discussion.
11/24/2020
Studded Bike Tires

In Norway, studded tires are common. They even sell studded bike tires.
Udder Support

We stopped into a farm supply store in Forde and found all kinds of unusual products that we'd never use. But it's good to know that if we do get a pet cow for the boat that udder support is available.
Shopping

Returning to the boat after doing some shopping in town to pickup a few more items of winter gear.
Gasoline

We took advantage of our convenient location on the fuel dock at Forde to top up our gasoline supply.
Dirona

Dirona on the dock in Forde at the head of Fordefjorden.
11/25/2020
Departing Forde

Running the shallow and narrow channel out of our berth at Forde before sunrise. Our

forward spotlight

is lighting up the shore in the distance and the starboard

sidelight

is illuminating the trees at right. The lights are super-helpful in navigating at night in tight quarters like this, giving us an ability to see our surroundings.
Oykevelta

Waterfall gushing down the slope at Oykevelta along Fordefjorden.
Storelva

The river Storelva, swollen after several days of rain, pouring into Fordefjorden near Vevring.
Click the travel log icon on the left to see these locations on a map, with the complete log of our cruise.

On the map page, clicking on a camera or text icon will display a picture and/or log entry for that location, and clicking on the smaller icons along the route will display latitude, longitude and other navigation data for that location. And a live map of our current route and most recent log entries always is available at mvdirona.com/maps.