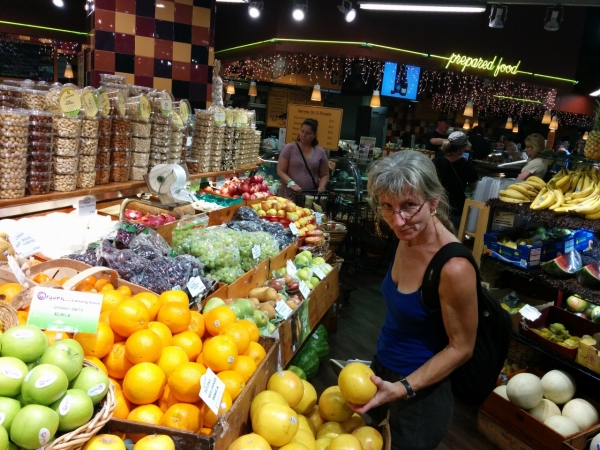 We've spent the month since arriving in Palm Beach at Soverel Harbour Marina in Palm Beach Gardens. We selected this marina mainly because they had space for us on short notice–most of the others we'd been recommended were full up. Now that we've been here a while, Soverel Harbour has turned out to be an excellent choice for us and we'd likely return should be be back in the area. Two restaurants are on-site, with two more less than a 10-minute walk away. A major shopping mall is within walking distance, as are many other retail outlets including West Marine. Carmine's Market also is on-site, packed with high-quality produce, meats and other foods, and a large grocery store is nearby. Jennifer had surgery on her injured collar bone within two weeks of our arrival, and the prepared foods at Carmine's Market have been particularly welcome during her recovery.
Our last major resupply was the pallet we ordered in late 2014 and picked up at the Gold Coast in Australia, so we're really needing a lot of parts, supplies, and household items. Imagine how much you would need if you hadn't done any shopping except for food for fourteeen months. We've been receiving several packages a day since we arrived and Soverel Harbour has also been a wonderfully convenient place to handle this: our berth is steps from the office where packages are delivered, they call us right away when a package arrives, and garbage is collected multiple times per day from the foot of each slip. With these parts, we've also been getting a lot of boat projects done, which we'll cover in a separate post.
We've also been enjoying the opportunity to meet many fellow Norhavn owners and enthusiasts who are in the area. Some like us are just passing through and others live in Florida.
Trip highlights from our stay at Soverel Harbour Marina between March 13th and April 4th follow. Click any image for a larger view, or click the position to view the location on a map. And a live map of our current route and most recent log entries always is available at http://mvdirona.com/maps
Amazon

Our first Amazon delivery was waiting for us when we arrived at Soverel Harbour. We've not had a major resupply since the pallet we got ordered in late 2014 and

picked up in the Gold Coast Aus

, so we're really needing a lot of parts and supplies.
Gardens Mall

The Gardens Mall is about a 20-minute walk from the marina. It's huge and architecturally more appealing than most malls.
SIM card

At AT&T in the Gardens Mall to pick up a SIM card. Normally one SIM shared between us works just fine as we're rarely apart. But this time Jennifer will be heading to various appointments on her own, so we got one SIM each.
The Counter

We had delicious burgers with a local Twisted Trunk beer on the patio at The Counter in the Gardens Mall.
Mmmm … tools

Checking out the tool selection in Sears at the Gardens Mall.
Boats

Boats are everywhere in Florida and stacked three-high at the marina.
Horsepower

Four motors on the back of a center-console boat is pretty common here–at 350HP each this is 1400HP. We've heard that bigger boats have been installed with as many as six.
Carmine's

Carmine's Market at the marina is packed with high-quality produce, meats and other foods.
Barolo

We had a great evening over dinner at Borolo Ristorante with Ernie Romeo of ABT and his daughter Christine. Ernie was in town to attend the Palm Beach boat show.
3/15/2016
Jupiter Hand to Shoulder

Less than 24 hours after arriving, Jennifer had on appointment Tuesday morning at 8:30am with orthopedic surgeon Dr. Veronica Diaz of Jupiter Hand to Shoulder. A neuroligist, an MRI and more testing will happen on Thursday.
MFDBB

The graphics card in our MFDBB (Multi-Function Display Black Box) failed in Reunion.

We'd been very lucky

to get a replacement card there that was nearly drop-in compatible. The card was actually an earlier generation Nvidia graphics card that wasn't 100% compatible but could be made to work. We have now purchased two used Furuno MDFBBs as spares. One will yield the graphics card and any future needs in spare parts and we'll keep the other one intact and operational.
Mail

We last picked up our mail when

James returned to Seattle

from Darwin last July. So we had a big box of envelopes to go through.
Fran & Brian

Satellite Beach residents Fran Martini and Brian Smith drove down to visit with us. We had a excellent evening with them, talking boats and business, first on Dirona and later over dinner at the Waterside Cafe.
3/16/2016
Dinghy launch

We didn't bother with the hassle of launching the tender before mooring, but did need to bring it down for service next week. We were planning to move Dirona for that, but when the boat next to us left, we jumped on the chance to launch the tender into their slip. We sure love the 16′ reach of our custom Steelhead ES1100 davit. We can launch the dinghy single-handed to the stern and either side of the boat, and even the other side of a dock.
3/17/2016
Sunrise

Sunrise over Soverel Harbour Marina.
Gardens Neurology

Jennifer had an appointment with Dr. David Silvers this morning at Gardens Neurology to isolate the source of her nerve problems that came up after the

shoulder injury

.
MRI

After the neurological testing, Jennifer was scheduled for an MRI.
3/18/2016
Customs

We applied to renew our

US Trusted Traveler

membership last week and had received conditional approval. Today we went to the US Customs office at the Port of West Palm Beach for in-person interviews to complete the renewal requirements.
Cracker Boy

The US Customs office is right next to Cracker Boy Boat Works, one of the yards we are looking at for some maintenance work due on Dirona. Cracker Boy is one of the few yards with deep-draft accessibility in the area, so deep-keeled racing sailboats frequently are seen there.
Travelift

Cracker Boy has a 75-ton and a 150-ton Travelift, both more than capable of lifting 55-ton Dirona. They say they use more lifting straps than many yards for added saftey and you can see them all hanging there off the 150-ton lift.
PGA Blvd Bridge

We finished the day with dinner at the Waterside Cafe. This is the view from our table to the

PGA Blvd Bridge

that we passed under to reach Soverel Harbour Marina earlier in the week.
Waterside Cafe

Our table along the Intracoastal Waterway at the Waterside Cafe.
3/19/2016
Spitfire

We heard a big splash this morning followed by loud yowling. Spitfire fell in the water from way up on the boat deck. He was struggling to hook onto the rub rail when we lowered a net for him to grab onto and hauled him out. The water is pretty dirty here, so we hosed him off with freshwater and he spent much of the day cleaning up.
3/24/2016
Johnny Sessa Bulldozing Visit

Oliver Sessa gave brought us out for a tour of his family's business, Johnny Sessa Bulldozing, and to see their Nordhavn 47 and pet Serval. We had an excellent day with Oliver and his family, and had a blast driving some of their construction equipment.

Read more …
3/20/2016
Sockeye Blue

Fellow Canadians John and Tina Philippson of Nordhavn 75 Sockeye Blue came up from Fort Lauderdale for a visit. We had a great afternoon with them, first on Dirona and later over lunch at the Waterside Cafe.
3/21/2016
Bicycle

We don't think James has been on his bike since

Melbourne over a year ago

. The bikes sure are convenient for shopping and quickly covering the distance.
3/23/2016
Downtown

While Jennifer was in surgery, James spent some of the time checking out the Downtown at the Gardens mall, part of the

Gardens mall

complex.
Pin

Dr. Diaz

's finished result looks as straight as new. And if all goes well, the pin will come out in twelve weeks.
3/24/2016
Boxes

We've been receiving several packages a day since we arrived in Palm Beach. Soverel Harbour has been a wonderfully convenient place to handle this: our berth is steps from the office where packages are delivered, they call us right away when a package arrives, and garbage is collected multiple times per day from the foot of each slip.
Crate & Barrel

Among our many orders is new

wine glasses

,

tumblers

,

coffee mugs

and

plates

from Crate & Barrel. We have broken surprisingly few dishes since leaving Seattle, but many are looking pretty worn from heavy use.
ABT order

One of our many orders, this one from ABT, included two spare stabilizer actuators, two actuator rebuild kits and spare actuator bearings. We also got special tools to remove the actuator bearings and the fin nut socket.
3/25/2016
Sling

Jennifer sporting her third sling of the year. This one from Jupiter Hand to Shoulder is much better than either of the

two we got in Barbados

. The healing process has been a little slower than the original break, due to the additional trauma of surgery and installing the

pin

, but so far she's doing well.
Sunday Morning

Van and Tracy Anderson brought their Nordhavn 55 Sunday Morning from Seattle to the east coast last year. They currently are moored nearby at Old Port Cove Marina and stopped by for a visit. We had a great time swapping cruising stories and plans.
3/28/2016
Nordhavn dinner

We had an excellent evening over dinner at Season's 52 restaurant with John and Tina Philippson of Nordhavn 75 Sockeye Blue (right of James), Van Anderson of Nordhavn 55 Sunday Morning (back on left), and Anne and Jim Crossley of Nordhavn 55 Giddy Up. Great food, great company.
3/31/2016
Fred & Shirley

We had a fun visit with fellow Canadians Fred Kordalewski and Shirley Fish this evening. They live in Ontario and boat on the Great Lakes, but winter in nearby Lake Worth.
4/1/2016
Sheriff

A Palm Beach County Sheriff made a pass through the marina today in a 3-engine 900HP center-console.
4/2/2016
Pineapple

Soverel Harbour Marina has been an excellent stop, not only for taking delivery of

all those packages

, but also while Jennifer is recuperating from

surgery

. She won't be

cutting pineapple

for a while, but we can instead buy delicious cored fresh pineapple, and other excellent prepared foods, from

Carmine's Deli

on site.
1200HP

This boat in our marina had 4 300HP outboards. Apparently, this is yesterday's design and the current rig to own is quad 400HP. You'd think 1,600HP could get you to the fishing grounds.
4/4/2016
Carmine's Ocean Grill

Dinner at Carmine's Ocean Grill to celebrate successful results from Jennifer's first post-surgery appointment with Dr. Diaz. The bone is healing well, the large bandage on her shoulder has been removed and she can now go without the sling while at home. And, best of all, Jennifer is regaining strength in her hand.
Click the travel log icon on the left to see these locations on a map, with the complete log of our cruise.

On the map page, clicking on a camera or text icon will display a picture and/or log entry for that location, and clicking on the smaller icons along the route will display latitude, longitude and other navigation data for that location. And a live map of our current route and most recent log entries always is available at http://mvdirona.com/maps.