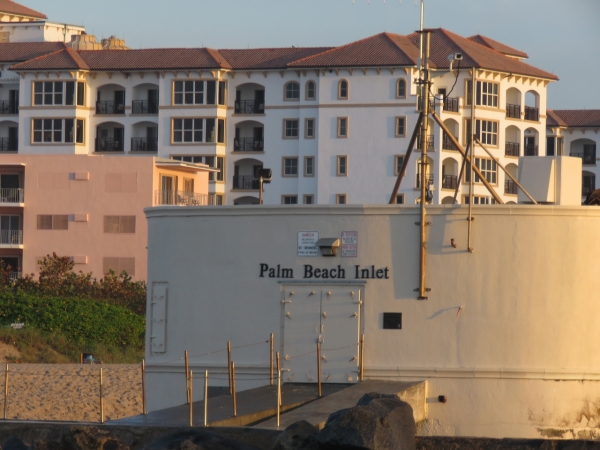 Last week we ran 1,424 miles directly from St. Lucia to Palm Beach, Florida. We initially were planning to work our way up slowly through the Caribbean and reach Florida via the Bahamas, but Jennifer developed complications with her broken collarbone, so we went straight to Florida to seek medical attention. We had some boat projects that needed to be done there anyway, so we'll handle it all over the next few weeks.
Trip highlights from March 7th to 14th follow. Click any image for a larger view, or click the position to view the location on a map. And a live map of our current route and most recent log entries always is available at http://mvdirona.com/maps
3/7/2016
St. Croix

Looking back to St. Croix as we approach Virgin Passage between the US Virgin Islands and Puerto Rico. We have run into a medical problem—Jennifer's broken collar bone had lead to complications and expert recommendations are to get a specialist involved. It's not an emergency and the work could be done in the Caribbean but we have decided to return to the US. As long as the weather cooperates, Florida is the destination. We've had incredibly smooth conditions so far, but expect rough seas for the next 3-4 days until we near Cuba.
Cruise Ships

Three massive cruise ships were moored at Charlotte Amalie on the US Virgin Island of St. Thomas.
Sail Rock

Bleak-looing Sail Rock to our south as we enter Virgin Passage.
3/8/2016
Yacht transport

If you look carefully, you'll see tow large yachts on the deck of this cargo ship.
Westerdam

Just as the sun was starting to rise this morning we passed the Holland America Westerdam. This was the ship

James toured

last summer and blogged last week. It's 6 miles away, the light is poor, but you can see how rough it is out here right now. At times the entire 936′ monster has all 11 passenger decks disappearing as Dirona slips down into a wave trough.
3/9/2016
Conditions

As expected, conditions got a lot rougher as we passed north of Puerto Rico. The winds have been blowing 25-30, generating 7-8ft seas on 7-8 seconds. We've rolled over 20 degrees several times in the past 24 hours, and pitch has been steadily over 10 degrees. We have to be careful moving about, but otherwise we're doing fine and still are sleeping well. The seas are settling slightly now with winds 15-20, but the weather models indicate they'll pick up again within a day.
Costa Deliziosa

We passed the 958ft cruise ship Costa Deliziosa around 1:30 this morning. The ship was so brightly lit we could see it for miles.
Dolphins

A pod of dolphins showing off their acrobatic skills.
Conditions

Although the seas are still about 7-8ft on 7-8 seconds, they are more on the stern now, so boat motion is better. The maximum pitch has reduced to around 5-6 degrees from a consistent 10 degrees. Maximum roll is still over 15 degrees, but we haven't seen 20 degrees for a while. We expect similar conditions for the next 24 hours, then they should settle down as we approach Cuba.
3/10/2016
Stad Amsterdam

We generally keep a minimum separation of two miles between us and any other vessels at night to avoid collisions. The 246ft clipper

Stad Amsterdam was going to cross less than a half mile in front of us around 5am, so we diverted course to increase separation. We could just make out its sails in the distance around 7am. Too bad it passed us in the dark–it would been great to see the ship under full sail close up.
3/11/2016
Conditions

Boat motion has continued to improve to the point that Spitfire can sleep upside-down.
Confidence

The 210ft USCG Cutter Confidence passed us heading north this afternoon. This is the first time we've seen a US Coast Guard vessel from Dirona for quite some time.
3/12/2016
Melbourne Strait

Vessel traffic is picking up as we near the US mainland. The 591ft cargo ship Melbourne Strait passed us doing 15kts en route to Port Everglades.
Fuel economy

We're only turning 1100 RPM and are getting a booming 4.13 nm/gal and doing nearly 7kts. Obviously we're getting a push from current. If this were norm, Dirona would have a 9,600 nm range.
Pepin Express

The 299ft cargo ship Pepin Express running at 8kts en route to Puerto Plata in the Dominican Republic with several vehicles mounted on the bow.
Silhouette

We've seen a lot of cruise ships in the Caribbean. This is the Celebrity Silhouette returning to Fort Lauderdale from a 7-night Caribbean cruise. We'll likely pass the ship again as it heads south tomorrow on another 7-day Caribbean cruise.
Home stretch

We're 228 miles from the Palm Beach channel entrance and about to make our final turn onto the homestretch.
3/13/2016
Fuel change

The micro-tender engine, like most outboards, doesn't start well on old gasoline. We always fuel with stabilized gasoline, but typically replace the fuel in the micro-tender engine after 5 months of inactivity. We pour it into the large dinghy fuel tank, where the old fuel gets lost in all the new.
3/14/2016
Approach

We've just turned west on the approach to the Lake Worth Lagoon entrance channel. The narrow entrance with tall building strung along shore feels much like the

Gold Coast

of eastern Australia.
Lake Worth Inlet

We're just about to pass through Lake Worth Inlet into Lake Worth Lagoon. Even early in the morning traffic through the entrance is constant.
Palm Beach Inlet

Lake Worth Inlet also is called Palm Beach Inlet.
Alaska

Great Lakes Dredge and Dock Company's 305ft cutter-suction dredge Alaska at work in the entrance channel.
Lake Worth Lagoon

Looking north up Lake Worth Lagoon towards the Blue Heron Bridge.
Port of Palm Beach

Cranes and forklift trucks at the Port of Palm Beach to our south.
Toroa

Nordhavn 68 Toroa was on the cover of the 2014 Nordhavn calendar.
Blue Heron Bridge

Spitfire checking the clearance as we pass under the Blue Heron Bridge.
ICW

We're now heading north along the Atlantic Intracoastal Waterway. Traffic is steady in the narrow channel, but we get the impression it can be a lot worse. That's Nordhavn 76 Avedan heading towards us. There sure seems to be a lot of Nordhavns here.
Scenery

The shore is less crowded with highrises here and the waterway feels rather serene.
North Palm Beach Marina

Nordhavn Florida has their workshop at North Palm Beach Marina. We could only see a small number of boats at the entrance, but four Nordhavns were in sight.
Parker Bridge

Passing under the Parker Bridge. The bridge opens on the quarter and three quarter hour for pleasure craft. We'd arrive shortly before 8:45 and only had to wait a few minutes after we signaled for an opening.
North Palm Beach Waterway

The scenery has switched to more residential from larger commercial building, with boats and marinas in every available spot.
PGA Boulevard bridge

The PGA Boulevard bridge opens on the hour and the half-hour. We passed through at 9am.
Soverel Harbour Marina

At the entrance to Soverel Harbour Marina, our home for the next several weeks. Standing at the entrance are Lorraine and Martin Monteith, who drove up from Fort Lauderdale to greet us as we arrived.
Tight

Florida marinas seem to make use of every available space and the entry channel is a lot tighter than we're used to.
Clearing through

Clearing through was remarkably fast and simple using Florida's Small Vessel Reporting System. We'd already filed a float plan with US Customs and just needed to make a quick phone call on arrival to answer a few questions and we were cleared into the United States.
Q flag

For the first time in three years, we brought down our quarantine flag and didn't replace it with a courtesy flag for a foreign country. Our last US port was

Honolulu on March 15th, 2013

—

Dirona

returned to the US almost three years ago to the day.
Berthed

At our berth in the Soverel Harbour Marina in Palm Beach Gardens, Florida. We've not been plugged into 60 Hz power since

Papeete in May of 2013

. After living on a steady diet of 15-amp power for the last couple of years, 50 amps feels like enough to run a city.
Click the travel log icon on the left to see these locations on a map, with the complete log of our cruise.

On the map page, clicking on a camera or text icon will display a picture and/or log entry for that location, and clicking on the smaller icons along the route will display latitude, longitude and other navigation data for that location. And a live map of our current route and most recent log entries always is available at http://mvdirona.com/maps.