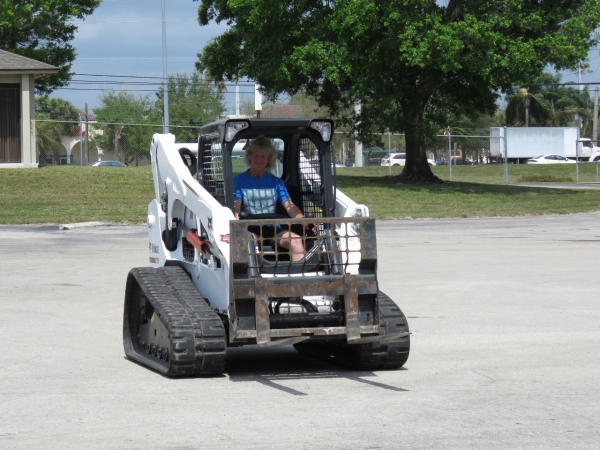 What beats an afternoon operating heavy equipment?  Months before we made it to Florida, Oliver Sessa offered us a day at Johnny Sessa Bulldozing with an open invitation to give some of their larger equipment a whirl. James has been looking forward to it since.
Within a week of our arriving in Florida, Oliver emailed us confirming the invitation was still open and arranged to pick us up a few days later.
The Johnny Sessa Bulldozing site is a massive eighty acres including the office, heavy equipment service center, and the equipment itself. It's also the parking lot for something close to a thousand new cars, and has large lake in the center. When we arrived, we climbed around on several large cranes before meeting Oliver's uncle Scott Clancy, who drove over from the office in a Deere cart to say hi and answer questions.
Scott invited us back to the office to see pictures of some of the monstrous dredges that made the lake on this property and at many of the waterfront homes in area. They mine limestone, which is used in road and housing construction. A side effect of the mining are 50-ft-deep freshwater lakes which have since formed the center pieces of many of the local housing communities.
One particularly interesting story was the loss of one of their enormous dredges, which sunk in fifty feet of water during a hurricane. Scott explained how they fabricated massive metal straps, laid them out on the lake bottom beside the dredge, and then gently rotated the dredge which was resting on its side back onto its bottom on top of the fabricated metal straps. The straps were connected to a grid of barges fifty feet above using anchor chain. The chain was hydraulically raised one link at a time until the dredge broke the surface and could be pumped out and returned to service.
After meeting with Scott, Oliver took us out to try our hands at heavy equipment operation. He started up a Bobcat T770 and said "back it out and give it a try" offering only one important bit of advice "stay away from the row after row of new cars at one side of the property" :-).
This Bobcat T770 is one of the larger newer versions big enough to load a full sized dump truck while still maintaining the signature Bobcat maneuverability. They have a very short wheel base and are very compact. Able to turn in their only length but still able to move at 11mph which is impressive for a small tracked vehicle and it can still lift 3,475 lbs powered by a 92hp engine. This particular unit didn't have the newer joystick controls so it required a bit of focus to know which hydraulic control did what.
Having done no major damage at the wheel of the T770, Oliver said try the Bobcat E42. The E42 is a complex piece of tracked equipment and requires considerably more attention to operate than the T770. You're protected slightly by a top speed of 2.9 MPH but the 43HP engine can lift, swing, and dump up to 4,600 lbs of material.
Now it was time to try out the big stuff.  I jumped into a Caterpiller 988. The 988 has a been a work horse going back more than 50 years. The latest generation of this articulated wheel loader is powered by a 540 hp engine and weighs in just about exactly the same as our entire boat at over 112,000 lbs. This beast is deceptively easy to drive and it's capable of more than 20 mph. You really get a perspective of its payload-moving capability, up to up to 17 cubic yards, when powering the huge shovel up towards the limit of it's reach, way up over the operators head.
After that we took out a large Mach dump truck. Even though I have driven non-synchronized transmissions in the past, I was less than awesome on this one, sometimes selecting second gear nicely and cleanly and other times, well, not so cleanly :-). These heavy gearboxes appear to take some learning. When we were done, I was pining for the heavy-duty Allison automatic used in the Bell Equipment articulating dump truck I drove in South Africa. Oliver is a pro at handling all this equipment and skillfully parks the truck at the end of the video below. We had a great day with the heavy equipment, then went out for lunch before heading to Oliver's home where they have a full sized, 14 year old African Serval in a large back yard enclosure. This big cat requires special licensing from the municipality to keep at a residence to ensure safety. It's an incredible cat with wonderful fur and a friendly personality, although it's hard to forget the power packed by this mid-sized cat. What a beautiful animal.
After that it was off to visit the Sessa family Nordhavn 47 with Oliver's father Marc. Their N47, Oliver, is unusually well-maintained and well-equipped. It was fun to  walk through their configuration choices and share maintenance approaches.
We didn't arrive back at Dirona until after 8pm — it ended up being a very big day. Lots of fun. Thanks Oliver!