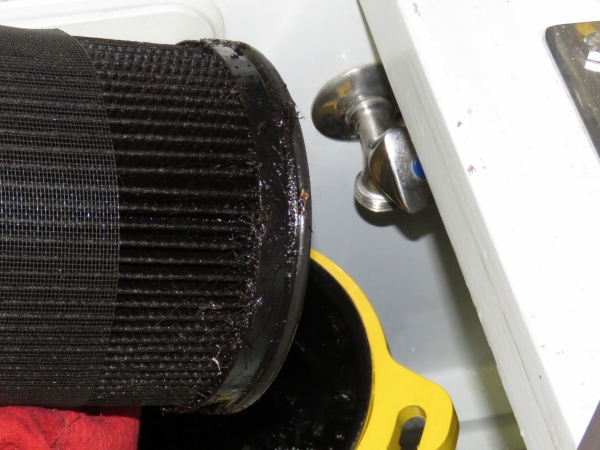 As we describe in Dirona fuel manifold, we choose to explicitly pump fuel from the appropriate bulk tank to the supply tank rather than gravity feed. This is a slightly more manual operating mode but has some advantages that we really like. The first advantage is that a leak in the supply system can put no more than 62 gallons in the supply tank at risk, keeping the up to 1,747 gallons in the side tanks safe. A supply system fuel leak when gravity feeding can drop the entire bulk fuel load, risking environmental damage via a large fuel spill in addition to being out of fuel. Avoiding this is important any time, but especially when doing long ocean crossings sometimes more than a thousand miles from the closest shore. Having no fuel when days from shore could really be a disappointment.
The second advantage of the explicit fuel transfer system is all fuel has to pass through the transfer filter before it reaches the supply tank. Given the uncertainty of fuel quality world-wide, we really like a layer of filtering prior to the fuel even entering the supply tank. The combination of keeping the bulk fuel locked up and safe from leaks and the additional layer of filtering makes this operating mode important to us. It is a bit more manual work but it feels worth it. This is the source of the first fuel system modification we made. The standard fuel pump, a Walbro 6802, is incredibly slow at 43 gallons per hour. In fact, so slow that this way of operating the boat can be frustrating. So we replaced it with a Jabsco VR050-1122 pump capable of 660 gallons per hour. And with our restrictions and filtration it moves around 205 gallons per hour.
Like many modifications, when you make one change, it can drive others. To accommodate the transfer rate of this pump, we needed to go with a much larger transfer filter. We went with a Racor FBO-10, which is commonly used in bulk pumping and aircraft fueling applications. This filter has the advantage of supporting large transfer rates but it also has a large filtration area so few filter changes are needed. This is a good thing, as the filters cost about $100 each. Changing this filter is bit of work, as it holds a lot of fuel that must first be drained off. But we really like the filter because of its massive surface are and durable build. The FBO-10 can operate for long periods of time through heavy debris, sand, water, or even bugs. The filter below took us all the way across the South Pacific, the Indian Ocean, and the Atlantic Ocean.
| | |
| --- | --- |
| | |
| | |
| --- | --- |
| | |
You often hear boat owners complaining of "fuel bugs" but what they are really referring to is the layer of biological growth that can occur at the interface between fuel and any water in the bottom of the tank. The dead matter that falls out from this nasty stuff can really plug filters, This can get particularly bad after the addition of a biocide causes mass death or when operating in rough water and the layer of sludge left behind gets stirred up. Although fuel bugs is not a technically correct term, you will hear it frequently. So I laughed when I found our FBO-10 had captured a real bug. Apparently a cockroach met its end in a fuel storage tank prior to being delivered to Dirona and our filter actually was blocking bugs.