Jeanerette, Louisiana isn't a massive metropolis, so why were us boaters and technology lovers excited to spend a day there? Admittedly the oysters, crawfish, and local beer are all excellent, but that wasn't the motivation behind the trip. The reason was to visit Metal Shark Aluminum Boats. If you have ever been just a bit too close to a high-value US Navy facility or in areas protected and patrolled by the US Coast Guard, there is a very good chance you will have seen a Metal Shark Boat at speed. These same boats are now showing up in coastal patrol missions in Navys and Coast Guards world-wide.
Metal Shark President Chris Allard was flying home through Fort Lauderdale on their Piper PA-31T1 Cheyenne and invited us along for a visit to Jeanerette and a tour of Metal Shark. Besides being a boat builder, Chris also owns a Stephens 86, Pendana, and is the former owner of Nordhavn 6220. The flight there was a ton of fun, with James getting to ride in the cockpit during takeoff.
Chris took us out for some authentic Louisiana cuisine that night. Our first stop was Schucks Louisiana Seafood House in Abbeville for delicious char-broiled oysters. After, we went to Morvant's Bar and Grill in Youngeville for a fabulous crawfish dinner. James and Chris have been corresponding for a long time, and it was great to finally meet and spend time in person.
| | |
| --- | --- |
| | |
We began our Metal Shark tour the following morning at the Port of Iberia on a test ride of a Defiant-class patrol vessel, a variant of the Response Boats — Small that Metal Shark builds for the US Coast Guard. We were impressed with the comfort and attention to detail—the electrical panel is a particular work of art—but most of all with how smooth and safe the ride felt. At one point we were doing over 44 knots and making rapid turns left and right, yet the boat felt solid the whole time. This apparently is nothing even close to it's capabilities. The video below (2:25) begins with some stills from the test run and includes video underway.
After the test run, we spent much of the morning touring the original Metal Shark yard where their smaller boats are built. Their aluminum boat-building process starts with sheets of aluminum that are cut into pieces on a computer-numerically-controlled cutter. A stick-on label is then attached to each piece designating the piece itself and boat project it belongs to.
We were impressed with how Metal Shark is constantly innovating in their design and construction process to improve efficiency, among other things. One of the things they do is to bend metal where possible, as bending is much faster than welding.
Welding is, of course, still a big part of any project. To reduce welder fatigue and improve weld quality, they rotate the work in progress to avoid overhead welding.
| | |
| --- | --- |
| | |
| | |
| --- | --- |
| | |
In 2010, Metal Shark was chosen to supply the Coast Guard's next-generation Response Boat—Small (RBS). The initial 477 boat order, currently in production, was one of the largest buys of its kind in the history of the USCG. Metal Shark won this contract for a variety of reasons, one of which was their innovative designs. These boats will not have generators on board, and hence no air-conditioning, so one of the requirements was that the boat be able to open somewhat like a jeep for hot weather. Metal Shark worked with Diamond Sea Glaze to design windows that completely rolldown down with only a minimal frame remaining. Another requirement was that the boat and trailer be small enough to fit inside a C-130 aircraft. Rather than compromise the boat itself to meet this rare usage requirement, Metal Shark instead designed a custom trailer that kneels to allow the boat and trailer to fit inside.
| | |
| --- | --- |
| | |
Bending aluminium rather than welding it not only saves time, but also can be used to increase product strength. Another Metal Shark innovation is to bend ribs into aluminum plate to meet the same strengh requirements using thinner, lighter plate. Below is an example of a roof piece with strength-increasing bends.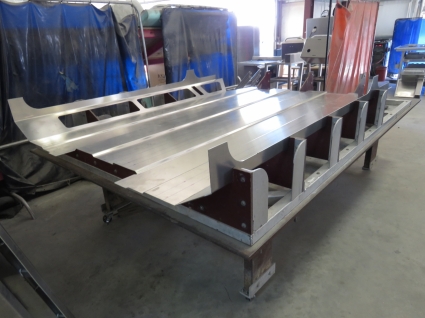 Another innovation was a disappearing head available on some of the larger boats. The head is under a chart table that when raised, exposes a toilet and sink with a full-height folding door and privacy curtain. The photo below left shows a frame in production and on the right is the finished product.
Many boats we've seen over the years have nice looking wiring looms but the wires are are pulled tight, so vibration and time can cause poor connections to become a problem. The Metal Shark looms are servicable, reliable, and look good too.
We finished our tour at Metal Shark's second yard that went operational in the summer of 2014. Unlike their original yard, this one is on the water with direct access to the Gulf of Mexico. This allows them to build boats bigger than can be legally moved on public roadways.
On-site were a number of Defiant 45 patrol boats ready for shipment to the Vietnamese Coast Guard.
Also at the yard was SPLASH, a custom commercial dive vessel that Metal Shark built for Aqueous Corporation. SPLASH stands for Special Purpose Liveboat and Survey Hull. The catamaran is designed for improved safety of liveboat diving, where a diver's hose is tended from a vessel underway, and even includes a hyperbaric chamber.
Having been involved with some large government contracts over the years, it's easy to point out places where the process could be improved. Knowing that made the visit to Metal Shark even better. As a tax payer, we love seeing a large government contract winner that actually really does build a better boat.
In addition to the government and law enforcement market where Metal Shark is best known, they also have a loyal recreational boat and private industry market that continues to rely on Metal Shark for specialized boats up over one hundred feet. After a full day at the two Metal Shark facilities we can say with certainty that, as successful as they have already been thus far, there are some even larger and more exciting projects under development.