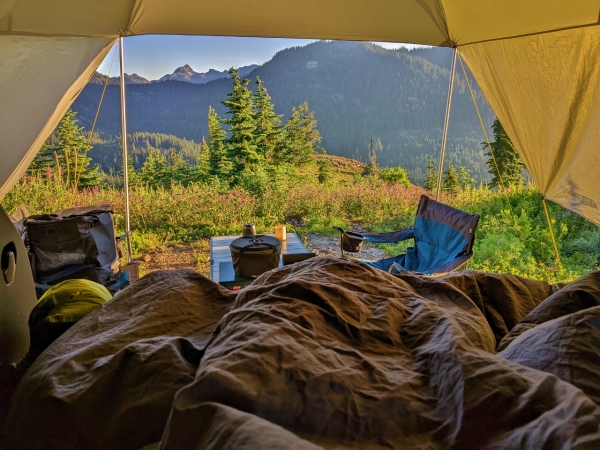 We didn't expect to equal the view quality of the previous weekend's campsite at Snowshoe Butte, but the one we found on the north side of Keechelus Ridge definitely was in the running. We'd camped on the south side of the Keechelus Ridge earlier in the year, with a vista west to to Keechelus Lake and the Cascade Mountain Range. The campsite on the other side of the ridge had a completely different perspective, north to the craggy peaks of the Alpine Lakes Wilderness. The weather was clear and sunny the entire time, and we woke up to a clear view to 6,152-ft (1,875 m) Alta Mountain, pictured above.
The temperature was the warmest we've had at camp so far this year, with a high of 87°F (31°C), despite the altitude of 4,242 ft (1,293 m). For the first time, we kept the sunroof open at night for ventilation with a magnetically-attached sunroof screen over the opening to keep out the bugs. We also had a chance to give our new folding toilet a real test. It worked super well and we're quite happy with the purchase.
Below are highlights from July 29th and 30th, 2022. Click any image for a larger view, or click the position to view the location on a map. And a map with our most recent log entries always is available at mvdirona.com/maps.
7/29/2022
Trailhead

A few cars parked late on a Friday afternoon at the trailhead for the hikes to Margarate and Lillian lakes.
Keechelus Ridge

We didn't expect to equal last weekend's campsite at

Snowshoe Butte

, but this one on the north side of Keechelus Ridge definitely is in the running.
View

The panoramic view north from our campsite to the Alpine Lakes Wilderness, with the peak of 6,152-ft (1,875 m) Alta Mountain visible at left.
The Office

Getting a little work done at our wilderness office, with

Starlink

providing connectivity.
87F

It's really hot today at 87°F (31°C), even at this altitude of 4,242 ft (1,293 m).
Bug Screen

In hot weather, we keep the car sunroof open for ventilation while we sleep. To prevent mosquitoes and other bugs from getting inside, we put a Kaskawise magnetically-attached

sunroof screen

over the opening.
Alta Mountain

View to 6,152-ft (1,875 m) Alta Mountain in the Alpine Lakes Wilderness.
NF-4948

Out for a short evening walk from our camp site, we got a view down to NF-4948 that we drove up on.
Campsite

Looking back up to our campsite from the hill below.
Dusk

Dusk looking northeast across the Cascade Mountains.
Second Campsite

Looking down to our campsite from a second one nearby. Both were empty and we chose ours because it felt a little more private.
Road to Campsite

The spur road off NF-4948 to our campsite is steep, with big holes and ruts. We were able to navigate it with care, but it would be challenging in muddy conditions.
Night Sky

6,152-ft (1,875 m) Alta Mountain highlighted in the evening sky as darkness falls.
Evening

Enjoying the evening view from camp. At 9:40pm it's still not totally dark, but we did set out a

flameless candle

for a little light.
7/30/2022
Second Campsite

A car was parked up in the second campsite. They weren't there when we walked up last night, so probably came late. Navigating some of these roads in the dark would be challenging.
Toilet Test

Ready to give our new

folding toilet

a real test. It worked super well and we're quite happy with the purchase.
Broken Wheel

Out exploring on NF-120, we encountered this Ford Escape on the side of the road with a broken wheel. We'd just ourselves bailed on continuing further, as the road was steep and full of deep ruts. The driver of this vehicle probably attempted it and slid back down into the trees, breaking the wheel. It's a long walk to the nearest point with cellular connectivity, so just getting out would have been a lengthy process and the cost of towing a vehicle from here will be high.
Warning

As we return back out on overgrown NF-120, the Honda's proximity detection system at bottom left is warning of approaching objects on both sides.
Crowds

We've hardly seen another person all day, but that changed when we neared Lake Kachess. Cars were parked on both sides of the road, with a lineup of cars snaking down towards the like.
Traffic

Heavy traffic on NF-49 near the Lake Kachess boat launch. An RV parked on the side of the road was blocking one lane, making the situation worse.
Rescue ATV

Eastside Fire & Rescue pulling into a gas station in North Bend to fuel their rescue ATV.
Rio Bravo

At Rio Bravo in North Bend for a delicious lunch of street tacos. In the background is 4,167ft (1,270 m) Mount Si, one of the most popular hikes in the state.
| | |
| --- | --- |
| | Click the travel log icon on the left to see these locations on a map. And a map of our most recent log entries always is available at mvdirona.com/maps. |