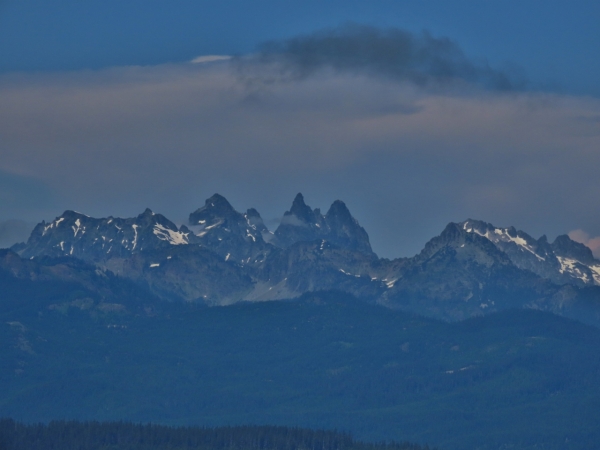 We arrived at the base of Snowshoe Butte after several hours of exploring without finding any appealing campsites. The area was completely fogged in at that point, and we couldn't see a thing. But looking at our maps we felt there was a good chance the campsite had a view, so we decided to take it. Not long after we arrived, the fog cleared to yield a fabulous view across the Sunday Creek valley to the striking 6,200+ ft (1,890+ m) mountains in the Alpine Lakes Wilderness, pictured above.
The short hike to the top of Snowshoe Butte (5,125-ft; 1,562m) yielded more great views across the Cascades, and Mt. Rainier dominated the sky to the south. The Pacific Crest Trail winds along the base of Snowshoe Butte, and we walked a short distance along the 2,653 mi (4,270 km) border-to-border route.
The clouds came back in the evening, but at an altitude 4,867 ft (1,483 m) we were above them. We enjoyed a wonderful show as the setting sun colored the ever-changing cloud patterns, with the mountain tops poking through. And as an added bonus, from the campsite during the day we could see the big freight trains passing through the elongated S-curve known as the Borup Loop. We keep finding "the best spot ever," and this one will be hard to beat.
Below are highlights from July 23rd and 24th, 2022. Click any image for a larger view, or click the position to view the location on a map. And a map with our most recent log entries always is available at mvdirona.com/maps.
7/23/2022
Fog

Ascending into the clouds as we approach Snoqualmie Pass at altitude 2,229 ft (680 m).
Lizard Lake

Tranquil Lizard Lake has an awesome single-car campsite along the west side that is always taken whenever we pass, and a larger group site along the south shore.
Fallen Rock

A large rock has recently fallen onto Forest Road 5403. We're glad we weren't there for its arrival.
Fallen Tree

Another obstacle. We can just barely get under this tree fallen along Forest Road 5403. It's a reminder that slides and fallen trees could block our way out.
Overgrown

We drove down Forest Road 5403-315, a small spur Forest Road 5403, but it was too overgrown to reach the end without putting even more scratches down the side of our truck. We walked down to see what was there, and our truck is just visible beyond the bushes as we returned to it.
Campsite

We weren't having much luck finding a campsite until we reached the end of Forest Road 5403-545 at the base of Snowshoe Butte. When we arrived, the valley was completely fogged in and we couldn't see a thing, but looking out our maps we felt there was a good chance this had a view so we decided to take it. Not long after we arrived, the fog cleared to yield this fabulous view.
View

The sweeping view northwest from the Snowshoe Butte campsite. We keep finding "the best spot ever."
Starlink

We have cellular connectivity in the mountains more often than we expected, but not here. Our Starlink satellite transceiver has a nice, clear view though and is working well.
Level

Looking back to our campsite at the end of Forest Road 5403-545. The site is a little uneven, so we've leveled the vehicle with orange

Tri-Lynx levelers

.
Snowshoe Butte

Looking up to the top of 5,125-ft (1,562m) Snowshow Butte that we're camped at the base of. Our camp is at altitude 4,867 ft (1,483 m), so it's not much of a climb to reach the summit.
Mt Rainier

We didn't look behind us as we were climbing Snowshow Butte. But when we reached the top we turned and got this spectacular view to "The Mountain", 14,411 ft (4,392 m) Mt. Rainier. We're looking forward to a summer hiking trip to Rainier planned for a couple of weeks out.
View East

Jennifer taking in the wonderful view northeast across the Cascade Mountains from the top of Snowshoe Butte.
James with Rainier

James standing on Snowshoe Butte with Mt. Rainier in the background. We can never get enough of that mountain.
Camp from Above

A glimpse from Snowshoe Butte down to our camp, with our car partially visible.
Pacific Crest Trail

We could see the Pacific Crest Trail from Snowshoe Butte, so worked our way down to it. We had to push through a few thickly grown areas, but much of they way was through open meadow.
PCT Hikers

A couple of hikers on the Pacific Crest Trial. The route extends 2,653 mi (4,270 km) from the Mexican to the Canadian border, generally following the highest parts of the Sierra Nevada and Cascade Mountain ranges. Elite hikers can complete the trail in a couple of months, but more average hikers take the full season of 4 to 5 months. Cheryl Strayed's book

Wild

(made into a

movie

of the same name) describes her experiences hiking a large portion of the trail.
Afternoon View

Enjoying the view from our camp site at the base of Snowshoe Butte after returning from the hike.
Alpine Lake Wilderness

View north to the striking 6,200+ ft (1,890+ m) mountains in the Alpine Lakes Wilderness.
Borup Loop

We were excited to see a train passing through the elongated S-curve known as the Borup Loop. It carries the train from elevation 2,270ft (691 m) at Borup up to the Stampede Pass Tunnel west entrance at 2,900 ft (883 m) over a distance of 2.3 miles (3.7 km) as the crow flies. Here the train head of the train is passing through the center of the 'S', with the rest of the train (not pictured) still visible directly below on the lower section. The Borup Loop is clearly visible in the

satellite imagery.
Sunset

Sunset as clouds drift into the valley.
Cloud Show

The evening scenery changed constantly as the sun set and clouds filled the valley. At our altitude of 4,867 ft (1,483 m) we were above the clouds and spent ages watching the beautiful "cloud show".
Propane Heater

The temperature was warm during the day, but drops off quickly at this altitude. We're wearing our heavier jackets and also are using our propane heater to keep one.
Photography

Taking one of many pictures of the cloud show below us.
Evening View

A final evening view across the valley just past sunset. What a spectacular camp site.
7/24/2022
Morning View

The morning view from our fabulous campsite below Snowshoe Butte.
| | |
| --- | --- |
| | Borup Loop |
Fallen Tree

A fallen tree on Forest Road 5403 that has been cut and partially pushed out of the way.
Rockslide

A large rockslide on Forest Road 5405. Instead of returning back towards I-90, we're taking a different route to see if we can cross Stampede Pass and return on highway 410.
Green River

We usually prefer high-altitude camp sites with a view, but this pretty spot along the Green River is quite appealing. We're not the only ones that think that though—it looks heavily used.
Dust

Dust billowing behind another vehicle that we are catching up to along Forest Road 7037.
View Campsites

We found several potential campsites with great views at the top of the ridge along Forest Road 7037.
Mt. Rainier

Mt. Rainier burst into view as we rounded a bend along Forest Road 7038.
FR-195

A campsite in the switchbacks along Forest Road 195 with a great Mt. Rainier view.
NF-7036

An even better Mt. Rainier view from this campsite along National Forest Development Road 7036.
NF 7030330

Forest Road 7030330 has been closed to traffic, but many 4x4s have made it past the obstructing berm.
Trailhead

The parking lot at the trailhead to Kelley Butte Lookout was nearly full on this sunny Sunday.
Kelley Butte Lookout

The hike to Kelley Butte Lookout is a popular hike in the area. It's an easy, 3.4-mile (5.4 km) return hike from the parking lot, with an elevation gain of just 1,100 ft (335 m).
Group Camp

One of several large groups camped in the Greenwater River area as we descended on the other side of Stampede Pass. The route over the pass was a little difficult in places, with some fairly large ruts, but we were able to pass through with care.
Target Practice

A Forestry Service truck, at left, at an old quarry where a large group were setting up for target practice.
Classic Cars

A convoy of classic cars driving through Enumclaw as we return home from camping.
Dirt

Our poor car gets very dirty on these camping trips. Here we are stopped in Enumclaw for lunch.
Big Nation Car Wash

Taking our car through the Big Nation Car Wash. Under the name the sign reads "We're BIG on Clean!". The car wash is part of Big Nation Station on the

Muckleshoot Reservation

and includes a gas station and a grocery store ("We're BIG on Food") with Big Nation Kitchen prepared foods ("We're BIG on Taste!"). The facility had its grand opening in May of this year, making the reservation no longer a food desert (an urban area where it is difficult to buy affordable or good-quality fresh food).
| | |
| --- | --- |
| | Click the travel log icon on the left to see these locations on a map. And a map of our most recent log entries always is available at mvdirona.com/maps. |