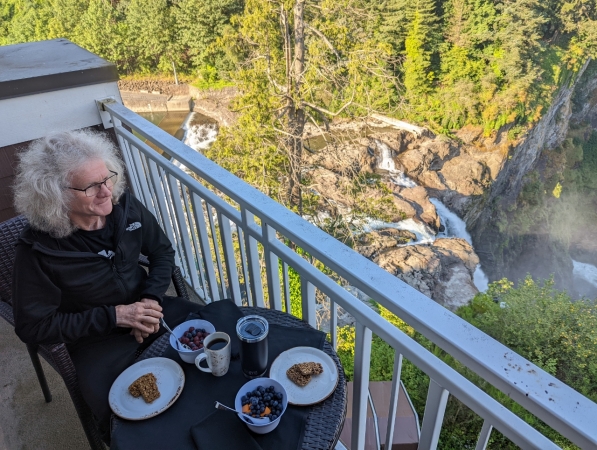 On a whim, we decided one morning to spend the night at Salish Lodge, and booked an awesome suite that night with a great view to Snoqualmie Falls. After lunch at nearby Snoqualmie Falls Brewery, we spent the rest of the day at Salish Lodge enjoying the room and the hotel, including an excellent dinner at their restaurant. We took in a final view to the falls over breakfast the next morning, pictured above, before returning home to Seattle.
Below are highlights from July 31st and August 1st, 2022. Click any image for a larger view, or click the position to view the location on a map. And a map with our most recent log entries always is available at mvdirona.com/maps.
7/31/2022
Snoqualmie Falls

View to Snoqualmie Falls from the balcony of our suite in Salish Lodge.
Wier

A small wier above Snoqualmie Falls provides water to two hydroelectric plants. Plant 1, built in 1899, was the first completely underground power plant in the world. Plant 2 was completed in 1910 along the banks of the river.
Salish Lodge

James getting a little work done before dinner.
Bedroom

The bedroom also has a good view to the falls.
Bathroom

Even the bathroom of our suite has a nice view.
Welcome Board

A delicious welcome board with fruit, cheese, meat, nuts and crackers
Full View

A full view to the falls and area before we head out for dinner. In the distance at far right, people are visible at the various viewing platforms for the falls (click image for a larger view).
The Dining Room

A wonderful meal with a sunset view at The Dining Room at Salish Lodge. Despite having been in the area several times, this our first time eating here.
Falls at Night

View to Snoqualmie Falls, lit up at night, from the balcony of our suite.
8/1/2022
Breakfast

Breakfast overlooking Snoqualmie Falls.
Snoqualmie Falls

A last view to Snoqualmie Falls before we head back to Seattle. We were surprised to see the waterfall at right, that wasn't there yesterday. It must be an overflow.
| | |
| --- | --- |
| | Click the travel log icon on the left to see these locations on a map. And a map of our most recent log entries always is available at mvdirona.com/maps. |