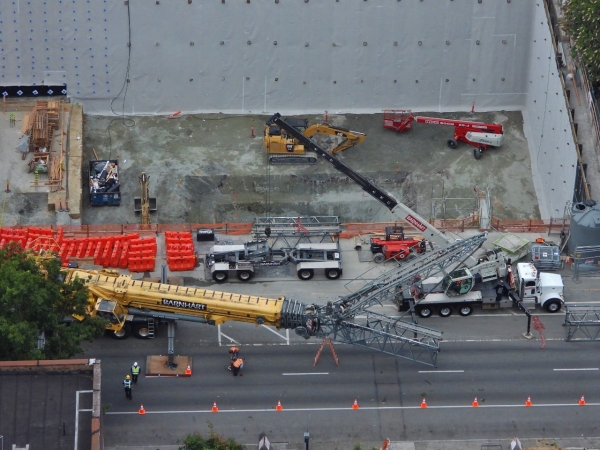 The rest of the month following our return from Switzerland was a busy one for construction in our area. Progress continued at the Fourth & Bell construction site directly west of our apartment. We were particularly interested to watch a small mobile crane build a larger mobile crane, pictured above, that eventually would assemble the tower crane for the site. Construction resumed on a building north of our complex that was suspended during the pandemic. This will be the end of our Lake Union view but the Elliott Bay view remains for now. And demolition began on an abandoned apartment building that burned while we were away in Switzerland.
We also made several wilderness trips, once on an exploratory afternoon drive and twice to camp. We continue to find new and beautiful view campsites in the nearby Cascade Mountains, these ones at Snowshoe Butte and on the north side of Keechelus Ridge. And at the other end of the spectrum, we enjoyed a one-night stay at the luxury Salish Lodge overlooking Snoqualmie Falls.
Below are highlights from July 11th through 31st. Click any image for a larger view, or click the position to view the location on a map. And a map with our most recent log entries always is available at mvdirona.com/maps.
7/11/2022
Urban Animal

The

Urban Animal

veterinarian runs an unusual scheduling system. The clinics are walk-in only, and customers are put on a wait-list and receive a text within 30 minutes of their appointment. Some days, very long queues are formed first thing in the morning. We know they pack surgery onto special days, and it may be those days that line up the worst. We use them, and find them very convenient, as long as you avoid those days.
Hatch Cantina

Icy cold IPAs at Hatch Cantina in Belltown, perfect on an 81°F (27°C) day.
7/12/2022
Norwegian Spirit

Norwegian Spirit arriving into Pier 66 in Seattle between Alaska cruises.
7/14/2022
Eastside Beerworks

Jennifer having lunch at Eastside Beerworks with member of her last team at Microsoft.
Poutine

Eastside Beerworks' take on Poutine, made with potato tots and cheese, was actually quite tasty. Poutine is a French-Canadian dish made with french fries and cheese curds topped with a brown gravy. Jennifer has never actually had it before, but without fries and gravy, this may not qualify.
7/15/2022
Moisture Barrier

A multi-layer a moisture barrier being installed along the foundation walls at the Fourth & Bell construction site.
7/16/2022
Burned Building

While we were away, this abandoned apartment building at 2nd and Bell caught fire and burned. The apartment building is adjacent to Seattle's iconic Lava Lounge that closed earlier this year ahead of redevelopment in the block.
Concrete Pumper

A long-armed concrete pumper on the job at the Fourth & Bell construction site.
Bellevue Square Mall

At Bellevue Square Mall in the Seattle Eastside suburb to do a little shopping. We used to live in Bellevue before we

moved aboard

, and haven't been to this mall for many years.
7/17/2022
Power Line Corridor

Looking down a major power line corridor at Stampede Pass just east of Snoqualmie pass on an afternoon drive. The lines bring power to the Puget Sound from the Columbia River.
NF-5410

Exploring along National Forest Development Road 5410 (NF-5410). The road is a little grown in, but passable. We push through some of these, but try to avoid them because it's hard on the paint.
Ditch

The end of the road for our Honda Passport. We tried several different approaches, but don't have quite the ground clearance to cross this washed-out section of NF-112. Many 4x4s have crossed though with the aid of logs placed inside the ditch, but our front spoiler interferes before we can start climbing back up again.
Dust

Driving on the dirt forest roads in this dry weather kicks up a lot of dust. Our truck, particularly the rear, gets quite dirty.
Palouse to Cascades Trail

Looking along a section of the 250-mile (402 km) Palouse to Cascades State Park Trail. The historic trail, created along a former railway, extends from Cedar Falls, near North Bend, east across the state to the Columbia River.
7/19/2022
Building

One of several new apartment buildings under construction in the Belltown area. This one at 3rd and Battery will generate half its annual energy requirements through solar panels mounted on the roof, the south facade and the west balconies. The north side, pictured, won't get enough sun to warrant the panels.
Lake Union

An unusually large number of sailboats on Lake Union on a warm and sunny Tuesday evening.
7/21/2022
Electric Prime Truck

Jennifer with a

Rivian

electric Amazon Prime delivery truck on display at the Amazon South Lake Union campus. Rivian CEO RJ Scaringe gave Amazon CEO Andy Jassy a

tour of this vehicle

earlier in the day.
7/22/2022
Dirt Removal

Two dump trucks, each towing a trailer, transporting dirt away from the

Fourth & Bell

construction site.
Crane Assembly

A small white mobile crane, at right, assembling a larger yellow mobile crane, at left, that will ultimately assemble a large tower crane at the Fourth & Bell construction site.
Boom Installed

Ninety minutes after the

previous picture

was taken, the entire boom of the mobile construction crane has been assembled.
Boom Lifting

The boom lifting on the mobile construction crane.
Boom Extended

The boom extended on the mobile construction crane. We're heading out camping today and won't see this crane install the tower crane, but are slightly tempted to stick around and watch.
7/23/2022
Snowshoe Butte

We arrived at the base of Snowshoe Butte after several hours of exploring without finding any appealing campsites. The area was completely fogged in at that point, and we couldn't see a thing. But looking at our maps we felt there was a good chance the campsite had a view, so we decided to take it. Not long after we arrived, the fog cleared to yield a fabulous view across the Sunday Creek valley to the striking 6,200+ ft (1,890+ m) mountains in the Alpine Lakes Wilderness.
7/25/2022
Summer in SLU

Seasonal "Summer in SLU" (South Lake Union) decorations at the Amazon South Lake Union Campus.
7/27/2022
Camping Toilet

In the areas we camp, human waste needs to be buried or packed out. We've so far not had to deal with this, but will for longer trips, and bought a

TRIPTIPS folding camping toilet

. Folded and stowed in the carry bag, pictured, the unit is only 2.4-inches (6.1 cm) high and 12 inches (30 cm) in diameter, so won't take up much space.
Dry Run

A somewhat sheepish James doing a "dry run" of our new camping toilet. It's not as comfortable as a real toilet, but is a big step up from squatting over the ground.
Moisture Barriers

Installing moisture barriers along the sub-floor at the Fourth & Bell construction site. The tower crane, completed while we were out camping on the weekend, is partially visible at left.
Construction Resumed

Construction of a building north of our complex was suspended during the pandemic, but now is resuming. The 41-story complex will have 1,016 apartments, the lot beyond it will also be developed, with 622 units, and a 455-unit apartment tower will be build in the the lot partially visible at left. Several new apartment buildings in downtown Seattle have recently been completed or are nearing completion already, and it seems unlikely that the housing market can support so many new units. This will be the end of our Lake Union view but the Elliott Bay view remains for now.
Tavolata

A light summer dinner of bread, shaved meat, and marinated olives at Tavolata in Belltown.
Reach

The excavator at street level is able to reach all the way down to the bottom to transfer up the dirt that the smaller excavator is piling up.
7/28/2022
Belltown Pizza

Dinner on the patio at Belltown Pizza. When we

lived aboard

in Bell Harbor Marina, we traditionally picked up a pizza here to eat while watching Monday Night Football.
7/29/2022
Ovation of the Seas

Our once "

pet cruise ship

"

Ovation of the Seas

, foreground, and

Celebrity Solstice

arriving into Seattle at 5:30am between Alaska cruises.
Lifting Excavater

The tower crane lifting the small excavator out of the Fourth & Bell construction site.
Keechelus Ridge North

We didn't expect to equal the view quality of the previous weekend's campsite at Snowshoe Butte, but the one we found on the north side of Keechelus Ridge definitely was in the running. We'd camped on the south side of the Keechelus Ridge earlier in the year, with a vista west to to Keechelus Lake and the Cascade Mountain Range. The campsite on the other side of the ridge had a completely different perspective, north to the craggy peaks of the Alpine Lakes Wilderness. The weather was clear and sunny the entire time, and we woke up to a clear view to 6,152-ft (1,875 m) Alta Mountain, pictured above.
7/31/2022
Salish Lodge

On a whim, we decided one morning to spend the night at Salish Lodge, and booked an awesome suite that night with a great view to

Snoqualmie Falls

. After lunch at nearby Snoqualmie Falls Brewery, we spent the rest of the day at Salish Lodge enjoying the room and the hotel, including an excellent dinner at their restaurant. We took in a final view to the falls over breakfast the next morning, pictured above, before returning home to Seattle.
| | |
| --- | --- |
| | Click the travel log icon on the left to see these locations on a map. And a map of our most recent log entries always is available at mvdirona.com/maps. |