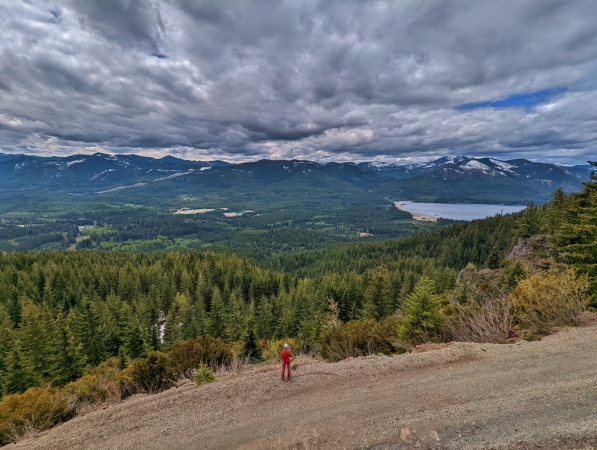 Keechelus Ridge rises 5,000 feet (1,525 m) above I-90 east of Snoqualmie Pass, separating Keechelus Lake directly west of the freeway from Kachless Lake to the east. National Forest roads crisscross the ridge, many with great views westward to Keechelus Lake, the Yakima River headwaters and the Cascade Mountain Range. And several good wilderness campsites are in the area.
After the success of our first wilderness camping trip at the Beckler River near Stevens Pass, we decided to explore closer to home near Snoqualmie Pass. We were looking for higher-altitude campsites with a view, so started near Stampede Pass off I-90, east of Snoqualmie Pass and just south of Keechelus Lake. We enjoyed off-roading through the area, and found a few potential campsites, but none that really attracted us. Part of the problem was that even in early June, snow blocked many of the roads at altitudes as low as 3,097 ft (944 m), and fallen trees blocked several others.
We opted to cross the road to the north side of I-90, in the hopes that the more south-facing slopes would have more sun and less snow. We were in luck, and found a great site along Keechelus Ridge with a fabulous westward view. Despite being along the side of a road, the location was wonderfully private. We saw only one other vehicle the entire time we were there.
Below are highlights from June 4th and 5th, 2022. Click any image for a larger view, or click the position to view the location on a map. And a map with our most recent log entries always is available at mvdirona.com/maps.
6/4/2022
Mt. Rainier

Great view to Mt. Rainier as we head east across I-90 to go wilderness camping.
Keechelus Lake

Reflections in the still waters of 4.2-mile (6.8 km) Keechelus Lake looking west from I-90. Prominent in the distance at right is 5,605 ft (1,710 m) Silver Peak in the Cascade Range.
Sign Board

Sign board at the I-90 exit just south of Keechelus Lake. We'll be heading right (west) towards Stampede Pass through Okanogan-Wenatchee and Mt. Baker-Snoqualmie National Forests.
Stampede Pass Road

A truck coming the other way as we ascend Stampede Pass Road. At altitude 2,427 ft (740 m), some snow still is on the ground beside the road in early June.
Snow

At altitude 3,097 ft (944 m) snow covered most of the Stampede Pass Road. We could pass along the edge here, but the snow was deeper farther along, so we turned around to avoid getting stuck.
Downed Trees

Jennifer moving some downed trees from a side road so we can proceed from Stampede Pass Road down to NF-420.
Road Blocked

The side road was blocked farther along by more downed trees that were too large to move.
Shortcut

With the side road blocked, we gingerly worked down a steep, rocky and rut-filled road to reach NF-420, visible ahead.
Traction Branches

We do have AWD, but even at a relatively low elevation of 2,610 ft (796 m), the snow was deep enough along NF-420 that we were having difficulty with traction. It was only a small patch, so we placed fallen boughs over the snow to give us sufficient traction to pass through.
Meany Lodge

This time it wasn't nature that blocked our progress, but a private property gate. The century-old Meany Lodge beyond the gate is the Mountaineer's oldest winter sports lodge. The nonprofit organization's mission is "To enrich the community by helping people explore, conserve, learn about, and enjoy the lands and waters of the Pacific Northwest and beyond."
Power Lines

Three sets of 500 kV power lines pass through the area, carrying power about 75 miles (120km) from the Bonneville Power authority's substations of Schultz near Ellensburg WA to Raver, in Maple Valley about 20 miles (32 km) southwest of Seattle. The Schultz substation is in turn fed from the Columbia substation along the Columbia River in eastern Washington.

Air generally is a poor conductor of electricity, but can with sufficient voltage. At 500 kV, the voltage of the lines is high enough that the surrounding air does conduct and a loud buzzing sound is produced as the current passing through heats the air.
Palouse to Cascades Trail

Cyclists on the Palouse to Cascades State Park Trail, a 250-mile (402 km) rail trail that extends from Cedar Falls in the Cascade Mountains east to the Columbia River in central Washington state.
Mess

Collapsed building and abandoned vehicles in a small pocket of private property within Okanogan-Wenatchee National Forest as we leave the Stampede Pass area. With snow and other obstruction blocking further exploration, we're going to try our luck on the other side of I-90 towards Kachees Lake. We're hoping that the slopes there will have less snow with their more western exposure.
Keechelus Ridge

Heading up National Forest Development Road 4934 along Keechelus Ridge, we were able to reach a much higher altitude of 3,847 ft (1,173 m) before snow blocked the road. Just before that point, we found a great spot along the side of the road with a view to Keechelus Lake.
Keechelus Lake

View to the southern end of Keechelus Lake and the Cascade Mountains beyond from our campsite.
Edge of Road

The spot we're in along NF-4934 is a little narrow, but we have just enough room to setup our camp without blocking the road. And it was wonderfully private—we saw only one other vehicle the entire time we were here.
Yakima River

After setting up camp, we took a walk along NF-4934. This is the view to the headwaters of the Yakima River, the longest entirely within Washington state. The river flows 214 miles (344 km) from Keechelus Lake at right to the Columbia River in eastern Washington. The area we were driving through earlier today is on the left with the

power line corridor

visible at upper left (click image for a larger view).
Snow on Road

Lots of snow at altitude 3,866 ft (1,179 m) on National Forest Development Road 4934 just above our campsite.
Frog

This little frog is so well-camouflaged it is barely visible on the ground right in front of us (click image for a larger view).
Office

Getting a little work done at our campsite along Keechelus Ridge. We had good cell connectivity here, so didn't need to use

Starlink

.
6/5/2022
Fog

Not much visibility in a heavy fog when we wake up at our Keechelus Ridge campsite.
Low Clouds

The thick morning fog at Keechelus Ridge gave way to just low clouds about an hour after we got up. We enjoy the different scenery as the weather changes. The small red box under the table is a

Mr. Heater Buddy

4,000-9,000-BTU propane heater that keeps us warm in the colder weather.
CO Alarm

We keep a small

carbon monoxide monitor

in the car when we're sleeping and put it on our camp table if we're running the car to charge the Ecoflow. We're not likely to have problems, but this is an easy way to be safer.
Rockslide

Passing a recent rockslide on National Forest Development Road 4934 as we depart our campsite on Keechelus Ridge. Those big rocks could do some major damage if they hit the car.
The Commonwealth

A delicious lunch at our favorite table in the Commonwealth at Snoqualmie Pass.
Army Convoy

A large army convoy parked along the road at Snoqualmie Pass. The army maintains a 327,000-acre (510 sq mi; 1,323 sq km) facility, Yakima Training Center, just east of Ellensburg and regularly runs convoys between there and Joint Base Lewis-McChord.
364ESC

One of several more army trucks we passed on the way home. The designation 364ESC at upper left on the back refers to the 364th Expeditionary Sustainment Command of the US Army Reserve. The 364th ESC, headquartered in Marysville, WA, commands more than 40 Army Reserve units across seven states.
| | |
| --- | --- |
| | Click the travel log icon on the left to see these locations on a map. And a map of our most recent log entries always is available at mvdirona.com/maps. |