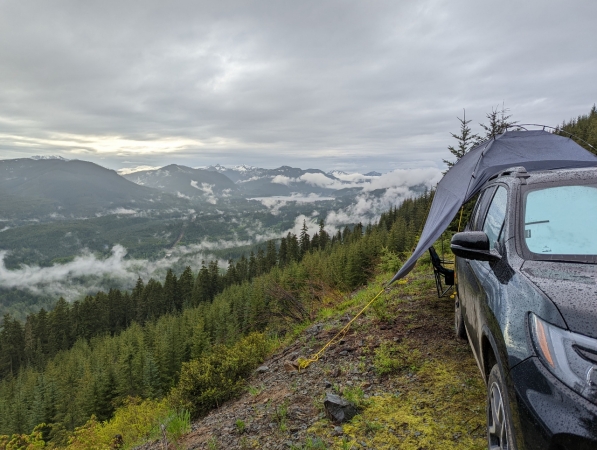 Amabilis Mountain, south of Keechelus Ridge, is a popular snowshoeing and cross-country skiing destination that is less-visited for summer hiking due to the number of better trails nearby. The winter recreation season was well over when we visited in mid-June, but snow still covered the road near the summit, resulting in few visitors to the area. We didn't see another vehicle over two nights at camp there.
On our first two-night wilderness camping trip, we explored the area south of Keechelus Ridge where we'd stayed the previous weekend. Snow, downed trees and overgrown shrubbery blocked several of the roads, but we eventually found a great campsite just below the snow level on the flank of Amabilis Mountain with a sweeping view west. The area clouded over, with frequent rain, shortly after we setup camp, but we stayed warm, dry and comfortable under our awning with a propane heater.
On our second day there, the weather cleared a bit and we hiked up through the snow-covered road to the summit of 4,508 ft ft (1,374 m) Amabilis Mountain. When we reacehd the top, the skies cleared even more and we enjoyed sweeping views east over Kachees Lake and north to snow-covered 7,960+ ft (2,430+ m) Mount Daniel.
Below are highlights from June 10-12, 2022. Click any image for a larger view, or click the position to view the location on a map. And a map with our most recent log entries always is available at mvdirona.com/maps.
6/10/2022
Snow

We're out scouting for camp sites east of Keechelus Lake in Wenatchee National Forest along National Forest Development Road 4934. At altitude 3,305 ft (1,008 m) the road is blocked by this van stopped, and probably stuck, in the snow.
Big Rock

A large rock on the side of National Forest Development Road 136. Rock of this size could severely damage a car or block exit.
Water Flow

Water is flowing rather heavily down National Forest Development Road 136. We can get through, but this will eventually wash out the road if not diverted.
Branches

Moving branches out of the way as we worked down NF-136. We really enjoy exploring out here, but these conditions are tough on our car's paint job :-(. Just up the road from here we were blocked by deep snow.
Fallen Trees

Here along NF-4930 several recently-fallen trees have been cleared from the road. We couldn't make any more progress in the area just east of Keechelus Lake, so tried farther east nearer to Kachess Lake. The similar names are derived from native American words: Keechelus means "few fish", while Kachess means "more fish".
Box Canyon Creek

A nice-looking campsite along Box Canyon Creek. We are finding that people gravitate to the lower elevation sites, particularly those along creeks, and that the higher elevation sites are less busy. We prefer the higher-elevation sites for the views, but would have considered this one if it weren't already occupied.
Falls

A small waterfall along Box Canyon Creek along NF NF-4930. In the summer, the basin below the falls is a popular summer swimming hole. But in mid-June, snow blocked the road a short distance up and the water likely is quite cold.
Amabilis Mountain

After several hours of exploring, we found an awesome site below Amabilis Mountain off NF-4822 with a view across the Yakima River headwaters to Keechelus Lake. We stayed here for two nights and didn't see another vehicle the entire time.
Warm and Dry

The area clouded over, with frequent rain, shortly after we setup camp. But we are warm and dry under our awning. This one by Hasika is a beautiful design, but not sufficiently durably built. The ties tore off in the wind the following day, and we later replaced it with a stronger

Redcamp awning

.
Cascades

The clouds cleared later in the afternoon, with a few wisps caught in the trees, and we got a great view to the Cascade Mountains on the other side of Keechelus Lake.
Campsite

Our campsite along NF-4822. The rain has stopped now, but has been falling pretty steadily most of the day and is running down the road.
On the Edge

To not block the road, we're right on the edge of a steep slope, but have just enough room to secure the awning.
Evening

Enjoying the evening at camp below Amabilis Mountain. At 7:30pm there's still plenty of light. We're nearly at the longest day of the year, with the sun rising at 5:11am and setting at 9:06pm giving nearly 16 hours of daylight. The longest day, June 22, has 5 more minutes of daylight for exactly 16 hours.
6/11/2022
Critters

A chipmunk at right, and what looks like a vole (a stocky rodent similar to a mouse), out foraging in the morning on the slope below our campsite.
Tire Tracks

Out for a walk up to Amabilis Mountain from our campsite on NF-4822. These are our tire tracks from yesterday when we turned around at the snow.
Kachees Lake

The sweeping view to Kachees Lake from atop 4,508 ft ft (1,374 m) Amabilis Mountain.
Mount Daniel

7,960+ ft (2,430+ m) Mount Daniel in the distance, viewed looking north across Little Kachees Lake from Amabilis Mountain.
Warming Hut

The Kongsberger Ski Club built this public warming hut at Amabilis Mountain that just opened for the 2022 season.
Hut Interior

The beautiful interior of the warming hut, complete with a

Mr Heater Buddy

propane heater just like we have. A sign on the wall indicates the future of the hut is uncertain because the current landowner, the Nature Conservancy, is transferring ownership of the land to the Forest Service this year.
Sunshine

The sun came out as we returned back down from Amabilis Mountain and we warmed up enough to remove a couple of layers.
Lunch

Lunch back at camp along NF-4822 with a view to Keechelus Lake and the Cascade Mountains beyond.
Stump

The National Forest roads were built mainly for logging, and evidence of past and recent logging is visible throughout. This old stump near our campsite on NF-4822 probably was cut many decades ago.
Dinner

Dinner at our campsite below Amabilis Mountain on NF-4822. The rain has stopped, so we've got one side of the awning open for a better view. Our GSI Outdoors

Pinnacle camping cooking set

at left is working out well. The cookware is lightweight, well-made, and attractive.
6/12/2022
Breakfast

The coffee and tea is already made, and now we're preparing granola and fruit for breakfast at camp while we get a little work done. This is our first time staying two nights at camp and we've really enjoyed it.
Electrical Kettle Test

We boil water on a propane stove using our Sea to Summit

collapsible kettle

, but this morning decided to test how the Ecoflow would do with an electric kettle. It had no problem supporting the 846-watt draw, but at this rate we only have 1:05 left of run time. It's nice to know we have a backup should the stove or kettle fail, or we run out of propane.
Thermacell

Bugs haven't been a major issue at our campsites so far, but we don't like any around us and deploy a Thermacell mosquito repeller at the first sign of the pests. The Thermacell is remarkably effective at keeping mosquitoes away, particular compared to the bug coils and candles we've used in the past with limited success.
Charging Ecoflow

We can easily go 24 hours at camp without charging the Ecoflow, but need to charge if we're much longer than that, particularly if we are using

Starlink

. We probably could have gotten away with not charging it this morning, as we've have good cellular connectivity here and will be leaving soon, but we wanted to give the charging system a good test.
CO Monitor

The car exhausts towards our camp table, so we monitor for elevated CO levels while charging the Ecoflow.
519 in 27 out

After an hour of charging, the Ecoflow is up to 68.75% charge from just under 50%. At the current input of 519 watts and output of 27, it will be fully charged in 1:42.
Fallen Tree

Working around a fallen tree as we depart the campsite at Amabilis Mountain.
Army Convoy

An army convoy heading west on I-90, similar to the one we saw

last weekend

and likely coming from the Yakima Training Center just east of Ellensburg.
Bandit Dwarf

Richard Stark's number 42 AMCA

Bandit Dwarf

heading home from

Wenatchee super-oval

. Dwarf cars are 5/8 replicas of 1928 to 1948 coupes, sedans, and panel trucks with open wheels, all sheet metal bodies, and a street motorcycle engine up to 1250 cc. The AMCA Bandit Dwarf series races on dirt and asphalt throughout Washington, Oregon, Idaho, and British Columbia, Canada.
North Bend Bar & Grill

Another great lunch at North Bend Bar & Grill, our favorite stop in North Bend.
| | |
| --- | --- |
| | Click the travel log icon on the left to see these locations on a map. And a map of our most recent log entries always is available at mvdirona.com/maps. |