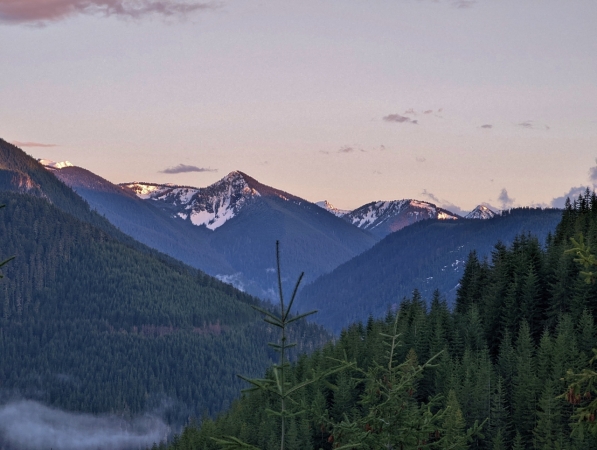 One of the aspects of wilderness camping that we really like is the opportunity to get out into the mountains and enjoy wonderful views. Finding the right campsite can take a bit of time, but we enjoy exploring and so far having been finding one excellent site after another, all with great views.
Huckleberry Creek is about 5 miles north of Mt. Rainier National Park in Mt. Baker-Snoqualmie National Forest. After a couple of hours of exploring the area, we came across a spectacular site at the end of a forest road with the view pictured above. We had a great night there, then explored on the other side of SR-410 the next day and found several good sites with fabulous views to Mt. Rainier. We'll definitely return to the area.
Below are highlights from May 21st and 22nd, 2022. Click any image for a larger view, or click the position to view the location on a map. And a map with our most recent log entries always is available at mvdirona.com/maps.
5/21/2022
Mt. Rainier

Great view to Mt. Rainier as we head south on SR-167 to camp at Huckleberry Creek.
White River

Crossing the White River shortly after turning off SR-410. Huckleberry Creek, where we're heading to camp, is one of the river's many tributaries.
Sno-Park

The last time we were here, this area was the snow-covered

Sun Top Sno-Park

and the road was closed beyond. It looks very different here with the snow gone.
NF-310

A tent camper just off National Forest Development Road 310 as we drive the road looking for a site.
Snow

A patch of snow at altitude 3,360 ft (1,024 m) along NF-310. The snow was a little deep, but we could see clear road beyond and were able to pass with two wheels in the dirt on the right.
Lifting Trees

NF-310 is rather overgrown, and we had to lift some small trees out of the way to pass.
Road Overgrown

We eventually reached a point where NF-310 was too overgrown to pass, so we turned back to look elsewhere for a campsite.
Crowds

We'd been looking for a site in the hills south of Huckleberry Creek, and here are crossing over the creek to look on the other side. In the distance several cars are parked next to a large group camp. We've been finding that the areas around creeks tend to be much more crowded than up in the hills behind. Possibly people prefer being near to the water, or it's just an easier place to find a campsite.
Campsite

We'd been looking for a campsite for a couple of hours and were beginning to feel a bit discouraged when we came across this spectacular site at the end of NF-7320 with a great view to 5,263 ft (1,604m) Sun Top Mountain at left and the 7,000-ft (2,100m) mountains just east of Mt. Rainier at right.
Lunch

Enjoying a grain bowl lunch with a view from our campsite on NF-7320 above Huckleberry Creek.
Mountains

A close-up view of the 7,000-ft (2,100m) mountains southwest of our campsite off NF-7320.
Subaru

Several vehicles arrived and departed at our campsite, one just after we arrived, so we felt especially lucky to have nabbed the spot. We chatted briefly with the owner if this Subaru, who was scouting for sites following weekend. He'd extensively customized the vehicle to make it extremely off-road capable.
Hail

We're warm and dry under the awning, but you can see hail pounding down around us.
NF-110

Out for a walk along NF-110, a closed branch from NF-7320. It looks like the road hasn't been in use for a long time.
View

Jennifer climbed onto this big rock for a view to the valley below. But like

Tigger

, getting up was a lot easier than climbing back down.
Camp From NF-110

Looking southeast down to our campsite from NF-110 as we return from our walk.
EcoFlow Draw

In the early evening, the EcoFlow app indicates we currently are drawing 19 watts on the AC output, are down to 70% battery, and at this draw have 22 hours and 39 minutes of power remaining.
Sunset

The setting sun lighting up the mountains to our southwest. We believe the conical mountain in the distance at far right is 6,785ft (2,068 m) McNeeley Peak with 7,015 ft (2,138 m) snow-covered Antler Peak in the far distance at center.
5/22/2022
Good Morning

The view from our bed in the truck to our camp after we popped the hatchback first thing in the morning.
Clear Day

We haven't had any clear and sunny days like this at camp so far. It's especially beautiful up here in the mountains in these conditions.
Starlink Power Draw

We've been loving the

Starlink

, but it's power draw is often up in the 60-70 watt range, so it consumes quite a bit of power. Yesterday, after the hail, the Starlink was running at a steady 70 watts and we discovered an interesting option power-saving option called "snow melt mode". In heavy rain, hail or snow, the Starlink attempts to clear the potential obstruction by heating, which we're sure is helpful, but does double the power draw.

We switched the option off, which seems to keep the power down in the 35-watt range. And if reception becomes an issue, we can always wipe off the dish. Because most of our camping to far has been in colder weather, and we've seen a lot of rain and snow, this change makes a substantial power consumption of the Starlink.
Charging

Using our

Bestek 1000W inverter

to charge the EcoFlow from the car battery with the vehicle running. We'll be heading home this morning so don't need to charge today, but we wanted to test it. One of the features of the Bestek we really like is the voltage display so we can be sure we're not discharging the car battery. We tuned the EcoFlow charge rate to ensure the battery voltage stayed above 13 volts. Right now the car battery is at an acceptable 13.5 volts, and 566 watts is heading to the EcoFlow.
EcoFlow App

The EcoFlow app while we are charging from the car. Currently, 623 watts are coming in and 33 watts are going out. Most of that draw is the

Starlink

.
Honda on Starlink

Our new Honda Passport has a built-in cellular modem and can provide telemetry and some basic controls through the HondaLink app. But we have no cellular service out here, so the car can't connect. As an experiment, we put the car onto the

Starlink

network and were able to connect to it.
HondaLink

With the Honda connected to the

Starlink

network, we can now get telemetry via the HondaLink app. We're right beside the car, so don't actually need this of course, but it's nice to see it working.
Wings Up

With the nice sunny weather, and no hint of rain, we rolled up the wings on our awning for the first time. The ground is drying, but it was quite muddy yesterday. We've placed boughs on the ground to cover the mud, and use a small tarp to keep clean any gear we have on the ground, such as our cooler and water bottles.

The tarp is a later addition to our camping kit, as is the one-gallon small blue water bottle to the left of the 5-gallon collapsible cube. We found the big 5-gallon container a little cumbersome to deal with, so use the 1-gallon as the regular supply and fill it from the 5-gallon as needed.
Huckleberry Creek

After departing our camp at the end of NF-310, we made a pass through the area scouting for other spots. This is a nice site with a view to Huckleberry Creek. It's a little boggy right now, but would be great in the drier months of summer.
NF-73001

A great mountain view as we return down National Forest Development Road 73001 after being blocked by snow a short distance behind us at altitude 3,178 ft (969 m). The road was rather narrow on the parts we could access, and we didn't find any viable campsites.
Abandoned Trailer

A real mess of an abandoned trailer near the highway access to the Huckleberry Creek area.
Mt. Rainier

A fabulous view to Mt. Rainier from along NF-7305. We found a few potential spots along the road with partial views, and big potholes blocked further progress. More capable off-road vehicles clearly had passed beyond but the ground clearance in our car isn't high enough.
Gate

A truck tucked down in the woods beyond a closed gate off NF-7305. A fair bit of private property is in the area.
Campsite 1

We crossed over to the other side of SR-410 to scout for campsites. This one along NF-72004 has a nice view to Mt. Rainier.
Campsite 3

This ultra-private spot at the end of a spur road off NF-7200 had nice view to Mt. Rainier and other mountains. The site was occupied, so we just took a couple of quick photos and departed. The road is quite overgrown and driving it is a little tough on our car with branches dragging against it, but it is a lovely spot.
Campsite 4

The view to Mt. Rainier from the best spot we found along NF-7200 before snow blocked further progress at altitude 3,437 ft (1,048 m).
Accident

As we returned home to Seattle, SR 410 was blocked for several hours due to a pretty scary-looking accident between a van and a motorcycle. Both drivers were evacuated by helicopter.
| | |
| --- | --- |
| | Click the travel log icon on the left to see these locations on a map. And a map of our most recent log entries always is available at mvdirona.com/maps. |