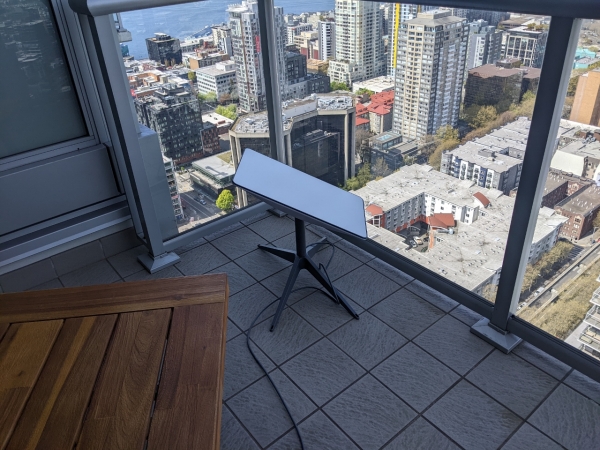 Starlink is a game-changing satellite service with a moderate cost of $600 for the antenna and $135 a month for unlimited data anywhere in the US. The boating and RV community are wild about it, and we're pretty excited too. We're replacing boat exploration with SUV exploration and camping, but many of the places we want to go are outside of cellular connectivity and James really needs to be connected for work. Starlink, with its excellent connectivity speeds and a lightweight and portable antenna, completely solves the problem.
Below are highlights from April 24th. Click any image for a larger view, or click the position to view the location on a map. And a map with our most recent log entries always is available at mvdirona.com/maps.
Starlink Shipment

We're super-excited that our Starlink arrived today and are looking forward to testing it.
Starlink Contents

The contents of the Starlink package are pretty simple: a router at left, an antenna and stand at right and a cable between them. Starlink calls their antenna "Dishy McFlatface." Dishy arrives in the space-saving stow mode, as shown, with the face partially vertical
Testing Starlink

Setting up the Starlink satellite system in our apartment to test it. The antenna needs a clear view of the sky so we're not super-hopeful it will work in this location, but we might as well give it a try.
Dishy McFlatface

When powered up, the antenna rotates from stow mode to a horizontal position to search for satellites.
Northeast Swivel

After several minutes, the antenna rotated from horizontal to angled, facing northeast.
Online

Amazingly, Starlink actually was able to connect on the deck of our apartment and over next 24 hours or so downloaded all the firmware updates.
121 Mbps

Pretty impressive satellite connectivity speed on Starlink at 121 megabits per second (15.1 megabytes per second).
Working on Starlink

A successful test with James working entirely on Starlink for connectivity.
Video on Starlink

We even were able to watch a video over Starlink. We're really impressed with its speed and ease-of-use.
| | |
| --- | --- |
| | Click the travel log icon on the left to see these locations on a map. And a map of our most recent log entries always is available at mvdirona.com/maps. |