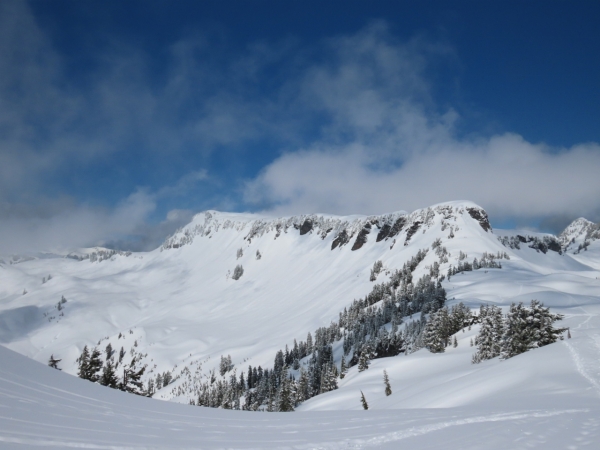 Artist Point, at altitude 5,100ft (1,554 m) is a popular summer destination at Mt. Baker. A paved road leads right to the top, for spectacular mountain views. And a short hike along Kulshan Ridge leads to an even better viewpoint atop 5,247 ft (1,599 m) Huntoon Point. The road to Artist Point is unplowed and closed in the winter, but is easily accessible by snowshoe from the upper parking lot at Heather Meadows.
Snow was falling as we drove up to Mt. Baker for our second day of snowshoeing. Heather Meadows was closed, but the parking lot still open and filling with snowshoers and backcountry skiers. We were the first ones to follow the route to Artist Point that morning, and enjoyed making new tracks through the fresh powder. Visibility was poor as we climbed up, but cleared up later in the day for some great views to the surrounding mountains. We particularly enjoyed seeing Table Mountain, pictured above, where we hiked yesterday.
Below are highlights from April 17, 2022. Click any image for a larger view, or click the position to view the location on a map. And a map with our most recent log entries always is available at mvdirona.com/maps.
Snowing

Snow was falling as we drove up to Mt. Baker from Bellingham for our second day of snowshoeing. The trees looked beautiful with a fresh coating of powder.
Heather Meadows Closed

Only the White Salmon base area was open at Mt. Baker today. Heather Meadows was closed. This was surprising given the fresh snow.
Parking Lot

Heather Meadows was closed, but the parking lot still was open. While there were a lot less cars than yesterday, a fair number of people were arriving, and several cars had been there all night.
En Route

En route for a hike to Kulshan Ridge. The weather is very overcast today, with poor visibility. The fresh snow has almost covered up the trails from yesterday and we're the first ones out.
Kulshan Ridge

Hiking along Kulshan Ridge with Artist Point visible behind. In the summer, you can drive to Artist Point for wonderful views, but that won't be possible for quite a few more weeks.
Clearing

The clouds started to clear as we reached the end of Kulshan Ridge and we started getting some nice views to 9,134-ft (2,784 m) Mt Shukskan.
Backcountry Skiers

Backcountry skiers, at center of picture, hiking up a slope way in the distance across the valley from Kulshan Ridge (click image for a larger view). If we looked carefully, we could see small dots of people in the distance in almost every direction.
Huntoon Point

Enjoying a snack and a hot tea with the view at 5,247ft (1,599m) Huntoon Point.
Table Mountain

The long flat extent of 5,742 ft (1,750 m) Table Mountain. We were hiking around the southeast (right) end yesterday.
Steep

Backcountry skiers working their way down a steep slope. They eventually reached a slightly less steep section and could ski the rest of the way.
Clouds Lifted

The clouds really lifted as we descended and we got a great view to 9,134-ft (2,784 m) Mt Shukskan.
Heather Meadows

The Heather Meadows base area at Mt Baker, closed today and possibly for the season.
Sonos Roam

The latest addition to our travel kit is a

Sonos Roam

. The pint-sized indoor/outdoor speaker has impressive sound quality, has good battery life, is super-easy to set up, and works well with Alexa and Spotify. We're loving being able to play our music wherever we go.
Whirlpool

Enjoying a soak in the whirlpool at our Bellingham hotel after a great day snowshoeing at Mt. Baker.
Black Sheep

Delicious tacos and margaritas on the heated deck at Black Sheep in Bellingham.
| | |
| --- | --- |
| | Click the travel log icon on the left to see these locations on a map. And a map of our most recent log entries always is available at mvdirona.com/maps. |