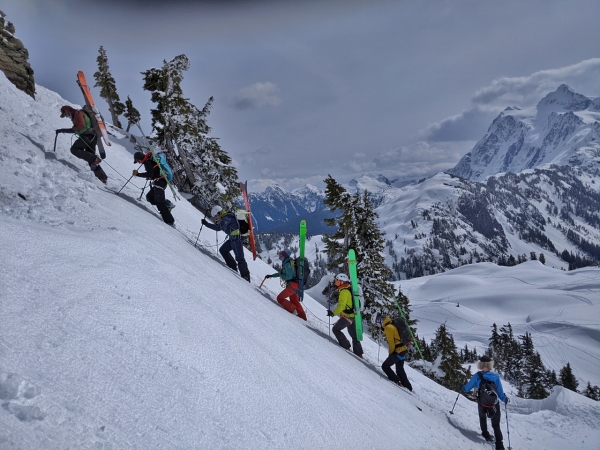 10,786 ft (3,288 m) Mt Baker has two major commercial ski bases, White Salmon and Heather Meadows, but also is a busy backcountry ski area. Rising above the Bagley Creek basin, the steep slope of 5,742 ft (1,750 m) Table Mountain is particularly popular and was covered with ski tracks when we visited.
On our first day of snowshoeing at Mt. Baker, we hiked alongside Bagley Creek and worked partway up Table Mountain, often following backcountry skiers. We eventually decided the going was a little too steep for us to reach the top, but we enjoyed the hike and got some fabulous view along the way, especially a close-up to Mt. Baker after seeing it from afar for so many years. Our MSR Lightning Ascent snowshoes continue to impress us for their traction and, somewhat like boating, they seem able to take more than we can :-).
After descending, we spent an hour or so watching snowboarders perform some impressive jumps and flips as they practiced for an event the following day.
Below are highlights from April 16, 2022. Click any image for a larger view, or click the position to view the location on a map. And a map with our most recent log entries always is available at mvdirona.com/maps.
Twin Sisters

Spectacular view to double-peaked Twin Sister Mountain viewed from Mt Baker Highway en route to snowshoe at the namesake mountain. From left to right are 6,641 ft (2,024 m) North Twin, 6,696 ft (2,040 m) South Twin, 6,602 ft (2,012 m) Little Sister and 6,480 ft (1,975 m) Hayden Peak. We're on the road from Bellingham shortly before 7 am to arrive at the parking lot before 8 am to be sure of a parking spot.
MBS National Forest

Entering the northern reaches of Mount Baker Snoqualmie National Forest. We've driven through and hiked in this forest a lot at various places in the state. The protected area extends more than 140 miles (230 km) through the Cascade Range from the Canadian border south to Mt Rainier National park.
Mt. Baker Ski Area

Entering the Mt. Baker Ski Area. The season is nearly over and only the White Salmon base area is fully open. Heather Meadows, where we'll be parking, has no services open except for lifts and restrooms.
Border Peaks

7,993 ft (2,436 m) American Border Peak, at center holding little snow on the sheer face, with sister peak 7,517 ft (2,291 m) Canadian Border Peak across the border to the left. The snow-covered mountain to the right of American Border Peak is 7,861 ft (2,396 m) Mt Larrabee.
Trailhead

All geared up and ready to snowshoe towards Table Mountain from the Mt. Baker ski area at altitude 4,183 ft (1,275 m).
Bagley Lakes

Walking alongside the snow-covered Bagly Lakes with 5,742 ft (1,750 m) Table Mountain visible in the distance.
Table Mountain

5,742 ft (1,750 m) Table Mountain prominent ahead as we pass alongside Bagley Creek.
Backcountry Skiers

Backcountry skiers, at bottom right, heading across the larger of the Bagley Lakes to ascend the slopes east of Mazama Dome (click image for a larger view).
Climbing

Looking back northeast as we ascend the lower flank of Table Mountain. The lot where we parked is slightly left of center where the trees end in the distance, below the treed slope at left. Prominent in the background is 7,861 ft (2,396 m) Mt Larrabee that we saw as we neared the parking lot.
Mt. Baker

We gained 600 ft (182 m) altitude on the steep climb up the lower flank of Table Mountain. But the reward when we reached the top was this fabulous view to 10,786 ft (3,288 m) Mt Baker.
Trail

We followed a trail in the snow around a steep outcropping at the east end of Table Mountain in the hopes of reaching the long, flat ridge that ran below the peak. But the route became too steep around the other side. The conical peak in the distance directly above Jennifer is 5,797 ft Mazama Dome.
Mt Shukskan

Instead of going around the steep outcropping, we tried climbing it. Partway up, this is the amazing view to our southeast of 9,134-ft (2,784 m) Mt Shukskan.
View South

Panoramic view looking south from partway up the outcropping. 9,134-ft (2,784 m) Mt Shukskan is roughly at center and 10,786 ft (3,288 m) Mt Baker is partially visible at the far right (click image for a larger view).
Limit

We continued climbing the outcropping, behind some backcountry skiers visible above us. The route was very steep.
View East

The view east from near the top of the outcropping. The parking lot we started off from is at the far end of the valley, slightly left of center (click image for a larger view).
Roped Climbers

We didn't feel comfortable going any further on the outcropping and retraced our steps back down. James is descending at bottom right, while a group of roped backcountry skiers are ascending. It's really steep here.
Campers

About a half-dozen tents were set up in the Artist Point area. In the summer, you can drive up to where they are camped.
Snack

Enjoying a snack and a hot drink with a view to 9,134-ft (2,784 m) Mt Shukskan.
Outcropping

Looking back to the outcropping that we attempted to first go around to the right and then to climb.
Descending

Descending back towards the car. The lakes we walked alongside initially are just visible in the background directly above James.
Building Jumps

We could see snow-formed jumps in the distance, and went over the check them out. A group of people were working on them, with many people arriving with snowboards.
Jumper

About a half-hour after we arrived, snowboarders started taking to the course, practicing for the main event the next day. Some of them were quite good.
White Salmon Ski Area

As we rounded a bend in the road, we got a great view to 9,134-ft (2,784 m) Mt Shukskan soaring above the Mt Baker White Salmon Ski Area.
North Fork Brewery

Delicious pizza and craft beer at North Fork Brewery after a great day spent snowshoeing at Mt. Baker.
| | |
| --- | --- |
| | Click the travel log icon on the left to see these locations on a map. And a map of our most recent log entries always is available at mvdirona.com/maps. |