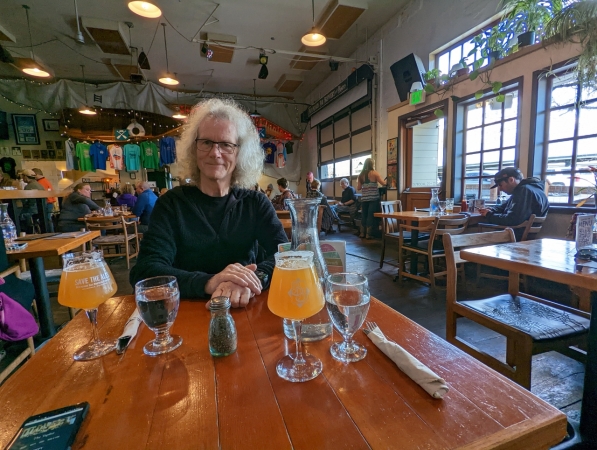 The waterfront city of Bellingham city lies just 21 miles (34 km) south of the U.S.-Canada border and is the closest major center to 10,786 ft (3,288 m) Mt Baker. We'd passed Bellingham many times in trips by car, and boat, to and from Canada, but had never spent much time there.
On a weekend showshoe trip to Mt. Baker, we made our way north from Seattle to Bellingham late on a Friday evening. This is never a pleasant experience, but we very much enjoyed our three nights nights in Bellingham. The city has a vibrant downtown, with a wide variety of appealing restaurants.
Below are highlights from April 15, 2022. Click any image for a larger view, or click the position to view the location on a map. And a map with our most recent log entries always is available at mvdirona.com/maps.
Fuel Prices

The price of fuel continues to escalate quickly, driven by the conflict in the Ukraine and high overall inflation rates. This Bellevue station is charging $4.99/gallon ($1.10/L).
Accident

Traffic is backed up in the distance due to a big accident in the southbound I-405 lanes. We're heading north to Bellingham to snowshoe on Mt. Baker this weekend.
No Cruising

Passing through a "No Cruising" area on Evergreen Way south of Everett. We're a long way from the water :-), but this actually is a rule against driving in the same direction through an intersection more than twice in a two-hour period. Presumably this law targets prostitution or drug distribution.
Amazon Containers

Nearly 150 Amazon shipping containers stacked 5-high at Port Gardner in Everett.
Traffic

Heavy traffic as we cross the Snohomish River. It took a good 20 minutes to proceed perhaps a mile. Heading north of Seattle late in the day on Friday is never pleasant.
Glacier Peak

A great view across the Snohomish River to 10,525+ ft (3,207+ m) Glacier Peak, just south of Mt. Baker.
Snohomish River Bridge

The complexity of trusses in the Snohomish River Bridge. The bridge was completed in 1954 to connect Everett with Marysville and has a clearance of 38ft (11.6m) when down and 78ft (23.8m) when raised.
Boundary Bay Brewery

A great meal at the Boundary Bay Brewery in Bellingham. The city has a wide variety of appealing restaurants.
Tasting Flight

We stopped in for a pint at our Bellingham hotel's bar and couldn't decide what we wanted, so the bar tender made us an impromptu tasting flight.
| | |
| --- | --- |
| | Click the travel log icon on the left to see these locations on a map. And a map of our most recent log entries always is available at mvdirona.com/maps. |