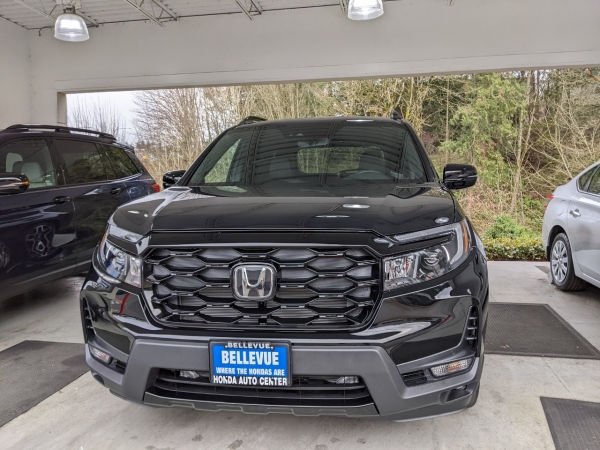 Our most recent tender to Dirona was an AB 12VST capable of about 32 kts (37 mph, 60 kph) and a range nearing 50 nautical miles. Our new 'tender to condo' is a Honda Passport Elite that is even better across most dimensions.
We'd so far not needed a car since returning to Seattle, as we mostly walk within downtown, or take an Uber or public transit. But for trips outside the city, we decided having a car would be convenient. Car share services such as Gig are available here in Seattle, but they're mostly small two-wheel drive vehicles and we preferred all-wheel drive for many of our trips.
We've always owned sports cars, most recently a Mitsubishi 3000GT VR-4. But the Nissan Pathfinder we drove across the country worked super-well, with plenty of room for our luggage and Spitfire's "kitty central", so leaned to something in that market.
During the period we were shopping for our car, we also took delivery of three cubic meters of gear we are keeping from Dirona. In the Los Angeles area there'd been a rash of train thefts of personal effects being moved and other cargo, but ours made it through without issue.
Below are highlights from Jan 22 through 26th, 2022. Click any image for a larger view, or click the position to view the location on a map. And a map with our most recent log entries always is available at mvdirona.com/maps.
1/22/2022
Uber Route

Uber rides are always close in downtown Seattle. This one is completing a trip in the area and picking us up, while never getting more than a block away.
Kia Sorrento

At Car Pros Kia Renton to check out their SUVs. One of the problems with shopping for a car right now is availability. Chip shortages are restricting supply for most companies, with many-month delays for new vehicles. It's a 3.5- to 6-month wait for a new vehicle from Kia.
eero

We upgraded our apartment router system to an Amazon

eero

system and so far are quite impressed. The install was very easy, the app is impressively good, and performance is excellent.
1/24/2022
Gear from Dirona

Three cubic meters of gear we are keeping from

Dirona

arrived today from

Yacht Tech

in Florida. In the Los Angeles area there's been a rash of

train thefts

of personal effects being moved and other cargo, but ours made it through without issue.
Transferring

We had the pallets delivered to the loading dock of our apartment building and transferred it down to our storage room. This is the first of about eight trips.
Empty

Our storage room before the first load from the pallets.
Full

The storage room after unloading the pallets. Getting everything inside was a big job, but we still have to unpack and go through all the boxes stacked against the right wall.
1/25/2022
Honda Passport

Test-driving a Honda Passport SUV. We really liked the vehicle from a looks, comfort, handling and performance perspective. One of the appealing aspects of the

Nissan Pathfinder

we drove across the country was its acceleration ability, allowing us to pass slower vehicles with ease. The Honda Passport is even faster at 0-60 mph in 6.1 seconds compared to 6.7 seconds for the Nissan.
Honda of Bellevue

At Honda of Bellevue with our salesperson, Jason Kim (beside James), and the general manager Mike Lavigne, after we decided to purchase a Honda Passport. Behind us is a Honda Passport Trailsport, a similar model to the Elite that we expect to take delivery of this week.

In a surprising coincidence, Mike recognized us from our blog as we came into the showroom. He and the rest of the team at Honda of Bellevue have been super-helpful.
1/26/2022
Tender to Condo

We picked up our new 'tender to condo' today from Honda of Bellevue.
Click the travel log icon on the left to see these locations on a map, with the complete log of our cruise.

On the map page, clicking on a camera or text icon will display a picture and/or log entry for that location, and clicking on the smaller icons along the route will display latitude, longitude and other navigation data for that location. And a map with our most recent log entries always is available at mvdirona.com/maps.