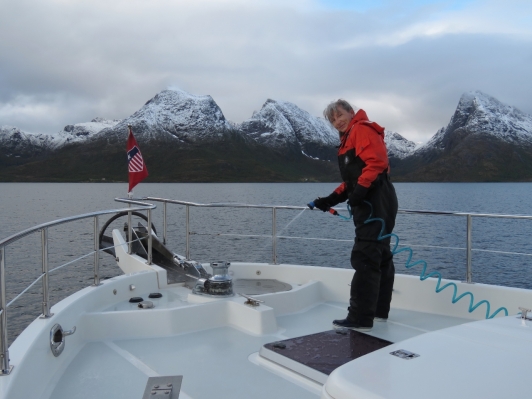 Many boats have an automatic wash-down pump that helps clean the rode before it goes into the anchor locker. For those without, some choose not to clean the rode at all. We've not had an automatic wash-down on either of our boats, but we do like the anchor rode stored clean. So raising our anchor typically involved someone working from the bow with a raw water hand sprayer, cleaning mud or other bottom material off the rode as it comes up.
This isn't a particularly onerous job, but in colder weather, our hands can get quite wet and cold from the spray in the air. We tried a variety of gloves to keep our hands warm and dry. Lightweight gloves, particularly fleece, soaked through quickly and weren't of much help while thicker, warmer gloves that were more waterproof were too cumbersome to work with.
Eventually we discovered Sealskinz waterproof gloves, and these have worked very well for us. The knitted gloves have an inner, waterproof liner that keeps moisture away from our hands. The outer glove still gets wet and cold, so it's not a perfect solution, but dryer hands are so much more comfortable. The initial versions we bought a couple of decades ago came in a standard weight and a thicker, heavier weight for winter. We bought both, but tended to use the lighter weight ones and wore through at least one pair cruising in the Pacific Northwest.
We didn't need them as we cruised the warm waters of the South Pacific, but found ourselves using them again as we returned to colder weather in Europe. By that time, our current lightweight pair had worn out again and we happened on them in a store in the UK. As it turns out, Sealskinz is a UK company. This latest glove was a redesigned version of the ones we'd purchased over a decade earlier and was much more effective. It also has worn better as well.