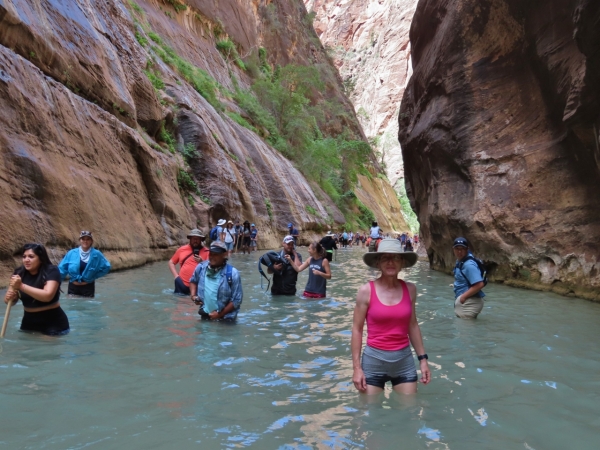 Utah's Zion National Park is exceedingly popular, and for good reason. The rugged red-rock canyon scenery is spectacular, with many hiking trials, climbing and canyoneering opportunities for unique perspectives and experiences. And after enjoying a day at the park, nearby Springdale has excellent accommodations and restaurants.
From Flagstaff, AZ we drove 328 miles to Springdale, UT, bringing our total trip distance to 2,818 miles (4,535 km). Our route took us along the beautiful Fredonia-Vermilion Cliffs Scenic Road, where we stopped at historic Navajo Bridge.
We spent three nights at Springdale and really enjoyed our stay. On our first afternoon there, we took in the dramatic formations on the Kolob Canyons scenic drive at the western edge of Zion. Later we spent a full day exploring the main section of the park, including hiking the famous Angel's Landing trail for sweeping view through Zion Canyon, and walking the Narrows Trail through the Zion Canyon along the Virgin River. The river hike was a unique and exciting experience for us, where at times we were wading hip-deep in the river through a narrow canyon soaring above us. Zion was truly exceptional.
Below are highlights from June 20th through 22nd, 2021. Click any image for a larger view, or click the position to view the location on a map. And a live map of our current route and most recent log entries always is available at mvdirona.com/maps.
6/20/2021
Cargo Liner

We bought a

cargo liner

to help protect the car in case of any spills, and also put a cat litter mat under Spitfire's litter box. The cargo liner also works well to cover the gaps and holes between the folded down seats so items don't fall below and Spitfire can't climb down. It's all working super-well, and Spitfire is being even more careful than usual.
Engel Cooler

The

Engel soft-sided cooler

that we purchased for the road trip is working out super-well. It just fits on the floor behind our car seats, where it takes up no valuable cargo space and we can reach it easily from the front seat. It's impressively well-insulated, and being flexible means we can push it into tight spots.
Route 66

US Route 66

was one of the original highway systems in the US, running 2,448 miles (3,940 km) between Chicago and Los Angeles. The US Interstate Highway System replaced the route in the 1980s, but several states have maintained or developed sections as part of the Historic Route 66 National Scenic Byway. A section of that route passed through Flagstaff, AZ.
| | |
| --- | --- |
| | We made for a pit-stop at a gas station north of Flagstaff in the Navajo Nation, where COVID-19 restrictions are the highest we've seen so far. Most tourist attractions on the reserve are closed, including Monument Valley, which was on our list to visit. This gas station has separate doors for entry and exit, masks are required for everyone, and paths are marked-out on the floor so you can go to the restrooms and back out without passing anyone. |
Window Cleaning

James cleaning the windows in our SUV. He used to pump gas for a living many decades ago, and this was part of the job, so he's still pretty good at it :-).
| | |
| --- | --- |
| | Walking on the original Navajo Bridge, completed in 1928, with a view to the new bridge, built in 1995 to support heavier vehicle traffic. The new bridge is almost identical to the old in appearance, and both gracefully spans the Colorado River 470ft (143m) below. |
Toilet Sign

This sign in the bathroom was so unusual that we both took pictures of it. We both feel pretty up to speed on modern toilet operation, but this goes to show you you're never too old to learn :-).
Magnum Fire

The area we're passing through, in Kaibob National Forest, is part of the 71,450 acres (28,915 hectares) that burned in the Magnum Fire of June of 2020. Firefighters took nearly a month to get the blaze under control.
Kolob Canyons

James with our rented Nissan Pathfinder at Kolob Canyons scenic drive in spectacular Zion National Park.
Timber Creek Overlook

The Kolob Canyons in Zion National Park, viewed from the Timber Creek Overlook. Kolob Canyons is a less-visited part of Zion about a half-hour's drive from the main entry, and is much less crowded than the main park. The views here are incredible, and if the main park really is better, it must be spectacular.
Springdale

The view looking across the street to our hotel in Springdale AZ, gateway to Zion National Park. Even the parking lot views here are astounding.

Today we traveled 328 miles (528 km) from Tucson AZ, including our scenic drive through Kolob Canyons.
108 F

It's a toasty 108 F (42 C) at 6pm tonight in Springdale AZ. We're glad to be sitting in the shade for dinner.
Fire TV Stick

We carry an Amazon Fire TV in our travel kit that we plug into the hotel TV. It's wonderful having a convenient-to-use, personalized entertainment system wherever we go, with our Prime Video, Netflix and YouTube passwords pre-entered. We've used it all over the world with great success.
6/21/2021
Sunrise

Sunrise lighting up the mountains above Springdale, viewed from our hotel room window. What an amazingly beautiful place.
Office

James getting some work done at the desk in our hotel in Springdale while Spitfire supervises.
Mobile Galley

Our mobile galley in a soft-sided cooler bag that we put inside our

rolling duffle

for transport. Inside the cooler bag are some

Galleyware melamine dishes

that we'd kept from our previous boat, some flatware, our collapsible

travel kettle and coffee filter holder, a folding

utility knife

, a travel coffee cup, plastic wine goblets, tea bags, coffee filters and ground coffee. Being able to make coffee and tea at will in the hotel room has really improved our travel experience.
Casa de Amigos

Delicious tacos and exceptional Margeritas at Casa de Amigos in Springdale with the 3,000-ft (900 m) Sentinel visible in the background.
DeZion Gallery

Beautiful metal art at DeZion Gallery in Springdale.
6/22/2021
Crowds

As with Grand Canyon, the main scenic route into Zion National park is closed to private vehicles most of the year. Shuttle buses carry visitors to various trailheads and points of interest inside. But unlike Grand Canyon, our usual strategy of arriving early to beat the crowds failed. We arrived shortly before 6am for the first shuttle of the day and found ourselves in a line of people several hundred long. It took almost an hour to reach the front and actually get on a bus, with the line-up growing longer and longer behind us.
Hat Rescue

As we were crossing a bridge to the reach a trail head, a gust of wind carried James' hat into the river. Fortunately it wedged on a rock before the current could carry it way downstream and he was able to retrieve it.
Hikers

If you look carefully at the cliff, you can see hikers making their way up the switchbacks on the Angel's Landing trail. At just past 7 am, the trail is surprisingly busy (click image for a larger view).
Zion Canyon

The view south through spectacular Zion Canyon from partway up the Angel's Landing trail.
Walter's Wiggle

Looking down to some of the twenty switchbacks that climb up the canyon wall on the Angel's Landing trail on a section known as Walter's Wiggle.
Scout's Landing

Sweeping view north into Zion Canyon from Scout's Landing, with the Virgin River and the Scenic Drive visible way below.
Climbing Chains

Much of the upper portion of the Angel's Landing trail is along cliffs with steep drop-offs. Sturdy climbing chains have been installed to aid hikers.
Destination

Our destination, Angel's Landing. You can see a steady stream of hikers ascending the spine of the monolith with 1,500-ft drop-offs on either side.
Angel's Landing

Atop Angel's Landing after a 1,500-ft elevation gain with fabulous Zion Canyon extending south in the background. We really enjoyed the hike and despite the crowds, we didn't end up waiting very long on the ascent or descent.
Chipmunk

One of the dozens of exceedingly cute chipmunks atop Angel's Landing.
Virgin River

After descending from Angel's Landing, we took the shuttle to the end of the Scenic Drive to make a second hike beside the Virgin River along the bottom of Zion Canyon. This short trail reaches the river with views to the canyon and a much longer path, the Narrows trail, leads from there through the canyon along the river. This second route is really a unique experience. We were expecting only to do the shorter first hike, after having done Angel's Landing earlier in the day. But Angel's Landing took less time than expected, so we decided to make the Narrows hike.

Because it was a late addition, we hadn't done the research, and didn't know that a large percentage of the trail is in fact in the middle of a river. When you get to the start of the Narrows trail, its really odd to see fairly large groups walk down from a trail and just proceed without hesitation into the river. Most people were expecting this experience and came with shoes either specially designed for wet hiking, or would dry quickly. We had heavy hiking boots, but we decided that the experience was worth it, so in we went.

It was a pretty unusual experience, and felt a bit like a religious ceremony as everyone just walked into the water and continued up-stream en-masse.
Canyon

The scenery in the Narrows was spectacular, with the canyon soaring high above us and the unique experience of hiking through the river. We loved it.
Orderville Gulch

Partway along the Narrows we turned off the main route and followed the intimate slot canyon Orderville Gulch. What a beautiful and special place.
Lunch

A picnic lunch in Orderville Gulch before we turned back to return to Springdale.
Bit & Spur

After an awesome day in Zion, we opted for another great meal at Bit & Spur. Zion definitely met, if not exceeded, our expectations.
Click the travel log icon on the left to see these locations on a map, with the complete log of our cruise.

On the map page, clicking on a camera or text icon will display a picture and/or log entry for that location, and clicking on the smaller icons along the route will display latitude, longitude and other navigation data for that location. And a live map of our current route and most recent log entries always is available at mvdirona.com/maps.