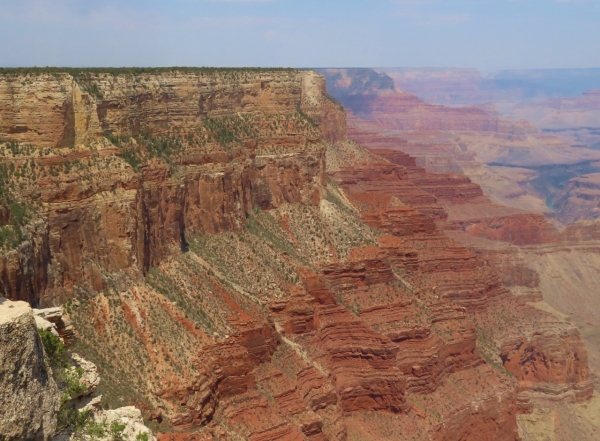 Grand Canyon has long been high on our list of places to visit, and we finally got there on our cross-country road trip from Charleston to Seattle. Even after seeing countless pictures and reading many descriptions, Grand Canyon still appears unbelievably immense when first seen in person.
We spent most of our visit on an 8-mile hike along the upper edge of the South Rim. The hike was spectacular, with amazing views into Grand Canyon all the way along. We were surprised to have the trail mostly to ourselves, given we were there in late June near the height of the tourist season.
We visited Grand Canyon on a day trip from Flagstaff AZ, a great town full of brewpubs, restaurants and street murals. We ended up staying in Flagstaff for four nights, partly in getting our second COVID-19 vaccination shot, and really enjoyed our time there.
On the 275-mile (442 km) trip from Tucson to Flagstaff, we drove along Red Rock Scenic Byway and the Oak Creek Canyon Scenic Drive. Both had spectacular scenery, but we particularly enjoyed the brightly-colored and dramatic rock formations along Red Rock Scenic Byway. Our arrival into Flagstaff brought our total trip distance to 2,490 miles (4,007 km) across nine states (South Carolina, Georgia, Florida, Alabama, Mississippi, Louisiana, Texas, New Mexico and Arizona).
Below are highlights from June 16th through 19th, 2021. Click any image for a larger view, or click the position to view the location on a map. And a live map of our current route and most recent log entries always is available at mvdirona.com/maps.
6/16/2021
Picacho Peak

1,500-ft (457 m) Picacho Peak is prominent along I-10 just north of Tucson.
Chase Field

Passing Phoenix AZ with a view to Chase Field, home of the Major League Baseball team the Arizona Diamondbacks.
Red Rock Scenic Byway

Spectacular formations along the aptly-named Red Rock Scenic Byway en route to Flagstaff. At left is 4,817-ft (1,468m) Bell Rock and at right is 5,440-ft (1,658m) Courthouse Butte.
Cathedral Rock

4,992-ft (1,551) Cathedral Rock, also along the Red Rock Scenic Byway. The scenery here is astounding.
Chapel of the Holy Cross

The striking Chapel of the Holy Cross, completed in 1956, is built into the buttes near Sedona AZ.
Eagle Dancers

Sedona AZ is full of artists and art. This newly-installed sculpture, Eagle Dancers, is one of many public art displays in the town.
Lunch

A delicious Mexican lunch with a view at Cantina Javalina in Sedona AZ. This is the first time we took Spitfire, not visible, into a restaurant for lunch with us. He was very well-behaved in his carry bag under the table. Normally he doesn't like being in the bag and fusses, until he discovers he's at the vet, and then becomes silent and still, and won't come out of the bag. So we expect he thought he was at the vet the entire lunch :-).
Midgley Bridge

View to Midgley Bridge across Wilson Canyon on the Oak Creek Canyon scenic drive. The bridge was completed in 1938 and is in the National Register of Historic Places.
Oak Creek

Dozens of tubers far below us on Oak Creek, viewed from the Midgley Bridge viewpoint over Wilson Canyon.
Oak Creek Canyon

View from the Oak Creek Vista to the switchbacks ascending along the Oak Creek Canyon scenic drive. The really enjoyed the drive through Red Rock Scenic Byway and Oak Creek Canyon—the scenery was spectacular.
Inspection

The first thing Spitfire does when we get to a new hotel room is make a full inspection round of the space, smelling and investigating everything. This usually takes about 15 minutes, then he can relax and enjoy himself. Here he is checking out the room in Flagstaff AZ.

Today we traveled 275 miles (442 km) from Tucson AZ.
Charleston View

Checking out the view around Dirona in Charleston, SC from our hotel room in Flagstaff, AZ.
N2kView

If there are any problems aboard

Dirona

while we are gone, the onboard control systems will send us an email alert. But periodically we'll check on it from our hotel room. Here's our usual

Maretron N2KView

status screen showing that everything is OK.
81 F

The temperature is a still hot, but much nicer, 81 F (27 C) in Flagstaff this evening, down from 95 F (35 C) earlier in the day.
Dark Sky Brewing

Excellent craft beer and delicious pizza on the terrace at Dark Sky Brewing in Flagstaff AZ.
6/17/2021
Laundry Day

Doing some laundry at the Residence Inn in Flagstaff AZ. The hotel has great laundry facilities, with four large commercial washing machines and dryers.
Vaccination

Getting our second Pfizer COVID-19 vaccination shot in Flagstaff AZ. We didn't notice any side effects from the first shot, but were quite tired the morning after the second, Jennifer more so than James. By the afternoon though, we were both feeling fine.
Learning to Fly

Flagstaff is full of excellent street art. This is Learning to Fly by Sky Black.
Dark Sky

Dark Sky by Phoenix artist Tato Caraveo, outside Dark Sky Brewing where we had dinner last night.
The Veridic Gardens of Effie Leroux

The Veridic Gardens of Effie Leroux by Joe Sorren on the exterior wall of Diablo Burger in Flagstaff's Heritage Square. The complex mural draws repeat visitors, who discover new characters each time, including miniature recreations from old masters.
Beaver Street Brewery

We had great beer over dinner on the patio at Beaver Street Brewery in Flagstaff.
6/18/2021
6/19/2021
Nearing Grand Canyon NP

Approaching the entrance to Grand Canyon National Park, about an hour's drive from Flagstaff, AZ. Traffic was very light when we arrived shortly after 7am, and the gates weren't yet staffed, but the park clearly is setup for big crowds arriving later in the day.
Deer

One of several deer that crossed in front of us as we drove into Grand Canyon National Park.
First View

Even after seeing countless pictures and reading many descriptions, Grand Canyon is still unbelievably immense when first seen in person. We didn't get even a glimpse until we were right up against the rim and suddenly it was right there in front of us, extending as far as we could see. Jennifer has been wanting to visit Grand Canyon for years, and we're both super-excited to be here.
Shuttle

One of the best places to view the Grand Canyon South Rim is from the many vistas along 7-mile Hermit's Road. The road is closed to private vehicles most of the year, so we took a shuttle to the end and hiked back along the rim trail. The hike was spectacular, even in the near 90 F (32 C) heat. And it was surprising how few people were making the hike, given the magnitude of the scenery.
Hermit's Rest

Hermit's Rest, at the end of Hermit's Road, was designed in 1914 to resemble an old miner's cabin with large fireplace and front porch. Today it houses a gift ship and small snack bar.
Hermit's Rest View

The view north across the Grand Canyon from Hermit's Rest at the end of Hermit's Road.
Colorado River

The Colorado River viewed from just east of Hermit's Rest. It's hard to imagine that this relatively small waterway carved this massive canyon.

Update 07/05/2021: Longtime blog reader Jacques Vuye tells us the canyon is the result of a cataclysmic event where a natural dam holding back a large inland sea collapsed. The resulting flow carved the valley all the way to the Gulf of Mexico.
River Rafting

River rafting on the Colorado River is a popular pastime. We saw many groups as we hiked.
Rim Trail

Walking the Rim Trail was a wonderful way to really see the Grand Canyon. Parts are paved to support bicycles and wheelchairs, but there's always a narrow trail right along the edge and we chose to be there for most of the hike to get a better view into the canyon.
Pima Point

View into Grand Canyon and the Colorado River from Pima Point along Hermit's Road.
Monument Creek Vista

Spectacular view from the Monument Creek Vista. Despite the hot weather, nearing 90 F (32 C), we really enjoyed the Rim Trail hike and the opportunity for so many good views of the Grand Canyon.
Powell Memorial

Memorial commemorating the exploratory trips in 1869 and 1871-72 down the Colorado River led by Major John Wesley Powell who was the first to fully explore and map the Grand Canyon. The expeditions descended the Colorado River in rowboats, not knowing if something like Niagara Falls lay ahead. We'd opt to ride the second boat if we had a choice :-).
Bright Angel Trail

The switchbacks of Bright Angel Trail through the canyon below.
Lunch

A picnic lunch along Desert View Drive in Grand Canyon National Park. This road is open to private vehicles and we'll follow it east for some more views as we exit the park to return to Flagstaff.
Duck on a Rock

The "Duck on a Rock" viewpoint along Desert View Drive. It does kind of look like a duck sitting on a rock.
Final View

Our final view into Grand Canyon along Desert View Drive. We had a fabulous day and really enjoyed our visit.
| | |
| --- | --- |
| | We passed briefly through Navajo Nation as we exited Grand Canyon National Park and headed south back to Flagstaff. The vast reserve occupies about 17.5 million acres (7.1 million hectares), but there's not much out here. |
Click the travel log icon on the left to see these locations on a map, with the complete log of our cruise.

On the map page, clicking on a camera or text icon will display a picture and/or log entry for that location, and clicking on the smaller icons along the route will display latitude, longitude and other navigation data for that location. And a live map of our current route and most recent log entries always is available at mvdirona.com/maps.