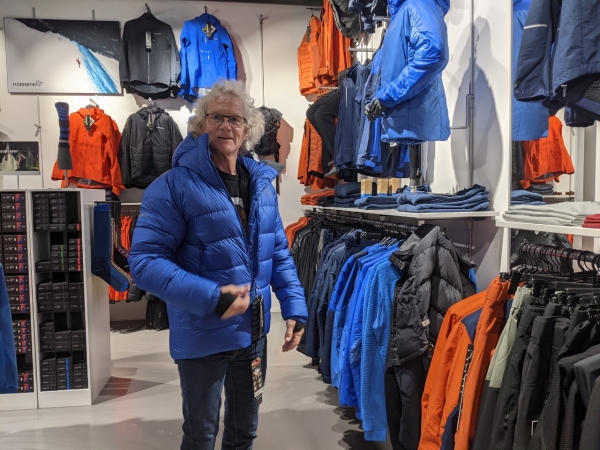 In the fall of 2020, we made our third major plan change of the year. We'd been enjoying our Norwegian cruising so much that, rather than return to Scotland in October, we decided instead to winter in Norway.
From the anchorage opposite the oil rigs in Steinsvagen, we made a two-day run south to Bergen, enjoying the beautiful fall colors along the way. On arriving into Norway's second largest city, we moored in pretty much the same place as our previous visit in 2018. There we picked up a load of diesel, provisioned groceries and shopped for warmer clothes for the upcoming Norwegian winter.
Below are highlights from October 6th through 9th, 2020. Click any image for a larger view, or click the position to view the location on a map. And a live map of our current route and most recent log entries always is available at mvdirona.com/maps.
10/6/2020
Gasoline

We've been using the tender a ton on this trip and have drained both 29-gallon (110L) gasoline tanks and most of the smaller fill tanks since topping up at Hjelmeland ten weeks ago. Here we are refuelling using a self-service pump at Kilstraumen.
Tyrving

The fast ferry Tyrving overtaking us after passing through Kilstraumen narrows.
Waterfront House

A beautiful, modern waterfront house at Haugstad, seen while on a tender trip through the Radoy area.
Floating Picnic Table

We loved this "floating" picnic table mounted on a rock in the middle of tranquil Vagstaulvagen.
Fall Colours

Fall colors reflected in still waters at the head of sheltered Taulevagen.
Grunnesundet

Running the tender south through narrow Grunnesundet. It's an amazingly calm day.
Austra Eidsvika

Ultra-sheltered waters in Eidsvik Nature Reserve, just off our anchorage in Vagane.
Straightening Prop

We frequently explore shallow areas in the tender and occasionally "touch" bottom. Fortunately, tender props are only $90 and James usually can get a couple of years out each by using an adjustable wrench to bend the blades straight and then using a Dremel to grind off the rough spots.
Sunset

Sunset from the protected anchorage at Vagane (clockwise from top left: forward, aft, starboard and port).
Olle Skold Model

When we were in Sweden last year,

Olle Skold

stopped by for a visit with the 3D printed model of

Dirona

he was working on. We've kept in touch as he's continued to evolve the model. He's just added lights to

match ours

and they look fantastic. At first glance, we thought this was a picture of

Dirona

.

You can see a wider variety of his work and get in touch with Olle at http://depronized.com/.
10/7/2020
Fall Colours

The fall colours are really coming out in southern Norway and look especially beautiful in such calm conditions. Here we are running south to Bergen in the narrow channel just north of Bruknappen.
Dog Island

The metal sculpture of a dog on Hundeskjeret (loosely translates to "Dog Island") is a famous landmark in the scenic channel Alvaestraumen.
Alvaestraumen Bridge

When in close quarters, we take the boat off autopilot to hand-steer. When we hand-steer, we use the follow-up lever, which directly controls rudder position through the small lever that James is operating with his left hand. The steering wheel is only there as backup, and we've actually only used it one or twice during the life of the boat. Here James is navigating with the follow-up lever as we approach the bridge over the narrowest section of Alvaestraumen.
Eider

Hundreds of common eider cover the sheltered waters in Haoysundet west of the island of Haoyna, where we anchored three weeks ago and are just passing through on the way to Bergen later today.
Nordhordland Bridge

Running past the Nordhordland Bridge, a combination cable-stayed and pontoon bridge completed in 1994.
Bergen Harbour

Entering Bergen's Vagan Harbour with two large offshore supply vessels on the left.
Kristian Gerhard Jebsen II

The Norwegian Society for Sea Rescue (Redningsselskapet or RS) ship Kristian Gerhard Jebsen II in its home port at Bergen. The Swedish-built vessel was launched in 2017.
Vortex

The 123-ft (37.5m) high-performance Voith Schneider-driven escort tug Vortex moored at Bergen. Voith Schneider tugs have very similar speed and capability whether going forward or in reverse, and are ideal for ship assist work.
Nordnes

Historic wooden houses crowding narrow, winding and hilly cobblestone alleys in Nordnes, one of Bergen's oldest districts.
Gear Up!

During our travels, we frequently come across clothing and gear stores targeting tourists, and have had a bit of a running joke that when you come to a new city you "Gear Up!" with exciting new gear rather than bringing along old, boring already-used stuff. We've decided to winter in Norway this year, so we too are "gearing up" in Bergen. Since we will be wintering further north than ever before, we'll need warmer clothes.
Vagen Harbour

Frode Skaar sent us this picture of

Dirona

moored at Vagen Harbour in Bergen, taken from his office above the wharf in the historic district Bryggen. With Jon Harald Pedersen, Espen Sellevold and Elisabeth N. Pedersen, Frode recently co-founded

Invy AS

, a start-up specializing in valves and instrumentation to the process industry.
10/8/2020
Oljeleverandoren

Oljeleverandoren

arrived shortly after 6am this morning with a diesel truck to fuel us at our berth in Bergen. This is the first time that we've dealt with them and we were quite impressed with their responsiveness, flexibility, service and price. They did a really good job for us.
Fueling

Taking on 1,181 gallons (4,474L) of diesel. We still had 566 gallons (2,142L) left, so we had no need to fuel. But purchasing in Bergen was convenient and cost-effective, and having full tanks gives us more flexibility to change plans and run a longer distance than expected.
Grocery Trip 1

A cartful of groceries from the local MENY grocery store in Bergen.
Invy

Invy AS

is a start-up specializing in valves and instrumentation to the process industry, founded by (clockwise from right) Frode Skaar, Jon Harald Pedersen, Espen Sellevold and Elisabeth N. Pedersen (not present). Their office is in the top floor of historic building in Bergen's Bryggen district, directly above

Dirona

.

Frode and Jon stopped by Dirona to chat yesterday, and today invited us for lunch at their office. Besides picnics, this was only our second meal not consumed on Dirona since our last restaurant meal in Antwerp in March. We had a great time talking travels and learning about their business, which deals in really, really big valves, some nearly the size of a small car.
Stadt Kinn

The 112-ft (34 m) towing and salvage tug Stadt Kinn moored at Bergen.
Sondre Kleivesmauet

We took a different route to the local MENY grocery store in Bergen to check out some other stores along the way, and the walking directions led up these stairs up Sondre Kleivesmauet. Our empty

cart

was easy to navigate on the stairs, but we wouldn't want to tackle them with a full load.
Grocery Trip 2

A second cartful of groceries from the local MENY grocery store in Bergen. It's raining, but we're happy to have our groceries, and this will last us a month.
Repackaging

Repackaging our Bergen-purchased groceries to reduce space consumption and on-board garbage.
10/9/2020
Vagen Harbour

Early morning view from our berth at Vagen Harbour in Bergen (clockwise from top left: forward, aft, starboard and port). The marina is fairly empty right now on a Friday morning, but by Saturday morning boats were rafted four-deep.
Street Art

Shortly before the 2017 UCI Road World Championships bicycle competition was held in Bergen, Chilean street artist M.U.M. created this fabulous mural a short distance southeast of the harbour. We passed it en route to pick up a rental car.
Solheimsviken

Boats moored at Solheimsviken near where we are picking up a rental car.
Derailleur Hanger

While having lunch with

Invy

yesterday, we'd mentioned our

broken derailleur hanger

. Frode Skaar offered to check with a local bicycle repair shop to see if they had the part, and they did! Here we are, picking it up at the mall XXL just outside of Bergen. Thanks so much Frode!
Click the travel log icon on the left to see these locations on a map, with the complete log of our cruise.

On the map page, clicking on a camera or text icon will display a picture and/or log entry for that location, and clicking on the smaller icons along the route will display latitude, longitude and other navigation data for that location. And a live map of our current route and most recent log entries always is available at mvdirona.com/maps.