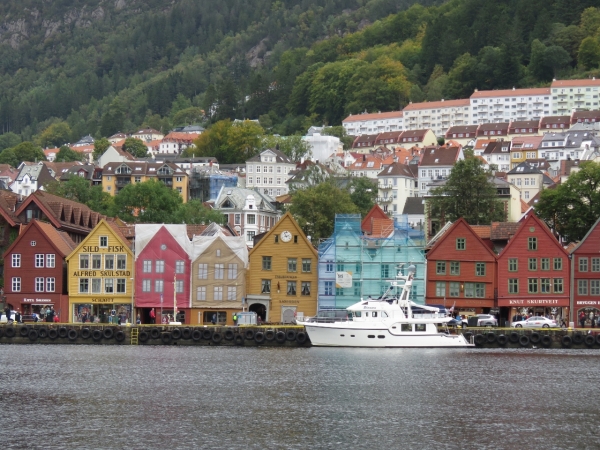 Seven mountains surround Bergen and the city rises up from vibrant Vagan Harbour into the steep hills behind. We moored right downtown and spent our first day on a walking tour of Norway's second-largest city. It's easy to see why many consider Bergen to be one of the most beautiful cities in the world.
Below are trip highlights from September 17th, 2018 in Bergen, Norway. Click any image for a larger view, or click the position to view the location on a map. And a live map of our current route and most recent log entries always is available at mvdirona.com/maps
9/17/2018
Normand Prosper




The huge helicopter deck on the Normand Prosper moored at Bergen.
Boxer




Beautiful 6,800HP tractor tug Boxer moored at Bergen. If the design looks familiar to Puget Sound readers it's because the Crowley Response-class tug is based on Boxer's design.
Christina E




The dual-purpose trawler Christina E was designed for both fishing and applications in the oil and gas industries.
Bergen Havn




Looking towards Bergen Havn where we'll moor, with two of the city's seven surrounding mountains in the background. Slightly left of center is the top part of the funicular railway leading to viewing platform at the summit of 320m Mt Floyen. Right of center is the massive radio tower atop 642m Mt Ulriken.
61 kts




Winds are forecast to reach 61 kts in Bergen this Thursday, although we're told it's not likely to get nearly that high in the harbor.
We Have Power




We've encountered a remarkable number of different ways of paying for power as we've travelled. In Bergen, you pay at a central kiosk where you enter the power pedastal that you chose to plug into. Unfortunately you can't tell it the outlet number and it chooses one of the unused plugs for you. So unless you are very lucky, you have to return to the boat and plug into the one it chose. We weren't lucky, so after moving our plug, we needed to confirm we actually had power. Rather than getting on the boat, we could just check on Maretron N2kView on our phone. And yes, we now have power.
Wallenberg




The immaculate Wallenberg owned by Danish journalist Mikkel Beha, who has produced a number of documentaries covering his journeys across the Atlantic and Pacific in his previous yacht Havanna. Beha has spent the past 18 months refitting Wallenberg with plans to visit Svalbard. Blog reader Erik Andersen noticed the vessel was near us and gave us the background.
Fishmarket




The fishmarket at the head of the harbour is just opening up for business. Several are combined cafes as well as fresh seafood sales.
Sailor's Monument




The Sailor's Monument in Torgallmenningen, Bergen's main square, honors Norway's seafaring achievements since the days of the Vikings.
Dirona




View across the harbor to Dirona moored in front of Bryggen, Bergen's oldest quarter. The buildings date from the 18th century, but follow 12th-century designs.
Rothaugtunnelen




Entering Rothaugtunnelen, a former bus tunnel that is now closed the motor vehicle traffic.
Bergenhus Castle




The view west from the ruins of Bergenhus Castle, among the oldest and best-preserved fortresses in Norway.
Streets




The residential area in the hills above Bergen is full of narrow cobblestone roads and footpaths winding through century-old buildings packed into every available scrap of land.
Skansen Fire Station




The old Skansen Fire Station was built in 1903, following a disastrous 1901 fire, and was in operation until 1969. The station was built up on a hill with a watchtower to look for fires.
Skansen View




Looking across Bergen from a viewpoint opposite the Skansen firestation.
Floibanen funicular




A tram passing up tthe Floibanen funicular to the top of 320m Mt Floyen.
Antonio Stasi




Antonio Stasi's Classic Camera store has an amazing collection of classic and antique cameras.
Finnmarken




This is the last port we'll see a Hurtigruten—Bergen is their most southern port of call.
Johanneskirken




Parish church Johanneskirken was consecrated in 1894 and seats 1,250 people.
Vestre Torgatten




Looking northwest down the pedestrian mall Vestre Torgatten.
Waterfall




Water cascades down channels in the steps of Vestre Torgatten, culminating in this beautiful waterfall, seen looking back up to

Johanneskirken

.
Scruffy Murphys




Having a beer street-side at Bergen's only Irish pub, Scruffy Murphys. We like to tour a city by foot when we first arrive and covered over nine miles this afternoon.
Trond and Morgareth




Blog reader Trond Saetre has been following us since we left Hawaii and has been giving us lots of excellent advice and local knowledge since we first neared the Norwegian coast. He also picked up a few supplies for us in Bergen. After corresponding for months, it was wonderful to finally meet in person. We had an excellent evening with him and Morgareth Baartvedt, first on Dirona and later over a dinner at the Harbor Cafe overlooking the waterfront.
Click the travel log icon on the left to see these locations on a map, with the complete log of our cruise.

On the map page, clicking on a camera or text icon will display a picture and/or log entry for that location, and clicking on the smaller icons along the route will display latitude, longitude and other navigation data for that location. And a live map of our current route and most recent log entries always is available at mvdirona.com/maps.