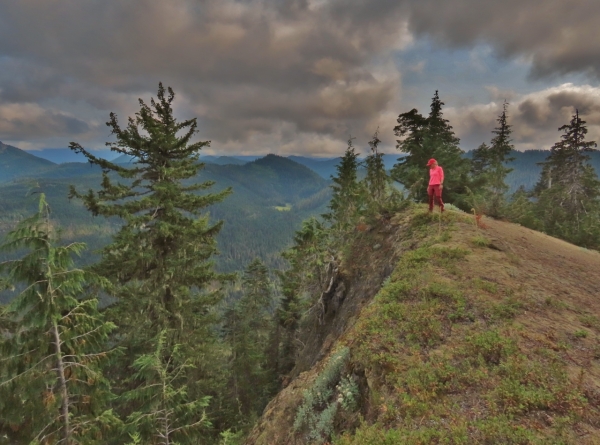 Mt. Rainier, and pretty much everything in between, was obscured by low clouds when we got up on our first morning at camp in Gifford Pinchot National Forest. Over the course of the day, however, the clouds cleared and our wonderful mountain view returned.
We were camped along Forest Road 8430, that extends several miles farther into the woods. But the passable route ends not far from our camp, so we didn't see many other vehicles or people here. In the afternoon, we explored up to the end of the road and beyond for some great views east across the forest.
It's hard to beat that Mt. Rainier view from our camp though. We cooked steaks for dinner on our new "camp grill" and watched as the last rays of sun hit the mountain in the evening.
Below are highlights from Sept 3, 2022. Click any image for a larger view, or click the position to view the location on a map. And a map with our most recent log entries always is available at mvdirona.com/maps.
Morning View

The view from our truck as we got up this morning. With the low clouds we can hardly see the trees beyond our campsite, let alone Mt. Rainier.
Campsite

Looking back to our campsite along Forest Road 8430 in Gifford Pinchot National Forest as we set out on a hike. The sky is clearing, but we still can't see much of the mountain yet.
NF 8430

Walking south along Forest Road 8430 from our campsite. The way is very overgrown a short distance beyond our camp, with a rockslide not far after that.
Valley

Taking in the view south across the Berry Creek valley in Gifford Pinchot National Forest. The

Packwood Brewing Co

is calling, so we'll be heading out through the valley towards Packwood on our way home from camp.
Pearly Everlasting

Pearly Everlasting growing on a sunny south-facing slope, with some Pink Monkeyflower added to the mix.
Mt. Rainier

The mountain was almost completely out from the clouds by the time we returned from our hike.
Grilled Steaks

Cooking steaks for dinner on our new

grill pan

. They came out wonderfully, among the best we've ever made, even barbecuing. We're super-impressed with the pan and love being able to grill at camp without having to carry a separate barbecue.
| | |
| --- | --- |
| | Click the travel log icon on the left to see these locations on a map. And a map of our most recent log entries always is available at mvdirona.com/maps. |