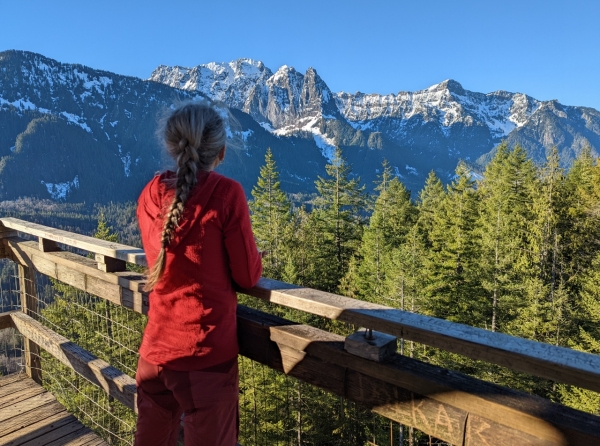 One of the many reasons we loved spending time in Norway was the countless boat-accessible view hikes. Washington state's mountain hikes aren't nearly as close to the water, but they do compete well with Norway for fabulous scenery. When we'd previously lived full-time in Seattle, we spent most of our free time on Dirona and generally hiked only low-altitude trails near the shore. Now that we were back and boat-less, we were looking forward to exploring Washington's inland mountain ranges. As in Norway, many of the more popular high-altitude hikes are snow-covered in the winter, but plenty of snow-free mid-altitude hikes are available.
Olympic National Park, at the northwest corner of Washington State, was high on our list of destinations. Growing up in Victoria, Canada, James has hiked and camped there many times, but it's been more than 45 years and Jennifer had yet to go. We spent a weekend there, walking along Dungeness Spit, enjoying the excellent views from atop Mt. Storm King in the park, and touring Whidbey Island on our way back home to Seattle.
We also made several day hikes in the Cascade Mountains east of Seattle, including iconic Snoqualmie Falls, featured in the Twin Peaks television series; Heybrook Lookout, pictured above, a forest-fire lookout tower with excellent mountain views; Twin Falls, a double waterfall along the Upper Snoqualmie River; and frozen Franklin Falls, where icicles encrust the cliff face.
Closer to home, we walked up Queen Anne Hill and drove through West Seattle, both with great views to downtown Seattle and the Puget Sound. Much farther away, we spent three days hiking and dining with the Hamilton clan in Santa Barbara. Between it all, we attended the Seattle Boat Show, and continued to enjoy the downtown Seattle lifestyle.
Below are highlights from February 2nd through March 2nd, 2022. Click any image for a larger view, or click the position to view the location on a map. And a map with our most recent log entries always is available at mvdirona.com/maps.
2/3/2022
Utility Hole

We stopped to chat with these workers down a utility hole near our apartment building. They were working on under-road mid-voltage power transmission lines.
2/4/2022
Dungeness Spit

Dungeness Spit, on the Olympic Peninsula at the northeastern corner of Washington State, is one of the longest natural sand spits in the world at 6.8 miles (10.9 km) long. On the tip is a light station that has been in continuous operation as an aid to navigation since it was first lit in 1857, the second lighthouse in the territory of Washington. We've anchored off the spit several times, but have never been ashore until we stopped there on a recent weekend road trip to Port Angeles and Olympic National Park.
2/5/2022
Mt Storm King

Olympic National Park, at the northwest corner of Washington State, was high on our list of places to visit now that we had the extended range of a vehicle. Growing up in Victoria, Canada, James has hiked and camped there many times, but Jennifer had yet to go. In the winter, the popular hiking destination of Hurricane Ridge is snow-covered and accessible only to vehicles carrying chains, but many other hiking opportunities exist that are below the snow line.
2/6/2022
Whidbey Island

Whidbey Island is the 4th largest island in the contiguous United States at 169 square miles (437 km2), and the largest in Washington State. Along with Camano Island, it forms Island County at the northern boundary of Puget Sound. Whidbey has many waterfront parks, numerous interesting towns, and also is home to Naval Air Station Whidbey Island and the Nichols Brothers Boatbuilders, where many local commercial ships were built. For boaters, the island has several docks and sheltered anchorages. We've anchored at the island many times in our first boat.
2/7/2022
Ovation of the Seas

Our "

pet cruise ship

",

Ovation of the Seas

, back in Seattle for another quick stop.
Urban Animal

Spitfire at Urban Animal for his annual vaccinations. It's hard to believe it's been a year since his

last ones

in Farsund Norway while we were

frozen in the ice

. Spitfire doesn't like being in his carry bag, but he's pretty happy to stay there once he realizes he's at the vet
2/8/2022
Submarine

Submarine heading north from

Bremerton

with several escort vessels (not in the picture).
2/9/2022
COVID Trend

COVID cases in Washington state peaked January 29th at 24,554 new cases on a 7-day average and have declined steeply in the two weeks since to 5,317. But that's still significantly higher than last year's peak of 3,411. Once our

booster shots

had taken effect, we started going to restaurants again. But we have been avoiding more crowded indoor venues such as hockey games until the aggreate numbers improve.
Seattle Boat Show

We're rarely in town for the Seattle Boat Show, and have only attended one or two in the past decade. Recent events have held the in-water portion at Lake Union, but this year it was at our old home port of Bell Harbor Marina. This venue worked well for us because it's only a 10-minute walk from our apartment and an easy 30-minute walk to the main event at Lumen Field, compared to an hour from Lake Union.
2/10/2022
Car Wash

Our

new car

getting a bath in the super-convenient car wash located in the parking garage in our building.
2/11/2022
Snoqualmie Falls

Fans of the

Twin Peaks

television series will recognize this picture of the Salish Lodge above Snoqualmie Falls. The towns of Snoqualmie and nearby North Bend were the primary shooting locations for the show, and the Salish Lodge appears in the opening credits as the fictional Great Northern Hotel.
2/12/2022
Heybrook Lookout

A forest fire lookout has stood on 1,700 ft (518m) Heybrook Ridge near Steven's Pass since 1925, starting with a simple tent platform. Successively taller towers were built, culminating with the current 67-ft (20 m) lookout completed in 1964. It's one of only 106 remaining forest fire lookouts in the state, down from a peak of about 500-600 in the 1930s, and one of the few still in actual use as a lookout.
2/13/2022
Queen Anne

Queen Anne Hill to our north nearly engulfed in a thick morning fog.
Sunset

Spectacular sunset after heavy fog this morning.
2/14/2022
Chains

The

winter chains

for our

new car

just arrived. Some of the places we'd like to visit in the winter, such as Mount Rainier National Park and Hurricane Ridge in Olympic National Park, require vehicles to carry chains. And they're good to have anyway in case we get stuck in a storm while crossing one of the local mountain passes.
2/16/2022
MH-47E Chinook

MH-47 Chinook from Joint Base Lewis-McChord passing over the city, with soldiers visible through the open hatch—that looks like a great way to see Seattle. The MH-47 is an advanced heavy-lift helicopter designed for Special Operations Forces, with a distinctive in-flight refueling probe.
2/17/2022
2/18/2022
Furnace Filter

Our

maintenance list

isn't very long these days, but we do have a few items. Here we are changing our furnace filter.
Snowshoes

Unpacking a pair of

MSR Lightning Ascent

snowshoes. We've been enjoying winter hiking, but many of the view hikes are snow-covered right now and snowshoeing will expand our options.
2/19/2022
Twin Falls

Twin Falls is a popular and easy hike about a 45-minute drive east of downtown Seattle along I-90. The 2.6-mile (4 km) round-trip route, with an elevation gain of 500 ft (152 m), follows a well-maintained path alongside the Upper Snoqualmie River. Several viewpoints to the falls are en route, and the hike ends at the Big Bridge, a pedestrian bridge straddling the upper and lower falls.
2/20/2022
Quinoa Bowl

Delicious and nutritious

Apple-Cinnamon Quinoa Bowl

for breakfast this morning. We've recently been going big on

grain bowls

for lunch and are finding many excellent recipes for breakfast too.
West Seattle

West Seattle is a group of Seattle neighborhoods known for their many public beaches and parks, several with wonderful view east to downtown or west to the Olympic Mountains. The Duwamish River separates the two parts of city, and also is home to the Port of Seattle and several parks. On a sunny winter Saturday, we took a drive to West Seattle, taking in the views to port operations and downtown Seattle in several Port of Seattle parks along the way.
2/21/2022
Kanak Indian Cuisine

A delicious meal at Kanak Indian Cuisine. The pakaros, a spiced fritter, were especially good. It's a little amazing this is our first meal here, given the restaurant is only a couple of blocks from our apartment.
2/22/2022
Snow

A light dusting of snow on our deck this morning.
2/23/2022
Petra

An excellent meal at another recent local discovery, Petra Mediterranean Bistro. We'd walked past literally dozens of times, but hadn't yet stopped in. We're glad we did—the food is excellent and we've since returned many times.
2/25/2022
Trekking Poles

We don't use poles when hiking, but we will use them when snowshoeing. We ordered a couple of pairs by

TrailBuddy

and so far are quite happy with them. They extend and collapse easily, are super-lightweight and have big snow baskets and sharp tips for ice. For stowing, we cover the tips with screw-on rubber tips as pictured. And, most important of all, they come in a variety of colors to match your gear :-).
Queene Anne Hill

Queen Anne Hill, at 456 feet (139 m) high, is the highest named hill in Seattle and easily visible from our apartment. Three large red-and-white broadcast towers, landmarks in the city that are visible for miles, stand atop the hill and make it even more prominent. Queen Anne directly borders our neighborhood of Belltown, and is an easy walk from our apartment. A cold winter day with clear skies provided some excellent view opportunities, so we made a walking tour to the top.
2/26/2022
Franklin Falls

Franklin Falls, just west of Snoqualmie Pass, gush 70 ft (21m) over a cliff into a pool below, with a narrow hiking trail that leads almost underneath. The falls are spectacular in the spring runoff, but even more so after particularly cold winter weather, when icicles encrust the cliff face. They reminded us of

frozen Storsaeterfossen

in Geirangerfjord, Norway that we hiked to on New Year's Day.
2/27/2022
Santa Barbara

Santa Barbara, CA is a popular tourism destination, with the Pacific Ocean on one side and the steeply rising Santa Ynez Mountains on the other. The city has excellent restaurants and accommodations, wonderful hiking in the mountains, and water activities in the offshore Channel Islands. Those are sufficient enough attractions for us to go, but our main reason for visiting was a long-overdue gathering of the Hamilton clan.
| | |
| --- | --- |
| | Click the travel log icon on the left to see these locations on a map. And a map of our most recent log entries always is available at mvdirona.com/maps. |