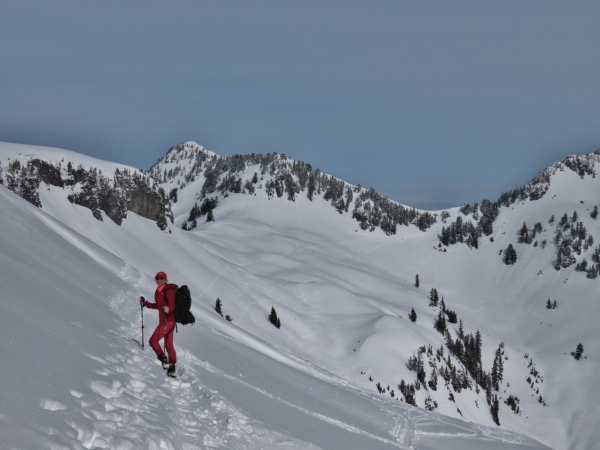 Snowshoeing didn't initially appeal to us as a winter sport. The gear seemed cumbersome, and our perception was that we'd be mostly walking along level ground through snowy woods or meadows. While we enjoy winter scenery, that just didn't strike us as very exciting.
We had wanted to do more winter hiking, but were finding that many of the good view hikes in the area were unavailable because they were covered in snow. When we learned that lightweight, compact snowshoes were available with enough grip to hike steep terrain, we jumped on the chance to make those summer view hikes accessible in the winter.
After researching the various options, we bought MSR Lighting Ascents. The snowshoes are lightweight and relativity small in surface area, but have excellent grip and do amazingly well in steep terrain. We often climb snow-covered hills as steep as we could hike on foot with bare ground.
The snowshoes provided us an opportunity to experience up close the spectacular winter mountain scenery in our area. Our first major snowshoe hike was a weekend trip to Hurricane Ridge in Olympic National Park, and we loved it. We also did many day hikes around the major mountain passes in our area, including Snoqualmie Pass and Stevens Pass.
After initially wishing the snow would melt so we could get out and hike more, once we started snowshoeing we ended up disappointed that winter would soon be over and extended our snowshoe season as much as possible with weekend trips to the higher mountains such as 14,411 ft (4,392 m) Mt Rainier and 11,249 ft (3,429 m) Mt. Hood.
And between the snowshoeing, we continued to enjoy the downtown Seattle lifestyle and the views from our apartment as the area transitioned from winter to spring.
Below are highlights from March 2 through May 1, 2022. Click any image for a larger view, or click the position to view the location on a map. And a map with our most recent log entries always is available at mvdirona.com/maps.
3/3/2022
Sesame Asian Slaw

The ingredients for a delicious

Sesame Asian Slaw

for lunch. Slaw, as it turns out, is a distinct dish from coleslaw. The latter derives from the Dutch word koolsla ("cabbage salad"), a combination of the words kool ("cabbage") and sla ("salad"). Slaw, on the other hand might include cabbage, but doesn't need to. And coleslaw, at least in the US, typically has a mayonnaise-based dressing, whereas slaw often has a vinaigrette-style dressing.
3/4/2022
Hurricane Ridge Snowshoe

Hurricane Ridge Road in Olympic National Park is among Washington's most scenic. Starting at near sea level, the 18.6-mile (29.9 km) road leads to Hurricane Ridge at an elevation of 5,242 ft (1,598 m). The steep route curves and winds upwards, between steep mountains and deep gorges and through several tunnels, with spectacular views along the way.

After hiking low-altitude Mt Storm King in early February, we returned to Olympic National Park a month later. This time we were armed with snowshoes and tire chains to experience winter on Hurricane Ridge. The day was wonderfully clear and sunny, and the winter scenery on the road up was so amazing that even if we just drove up and down and skipped the hike, we would have been happy.
3/6/2022
Kahhane Ridge Snowshoe

On our second day of snowshoeing at Hurricane Ridge on Olympic National Park, we walked about 2 miles (3.2 km) along the Kahhane Ridge towards 6,454 ft (1,967 m) Mt. Angeles. Known as the Sunrise Ridge Route, the trail has equally spectacular views as our previous day's hike to Hurricane Hill, but with a lot more climbing. The route included several ascents and descents, one particularly steep, and we were impressed with the grip of our new MSR Lighting Ascents snowshoes.
3/7/2022
Return through the Eastside

On returning from our snowshoe trip to Olympic National Park, we decided to drive south through Tacoma for the first time rather than take a ferry across the Puget Sound as we'd done on previous trips. Surprisingly, driving the whole way only takes an extra 15 minutes over the ferry. But that's assuming you just drive onto the ferry with no delays, a rare occurrence.
3/9/2022
The Brothers

The double summit of The Brothers mountains in Olympic National Park, viewed from our apartment. The southern (left) peak is 6,842 feet (2,085 m) Mt Edward and the northern peak is 192 feet (59 m) lower. Surveyor George Davidson named these mountains in 1856 after the two brothers of his future wife, Ellinor Fauntleroy. Davidson had already named his brig,

R.H. Fauntleroy

, after his future father-in-law, and continued this theme to name several area features after his family-to-be, including

Fauntleroy Cove

south of Seattle.
Chair

This is a picture from James' hotel room on his last business trip to Los Angeles. We were thinking of entering it into the world's ugliest chair competition.
3/11/2022
Snoquera Falls

Snoquera Falls cascade 400 ft (122 m) over a cliff in the southern end of Mount Baker Snoqualmie National Forest near Mt Rainier. The volume of flow can vary dramatically from barely a trickle in the late summer to a torrent during the spring run-off, with the basin below filled with spray.

An easy 2-mile (3.2 km) trail through verdant rainforest leads directly beneath the falls. And when the outflow is low enough to be crossable, the hike in can be made in a loop.
3/12/2022
Skyline Lake Snowshoe

The snowshoe route to Skyline Lake at Stevens Pass is a popular one for its spectacular mountain views. The trail is reasonably short at 3 miles (4.8 km), but with an elevation gain of 1,100 ft (335m), it's not a quick in-and-out. The mountain views along the way to the lake are excellent, but are even better from Skyline Ridge, another 100 feet up. The dramatic tooth of 5,844-ft (1781 m) Lichtenburg Mountain, pictured here, is particularly impressive.
3/13/2022
Commonwealth Basin Snowshoe

The Commonwealth Basin snowshoe route starts at the Snoqualmie Pass ski resort and follows Commonwealth Creek northeast towards the base of Red Mountain. The winter scenery along the way is varied and spectacular, ranging from snow-covered foot bridges in an intimate forest setting to frozen waterfalls to wide-open mountain vistas. And the higher-altitude climb up the flank of Red Mountain, pictured in the distance above, yields even better views.
3/14/2022
N41-11

Pierce and Janet Guyer went us this picture of their Nordhavn 41-11 being offloaded in Palm Beach today. We met Pierce and Janet in Charleston last year, where they took

this picture

on our first evening at the dock after our 2021 Atlantic crossing. The N41 is a great boat and is breaking sales records for Nordhavn.
3/16/2022
Barriers

A truck delivering road barriers to the empty lot two blocks south of our apartment complex. A new 29-story apartment building will be constructed there and barriers will be used to block off part of 4th Avenue for construction logistics.
| | |
| --- | --- |
| | Fatoush Salad |
Lola

Steaming hot chicken and salmon kebabs at Lola Mediterranean restaurant a few blocks from our apartment. It was our first time in and had a great meal.
3/17/2022
Sunrise

The 3rd & Lenora office building ablaze in the morning sun.
CMA CGM Tigris

The container ship CMA CGM Tigris approaching the Port of Seattle with three tugboats assisting.
Wild Ginger

Siam lettuce cups and Mongolian beef street-side at our favorite table at Wild Ginger. The Asian restaurant is very close to home, and even closer to James' office, and we eat here often.
Nearly Touching

Our our way home from Wild Ginger, this car caught our attention nearly touching the bucket of the front-end loader behind it. We're not sure which vehicle arrived last, but they're either very skilled or equally lucky.
3/19/2022
Sealskinz Socks

We're long-time wearers of

Sealskinz waterproof gloves

, and just got a pair of their

socks

on the recommendation of blog reader Eric Meslow. We're looking forward to trying them out on our next snowshoe adventure.
Center Sound Series

The second of three races in the Corinthian Yacht Club's Center Sound Series heading south off Elliott Bay Marina.
Mixed Feelings

When attending a sporting event, we often see fans of the away team. Sometimes they are wearing a simple shirt, coat or cap with their team's logo and colors, but occasionally they are dressed in elaborate attire. The 'Raider Nation' fans of the recently-relocated Los Angeles Raiders are particularly known for their fervor, demonstrated through complex and often intimidating outfits. At some Seahawks home games against the Raiders in the 2000s, so many costumed Raider Nation fans were in attendance that we felt like we were in Los Angeles rather than Seattle.
3/20/2022
Gold Creek Sno-Park

The Gold Creek Sno-Park, on the eastern side of Snoqualmie Pass, is one of more than 120 state-maintained public winter recreation areas in Washington. And being so close to Seattle, it is one of the more popular. A Sno-Park is simply a parking lot cleared of snow. Some support non-motorized use only, but two-thirds are designated primarily for snowmobiling. Gold Creek is mixed-use, with has three distinct areas. Two are for activities such as snowshoeing and cross-country skiing, and a third incorporates 23 miles (37 km) of groomed snowmobile trails.
3/24/2022
Mount Rainier National Park

Mt. Rainier is the highest mountain in Washington at 14,411 ft (4,392 m) and is clearly visible at vantages throughout the state, including Seattle. The winter season there lasts six months, from November to May, and has among the latest-season opportunities for winter recreation in the state. We made the two-hour drive from Seattle for a three-night stay to snowshoe in the park. We were super-excited to finally be at Mt. Rainier National Park. Neither of us had ever visited and we were really looking forward to seeing the mountain up close.
3/25/2022
Panorama Point Snowshoe

Panorama Point, on the flank of Mt. Rainier, is 6,964 ft (2,123 m) above sea level and aptly named. Mt. Rainier fills the sky to the north, the Nisqually River descends southwest, and southward the Cascade Range extends to the horizon, with clear views to 8,363-ft (2,549 m) Mt. St. Helens in Washington and 11,250-ft (3,429 m) Mt. Hood in Oregon, pictured. The summer views are spectacular, but the winter scenery even more so with all the mountains coated in snow.
3/26/2022
Mazama Ridge Snowshoe

On our second day of snowshoeing at Mr. Rainier, we descended along the Lower Lakes trail from Paradise village along a marked intermediate snowshow trail. From there, we climbed up the south end of Mazama Ridge and followed it north, continuing back to the parking lot by retracing the previous day's route up.
3/27/2022
MARS Conference

The annual MARS conference is a cross-domain event aimed at sharing ideas across the rapidly growing fields of Machine learning, Automation, Robotics, and Space. Hands-on learning and emerging technology demonstrations form the majority of the event, with opportunities for attendees to meet and learn from each other. The invitation-only event is hosted by Amazon founder Jeff Bezos, and has led to the creation of a similar conference for the general public called re:MARS.
3/30/2022
CMA CGM Tigris

The container ship CMA CGM Tigris billowing smoke as the engine is started prior to getting underway for Vancouver from its anchorage in Yukon Harbor.
Pink Magnolia

Striking petals of a pink magnolia flowering in Denny Park as we walked home from dinner.
3/31/2022
Bicycle Lane

Bicycle lanes made from orange barriers set out beside an empty lot at Fourth and Bell, a couple of blocks north of our apartment building. Most construction projects in downtown Seattle are allocated a lane for loading and unloading, reducing the lanes available for regular traffic. In this case, a bicycle lane was adjacent to the site, so a temporary one was created. The signs for the lane say bicycles only, but the bicyclists mostly seem to use the road and pedestrians use the bicycle path.
4/1/2022
Murphy's

Enjoying one of our last few cans of Murphy's Stout, imported from Europe.
4/3/2022
Fireboat 2

Seattle Fire Department's Fireboat 2 doing donuts off Pier 69. They test their fireboats fairly frequently in Elliott Bay.
4/4/2022
High Winds

The winds were gusting to 35 knots today as this fish boat stood off Pier 91. Likely the skipper was waiting for conditions to settle before docking. The seas are a lot rougher than they appear, with waves crashing over Elliott Bay Marina's substantial breakwater.
Wind Damage

Several pink tarps protecting weather-sensitive equipment at this building under construction were destroyed in today's 35-knot gusts. This building design is interesting in that one entire exposed face of the building is solar panels rather than windows.
4/5/2022
Excavator Delivery

The first of two large excavators being delivered to the construction site at Fourth and Bell.
Day's Work

By the end of the day, two excavators had arrived at the Fourth and Bell construction site and they'd made significant progress on removing the concrete top surface. It's interesting watching the excavators work. They carefully sort metal, pictured in the bin in the foreground, so it can be sent to recycling. Concrete and asphalt are also sorted separately so they too can be recycled properly.
4/6/2022
Stretching

Workers at a nearby construction site stretching before starting the job. It looks a little unusual for a construction site, but more and more employers are recognizing that encouraging a little time to stretch prior to physical work can greatly reduce the worker injury rate.
Victoria Clipper

The Victoria Clipper out on a test run in Elliott Bay before its initial run to Victoria, Canada on April 15th. Except for a brief unsuccessful attempt to restart in the the fall of 2021, the fast ferry service has been suspended for over two years since Canada closed the border to tourists in 2020 due to the pandemic.
Standing Pipe

A large standpipe in the construction site at Fourth and Bell that needs to be carefully worked around during site preparation. One of the challenges of downtown construction is avoiding existing plumbing, power and communications connections.
4/7/2022
72 Degrees

The temperature is an amazing 72°F (22.2°C) in Seattle right now, with a high of 73 (22.8°C), when the average temperature for April 7th is 56.7°F (13.7 °C). While not a record, it is the fourth highest ever recorded for this day. The highest was 78°F (25.5°C) in 2016.
Thomas Street Warehouse

The deck at Thomas Street Warehouse is packed with people enjoying today's unusually warm weather.
4/8/2022
Next Layer

The construction crew has removed the upper layer of concrete, with a little still visible at right, and most of it has been removed for recycling. They're now working on the next layer down.
Mud

Our "

pet cruise ship

",

Ovation of the Seas

, is back for another quick stop at Pier 66. The bow thrusters are churning up lots of mud as the ship docks in today's high winds.
4/9/2022
Snow Lake Snowshoe

Snow Lake is the most popular summer hikes in the Alpine Wilderness area of Wenatchee and Snoqualmie National Forests. The trailhead is just a one-hour drive from downtown Seattle, and reaching a viewpoint over the lake is an easy a 2.3-mile (3.7 km) hike from the trailhead with a modest elevation gain of 1,200 ft (365 m). The summer trail leads beneath several winter avalanche shutes, and a safer way to reach the lake in the winter is along the opposite side of the Snoqualmie River.
4/10/2022
Kendall Peak Lakes Snowshoe

During a late-season heavy snowfall at Snoqualmie Pass, we returned to the Gold Creek Sno Park, this time to hike towards Kendall Peak Lakes. The season for this snowshoe hike typically extends to early March, but it was still viable mid-April with the several inches of fresh snow that had recently fallen.
4/11/2022
Tacqueria Cantina

Another delicious meal over margaritas at Tacqueria Cantina in Belltown.
4/12/2022
4/13/2022
Hydraulic Excavator

Hydraulic excavator at work at the

Fourth and Bell

construction site. Hydraulic excavation combines high-pressure water with a large truck-sized vacuum cleaner to cut away soil without risk of damaging existing pipes and electrical connections in the area. It's far more expensive than conventional excavation, so only used when critical infrastructure is directly in the path of the dig.
HVAC Closet

Today our building's central HVAC was being serviced and the 40th floor mechanical closet was open while it was being worked on. This building's heating and cooling system uses high-efficiency Mitsubishi inverter technology.
List

A good meal at List, another restaurant near our apartment that we're visiting for the first time.
4/14/2022
Honda Update

Not only do our computers and phones need software updates, but now our car does too. Our car has its own cellular connection that transmits data back to Honda and allows them to offer services like remote door lock and reporting. From the Honda app on our phone, we can see the fuel level, tire pressure, and when the next oil change is needed, and we can even lock and unlock the doors.
Barolo

A great meal at Barolo Ristorante. We'd gone for happy hour, but the bar was packed and we opted for dinner at a table instead.
4/15/2022
Bellingham

The waterfront city of Bellingham city lies just 21 miles (34 km) south of the U.S.-Canada border and is the closest major center to 10,786 ft (3,288 m) Mt Baker. We'd passed Bellingham many times in trips by car, and boat, to and from Canada, but had never spent much time there.

On a weekend showshoe trip to Mt. Baker, we made our way north from Seattle to Bellingham late on a Friday evening. This is never a pleasant experience, but we very much enjoyed our three nights nights in Bellingham. The city has a vibrant downtown, with a wide variety of appealing restaurants.
4/16/2022
Table Mountain Snowshoe

10,786 ft (3,288 m) Mt Baker has two major commercial ski bases, White Salmon and Heather Meadows, but also is a busy backcountry ski area. Rising above the Bagley Creek basin, the steep slope of 5,742 ft (1,750 m) Table Mountain is particularly popular and was covered with ski tracks when we visited.
4/17/2022
Artist Point Snowshoe

Artist Point, at altitude 5,100ft (1,554 m) is a popular summer destination at Mt. Baker. A paved road leads right to the top, for spectacular mountain views. And a short hike along Kulshan Ridge leads to an even better viewpoint atop 5,247 ft (1,599 m) Huntoon Point. The road to Artist Point is unplowed and closed in the winter, but is easily accessible by snowshoe from the upper parking lot at Heather Meadows.
4/19/2022
Crane

The

hydraulic excavator

has finished work at the Fourth and Bell construction site and its gravel pad removed. The latest gear to arrive is a small tracked crane at upper left.
| | |
| --- | --- |
| | American Constellation |
Doc Maynard

Several Seattle Fire Department boats approaching the

West Seattle

water taxi

Doc Maynard

. The ship isn't on its designated route, so this likely is a training exercise.
Stakes

Orange stakes at the west end of the Fourth and Bell construction site. Behind each stack is a removable panel protecting the area where the

hydraulic excavator

was working.
Tavolata

An excellent meal at our favorite table at Tavolata Italian restaurant on 2nd Ave. near our apartment.
4/20/2022
Drilling Rig

A

Leibher 24-270

drilling rig is the latest gear onsite at the

Fourth and Bell

construction site. The rig supports Kelley drilling for the installation of large pipes; auger drilling using a helical-shaped screw to extract material from the ground; full displacement drilling using an auger and replacing the extracted material with cement as the drill is extracted; and double-rotary drilling where a casing and auger drill are advanced together and removed simultaneously as concrete is pumped in.
Rachel Carson

The University of Washington's School of Oceanography research vessel

Rachel Carson

in Elliott Bay. The ship was originally built as a fisheries research vessel in Macduff, Scotland and was acquired by the U of W in 2017.
Helicoptors

Two military helicopters and three US Marine Corps

Bell Boeing V-22 Osprey

streaking across the sky above Puget Sound. The distinctive Osprey, designed to combine the functionality of a helicopter with the range and speed of an aircraft, can take-off and land vertically or horizontally.
4/21/2022
Carnival Splendor

The cruise ship Carnival Splendor approaching the berth at Pier 91 near Elliott Bay Marina.
Crane

The latest equipment to arrive at the Fourth and Bell construction site is a

Mantis 8012

telescopic boom crawler, at bottom left. The boom can extend from 39-90ft (12-27 m), has a 360° lift capability of 40 tons, and requires only 13 inches (33 cm) of ground clearance. The

Leibher 24-270

drilling rig that arrived earlier is at upper left.
Drill

Auger attachment on the

Leibher 24-270

drilling rig at the Fourth and Bell construction site. In this particular application, they are using Kelley drilling with an auger to remove material, then filling the hole with cement and finally inserting reinforcing steel cable into the center of the cement.
4/22/2022
Victoria Clipper

The Victoria Clipper, a week into the reactivation of the run between Seattle and Victoria, Canada. Except for a brief unsuccessful attempt to restart in the the fall of 2021, the fast ferry service has been suspended for over two years since Canada closed the border to tourists in 2020 due to the pandemic.
Cement Trucks

Cement trucks at the Fourth and Bell construction site. Closest to the cement trucks is

Leibher 24-270

drilling rig, fitted with a rotary BAT 270 that supports Kelley drilling with an auger. The rig has completed drilling a hole where a steel piling has been inserted and now the hole is being filled with cement.
Road Blocked

Many of the downtown Seattle roads are blocked today for President Biden's visit. Here this city block is closed by a police SUV at one end and a city bus at the other.
Motorcycle Police

Dozens of motorcycle police are at the ready for President Biden's visit to Seattle.
Road Barrier

Besides using vehicles to block the street for President Biden's visit, the police also are using the effective-looking portable wheeled barriers.
Escalator Service

The escalator in James' office building open to replace the yellow edge around each step.
4/23/2022
Norwegian Bliss

The cruise ship Norwegian Bliss arriving into Pier 66 at the Port of Seattle, producing more visible smoke than we normally see from these ships. They're usually pretty careful with their visible emissions around ports.
Jet Skis

A group of jet skis roaring around Elliott Bay near West Seattle. The vessels are banned in San Juan County, a group of 172 islands near the Canadian border, due to noise pollution issues.
Coast Guard

Two Coast Guard vessels, at right a

Metal Shark

Response Boat Small, exercising on Elliott Bay.
Measuring

Measuring the interior of our

Honda Passport

for an air mattress. We've decided to try wilderness camping, where we'll setup the vehicle to sleep in rather than use a tent.
Camp Furniture

At REI checking out the camp furniture. We are starting from scratch with camping, so we need pretty much one of everything.
Appetizer

James didn't feel like eating a lot for dinner, so ordered the chicken strips appetizer. The serving was enough for two, and even sharing we would have had trouble finishing it.
Piles Installed

Steel piles installed at the west end of Fourth and Bell construction site. These piles have to be placed very precisely because they are going in right beside plumbing and wiring at the previous site of the

hydraulic excavation

.
DashMart

A local DashMart near our apartment building. This is a "dark store" for the DoorDash delivery service only, and is not open to the public.
Sunset

Fabulous sunset over Elliott Bay and the Olympic Mountains. The sunset is getting muhc more north in the sky now as summer approaches.
4/24/2022
Punta del Este

Punta del Este in Seattle on leg 7 of the Clipper Around the World race. Also visible are the masts of WTC Logistics and UNICEF. The race started in the UK in September of 2019, but was suspended in the Philippines during leg 5 due to the pandemic. In March of 2022 the race was resumed, skipping the Chinese ports that remain closed, and will end in the UK in July of this year.
Equipment

The current complement of equipment at the Fourth and Bell construction site is three excavators, a drill rig and a small tracked crane.
Starlink First Impressions

Starlink is a game-changing satellite service with a moderate cost of $600 for the antenna and $135 a month for unlimited data anywhere in the US. The boating and RV community are wild about it, and we're pretty excited too. We're replacing boat exploration with SUV exploration and camping, but many of the places we want to go are outside of cellular connectivity and James really needs to be connected for work. Starlink, with its excellent connectivity speeds and a lightweight and portable antenna, completely solves the problem.
Drone

A fairly large drone flying near our apartment. Drones are illegal in all Seattle parks and we've not seen many in the sky above us, probably because we're more than 450 feet (137 m) up.
4/25/2022
Norwegian Jewel

The Norwegian Jewel arriving into Pier 66. We love having the cruise ships back running again.
Line Handlers

A crowd of line handlers at the ready on Norwegian Jewel as the ship approaches the dock at Pier 66.
Fourth and Bell

More steel piles installed at the Fourth and Bell construction site, these ones on the east side closest to our apartment.
4/26/2022
Spare Cat

Spitfire loves to investigate new spaces and whenever we opened a locker or storage area on the boat he was inside so fast that we've begun to joke about having spare cats—every dark corner seemed to have a large black cat inside. (Blog reader

Steven Coleman

started the joke in noticing Spitfire pictured with the spares in the post

Managing Spares

.)

We find the occasional spare cat in our apartment too. Spitfire is almost 19, but still loves to explore.
Ovation of the Seas

Our "

pet cruise ship

",

Ovation of the Seas

, in the foreground at Pier 91, with

Carnival Splendor

arriving behind.

Ovation of the Seas

will be back to work on the Alaska run on May 5th and won't be making any more impromptu visits to Seattle. The ship will do the Alaska run this summer and Australia/New Zealand this winter. We'll miss having it around in the winter.
4/27/2022
Government Camp, Oregon

Government Camp, Oregon is the main settlement near the ski resorts at Mt. Hood. The town's name derives from a government convey of munitions destined for Oregon forts that camped there in 1849. The convoy was following the Barlow Road, a toll road that was the last overland segment of the Oregon Trail before reaching the Willamette Valley. Prior to the construction of Barlow Road in 1846, pioneers had to disassemble their wagons to build rafts with them in order to float down the Columbia River, a perilous journey with long delays. The Barlow Road was itself difficult, but so much faster and safer than the river option that in the first year over a thousand emigrants in 150 wagons traveled the road and paid the $5 toll (about a week's wages back then and $150 today).

We followed a portion of the route of the original Barlow Road as we neared Government Camp for a weekend of snowshoeing on Mt. Hood.
4/28/2022
Timberline Showshoe

The Timberline ski area at 11,249 ft (3,429 m) Mt. Hood has the longest ski season in North America, operating from October through August in ideal years. From a maximum altitude of 8,540 ft (2,602 m), the winter vertical drop is 4,540 ft (1,383 m) and in the summer it's 2,616 ft (797 m). The topmost section, Palmer Snowfield, is accessible via the summer-only Palmer Express chairlift, or the Palmer Snowcat in other seasons. The winters are so harsh here, with winds over 100 mph (160 kph), that the lift cannot feasibly be de-iced and operated in the long winter season. So people instead take the snowcat to the top. And in the summer, as other ski resorts are closing down, Timberline is just opening their lift up.
4/29/2022
Tucker Sno-Cat

Distinctive bright-orange Tucker Sno-Cats have been operating at Timberline on Mt. Hood since the beginning of skiing in the area. They are so synonymous with the ski resort that the local Mt. Hood Brewing Company named a beer after the pair: the Timberline Tucker Double IPA. Featured on the label, and above, is a refurbished 1959 model that Timberline brought back to Mt. Hood as a show of appreciation and nostalgia.
4/30/2022
Umbrella Falls Snowshoe

Umbrella Falls spills 59 ft (18m) down a sloping wall near the headwaters of the East Fork of Oregon's Hood River. The trail to the falls is a popular summer hike, and in the winter is part of a system of marked snowshoe trails at the Mt. Hood Meadows ski area. We hiked to Umbrella Falls for our final snowshoe at Mt. Hood, and our last of the 2021/2022 winter season.
| | |
| --- | --- |
| | Click the travel log icon on the left to see these locations on a map. And a map of our most recent log entries always is available at mvdirona.com/maps. |