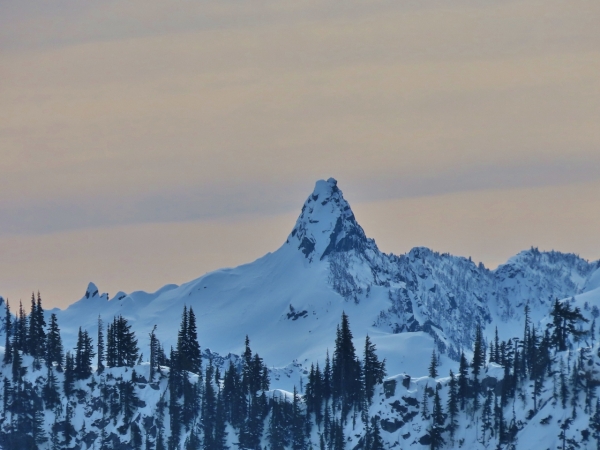 The snowshoe route to Skyline Lake at Stevens Pass is a popular one for its spectacular mountain views. The trail is reasonably short at 3 miles (4.8 km), but with an elevation gain of 1,100 ft (335m), it's not a quick in-and-out. The mountain views along the way to the lake are excellent, but are even better from Skyline Ridge, another 100 feet up. The dramatic tooth of 5,844-ft (1781 m) Lichtenberg Mountain, pictured above, is particularly impressive.
We made the hike on a busy Saturday morning at Stevens Pass ski area, with the parking lot filling up quickly. The hike up to the lake and ridge were great fun, and we proceeded another 200 ft (61 m) up a steep pinnacle for even better views. We continue to be impressed with our MSR Lightning Ascent snowshoes, and are able to climb terrain so steep that we'd have difficulty wearing just boots on bare ground.
Below are highlights from March 12, 2022. Click any image for a larger view, or click the position to view the location on a map. And a map with our most recent log entries always is available at mvdirona.com/maps.
Toll Mode

This morning we're traveling across the Evergreen Point Floating Bridge toll bridge, with our

Flex Pass

in toll mode, en route to Steven's Pass. The bridge, officially called the Governor Albert D. Rosellini Bridge and unofficially the 520 Bridge, carries highway 520 across Lake Washington between Seattle and Bellevue. With a floating span of 7,710-ft (2,350 m), it's the longest floating bridge in the world.

The bridge was completed in 2016 at a cost of $4.56 billion, replacing another floating bridge that opened in 1963. The old bridge had structural issues, and didn't meet more recently-introduced earthquakes standards.

Construction of the new bridge began in 2011, before we departed Seattle on our trip around the world. Although the new bridge opened for traffic in 2016, construction is still ongoing around the on-ramps on the Seattle side at Montlake.
HOV Mode

We're now driving north in the

express toll lanes

on I-405 and have switched our Flex Pass to HOV mode. It's a weekend, so the lanes are free for everyone, but we're having fun with our new pass. :)
Parking

The parking lot at Steven's Pass is almost full at 9:30 am. We had no trouble getting a spot, but that won't the case in another hour.
Skyline Lake Trail

Starting up the Skyline Lake Trail at altitude 4,100 ft (1,250m). We usually take a picture of the trailhead sign, but its probably buried under the snow.
Hogsback Express

The view down the Steven's Pass ski area from altitude 4,329 ft (1,320 m) on the trail the Skyline Lake. The lift in the center is the 4-person 4,251ft (1,296m) high-speed Hogsback Express that rises a vertical distance of 1007 ft (307m) in just under five minutes at a speed of 16 ft/sec (5m/sec). To the left is the shorter and tamer Daisy lift that rises a vertical distance of 311 ft (95 m) at a speed of 7.5 ft/sec (2.3 m/sec).
Trail

On the well-trod trail to Skyline Lake. The temperature is just above freezing and we've gotten so warm on the hike that we've shed our gloves and two jackets, and are down to just a single core layer.
Skyline Lake

We arrived at Skyline Lake at altitude 4,995ft (1523m) in just over an hour with an altitude gain of 895ft (273m). The group visible in the foreground is an avalanche safety class. They were being trained to find skiers or snowshoers buried in an avalanche. Backcountry snowsporters are encouraged to carry a location beacon to help find them in the case of an avalanche.
Powder

We continued past Skyline Lake for some mountain views. Here James is working through some deep powder off the trail to get a view to the north.
Glacier Peak

Great view north to 10,525-ft (3,207-m) snow-encrusted Glacier Peak, with 5741-ft (1,750m) Mount McCausland in the foreground. On clear days, we can

see Glacier Peak

from our Seattle apartment.
Mt Daniel

The craggy quintuple peaks of 7,960+ ft (2,430+ m) Mt Daniel, looking southwest from above Skyline Lake.
Lichtenberg Mountain

The dramatic tooth of 5,844-ft (1781 m) Lichtenberg Mountain pierces the sky to our north.
Rock Garden

A rock garden of massive house-sized rocks, covered with snow, on Skyline Ridge above Skyline Lake.
Panorama

The amazing view west towards the Steven's Pass ski area from elevation 5,323 ft (1622m) on Skyline Ridge. The closest mountains are 5,858-ft (1,785m) Big Chief on the left and 5,853-ft (1,784 m) Cowboy on the right (click image for a larger view).
Steep Climb

Looking for a little more elevation, we made the steep climb to an pinnacle above the ridge. Here James is climbing a particularly steep section. Our

MSR Lightning Ascent

snowshoes are remarkably capable. We are able to climb terrain so steep that we'd have difficulty wearing just boots on bare ground.
View North

Jennifer enjoying the wonderful view north from the pinnacle we climbed. In the far distance are Mount McCausland with Glacier Peak visible behind.
Glacier to Cowboy

Panoramic view from Glacier Peak at left (north), through to Cowboy Peak and the Steven's Pass Resort at right (southwest), from the pinnacle of Skyline Ridge (click image for a larger view).
Queues

Close-up to the queues of people waiting for the various lifts at the Steven's Pass Resort.
Snack

Enjoying a snack with a view to the Steven's Pass Resort and the mountains beyond.
Snow Sculpture

Fantastic wind-carved natural snow sculpture on the pinnacle atop Skyline Ridge.
Descending

Descending from the pinnacle of Skyline Ridge. We don't use

trekking poles

when hiking, but are finding them invaluable when snowshoeing, particularly on steep slopes.
One More View

A last view from Skyline Ridge before we descend back to the parking lot.
Path

Following a well-trod path along the edge of Skyline Lake as we return back to the truck.
Bull's Tooth

After dropping of our gear at the truck, we walked into the Steven's Pass Resort for lunch at Bull's Tooth Pub. But it was way too crowded for our taste, so we kept the line moving.
Smokey's

After giving up on crowded Bull's Tooth, we had an excellent meal at Smokey's Restaurant and Brewery about 20 minutes west of Steven's Pass. And we didn't have to wait for a table.
Mountains

Great view to 5,979 ft (1,822 m) Mount Index, left, and 5,452 ft (1,661 m) Mount Persis as we return west to Seattle. We've driven this road a couple of times heading east, but both times looped back another way. This is our first time heading west and the scenery is impressive.
| | |
| --- | --- |
| | Click the travel log icon on the left to see these locations on a map. And a map of our most recent log entries always is available at mvdirona.com/maps. |