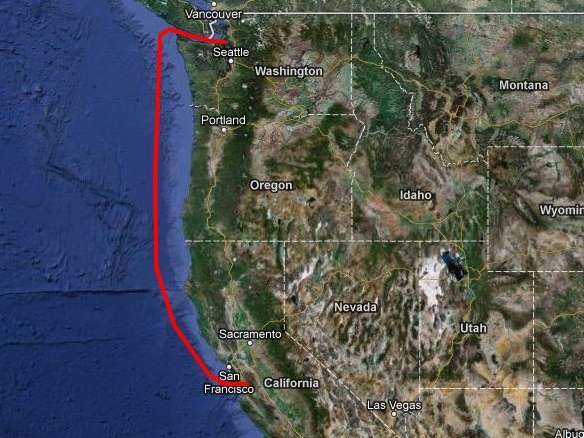 Today we set off from Seattle to do some longer-range cruising. Our goal is to cross over to Hawaii, and we'll figure out the next step from there. Insurance restrictions discourage travel in the area between June and November, during the northern hemisphere hurricane season. May was too soon to leave, and we didn't want leave Seattle and travel through the North Pacific in November during the winter storm season. So we'll first be travelling to the San Francisco area to stay there temporarily for 4-6 weeks until we cross over to Hawaii in October. This also puts us 200 miles closer–Hawaii is about 2,200 miles from San Francisco and about 2,400 from the Seattle area. The prevailing winds and currents are better on this more southerly route as well.
We've just finished a new feature on the web site that shows a real-time plot of Dirona's location. A small version of the live chart is on the blog site above, and a large one is at: http://www.mvdirona.com/maps/LocationCurrent.html.

In the image at right (click to enlarge it), the blue line is the plot of our track. Each blue square on the line shows the time and speed at that location if you put the cursor on them. And the red square with the star shows our current location. The blue paddle icons represents a log entry along the way, the red one being the most recent. Click on a paddle to see details for that entry.

Each map also has a refresh button that you can click to refresh just the map data (rather than the whole page).
| | |
| --- | --- |
| | As we sail south, we're leaving one of the most beautiful cruising areas in the world and perhaps the nicest marina we've ever stayed at. Bell Harbor Marina, in the core of downtown Seattle, is a special place. Below are some of what we've seen since our cruise on the Columbia and Snake River system. You also can display these on the map view. |