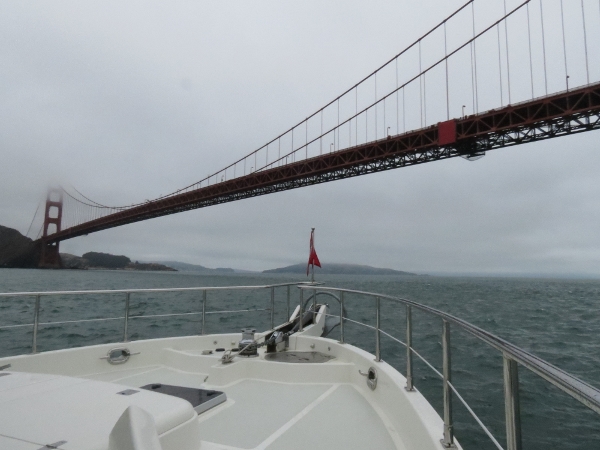 Late last week, we passed under the Golden Gate Bridge and cruised south to our new temporary home at impressive Westpoint Harbor Marina. The trip from Seattle started out with wonderfully calm conditions through the Strait of Juan de Fuca–amongst the best we've experienced there. We originally had planned to run a good 50 miles offshore to avoid boat traffic and crab pots. But a storm was brewing with gale-force winds and 14-foot seas predicted between 60 and 250 miles offshore, so we instead ran within 10 miles of shore where better conditions were predicted. The winds still were 30-knot with 12-foot seas, but that was an improvement over the alternative. After about 24 hours of big winds, conditions settled back down and we had a relaxing cruise into the San Francisco area.
To avoid entering the busy San Francisco Bay in the dark, we anchored for a night at Drakes Bay. We had both navigation reasons for delaying our entry, in addition to better photo opportunities. We'd have to first cross the San Francisco bar, best done at slack or on a flood current. During large ebbs, the current there can reach 6 knots. And when ocean storms are pushing waves westward in the opposite direction, steep 20′ seas can develop there. Once across the bar, Golden Gate itself is only 0.7 miles across and busy with ship traffic.
We enjoyed the stop at Drakes Bay–steep hills surround the anchorage on three sides, with a view south towards San Francisco. And the entire peninsula forms the Point Reyes National Seashore. Had we not been so eager to reach our destination, we likely would have spent some time exploring ashore, particularly visiting the Point Reyes Lighthouse we'd passed on our way into the bay.

But eager to arrive we were, so we left Drakes Bay early the next morning and arrived at the San Francisco bar about an hour before high-water slack. We had an easy cruise under the bridge, past the city, and south through the Bay. We'll be spending the next few weeks here exploring the area, before continuing on to Hawaii.

Our log for the trip is below. You also can display these, along with a detailed route, on the map view.