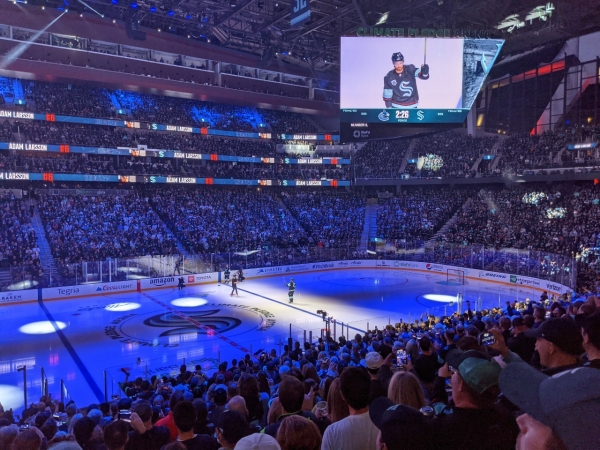 It's been several years since we've lived somewhere that we can catch major league sporting events, and it's one of several aspects of living in Seattle that we're really enjoying. The fall brought the return of two of our favorite sports, football and ice hockey. We watched several live Seattle Seahawks NFL games, and also attended the first-ever home opener of the Seattle Kraken, the lastest NHL expansion team, in their beautiful high-tech facility, Climate Pledge Arena.
On the entertainment front, we also attended a local block party with excellent live music, and a Foo Fighters concert as the inaugural event at Climate Pledge Arena. And we continued to enjoy the ever-changing view from our apartment to Elliot Bay and the constant ship traffic while we stock up our home with furniture and household items. We also are still finding ways to be outside on our patio as the temperature falls.
Below are highlights from September 12th through October 30th, 2021. Click any image for a larger view, or click the position to view the location on a map. And a live map of our current route and most recent log entries always is available at mvdirona.com/maps.
9/12/2021
Breakfast

Channeling our approach in

Norway

, we're spending as much time as we can outdoors no matter the weather. Here we are having breakfast on our more-protected second patio on a cool and rainy Seattle morning.
9/18/2021
Busted

Spitfire caught mooching. He's really settling in well to the apartment and seems healthier than he's been for a year or more. His appetite is better than ever too.
Left Hand Smoke

Left Hand Smoke, a Seattle-based traditional rock and roll band, playing at our Belltown neighbourhood's Rock the Block event. We watched them setting up for the event this morning and came down later to take in the show. Left Hand Smoke, one of six bands scheduled for the day, played an excellent and energetic set.
Soundboard

The sound engineer at Belltown Rock the Block explaining to James how to use a modern, digital soundboard.
Pickerel and the Peyote 3

Mark Pickerel, the original drummer for the Screaming Trees, and his band Peyote 3 playing a great set at the Belltown Rock the Block event. The sound quality was excellent and we really enjoyed watching some live music again.
9/21/2021
Enetai

The high-speed passenger-only ferry Enetai en route from Seattle to Kingston, on the Kitsap Peninsula northwest of Seattle. The 250-passenger vessel was delivered a year ago from Nichols Boat Builders, based on Whidbey Island in Washington state, and has a cruising speed of 38 knots at full load.
Glacier Peak

10,525-ft (3,207-m) Glacier Peak in Mount Baker–Snoqualmie National Forest, looking northeast from our Seattle apartment. The volcanic mountain is named for the eleven significant glaciers that cover the peak.
Harvest Moon

Harvest moon setting over Bainbridge Island and the Olympic Mountains this morning.
9/24/2021
Sunset

Spectacular orange sunset looking west across Elliott Bay to Bainbridge Island and the Olympic Mountains.
APL Vancouver

The

APL Vancouver

at the Port of Seattle, with the

Santa Teresa

and the

MSC Fiammetta

visible beyond (click image for a larger view). The increased demand in products from Asia during the pandemic has produced a surge in shipping imports, a backlog in the midWest rail system, and a corresponding backup in the west coast seaports. The normal turnaround time for a container ship here is 24-48 hours, but all three ships have been in the port for four days, since Sept 20th. None appear to be in the process of offloading, so likely they will be there a few days more.

With the ports plugged with ships waiting to offload, those arriving must anchor for a week or more waiting for a berth. The Northwest Seaport Alliance that manages the port of Seattle and Tacoma are staging arriving ships in rarely-used designated anchorages in Yukon Harbor off Blake Island and in Holmes Harbor off Whidbey Island while they wait for a berth. Since we moved into the apartment in early July, we can always see 3 or four ships anchored in Yukon Harbor, something we never saw in the 13 years we boated in the area between 1999 and 2012.

We have some personal stake in this backlog, in that we're still waiting for the living room sofa we ordered in July, scheduled to arrive near the end of August. The sofa arrived into the port area at least a couple of weeks ago, but we still don't know when it will actually reach our apartment. Likely it's sitting in a container on one of the ships we can see out there.
9/26/2021
Kenmore Air

Two Kenmore Air float planes heading downwind prior to an upwind take-off on Lake Union. We purchased our

first boat

in 1999 at the now-closed Olympic Boat Center, just out of the frame in the distance on the right.
Konstantinos II

The bulker

Konstantinos II

at the Pier 86 grain terminal, with the cruise ship

Majestic Princess

moored beyond at Pier 91. In the distance is Elliott Bay Marina, where we moored our

first boat

for a decade.
Furniture

Our new sofa and the

rest of our dining room chairs

, delayed several weeks due to

logistics

backlogs, was finally delivered this weekend. For the past couple of months, we've been making do with

bean bag chairs

in the living room. These worked fine, but it's great to finally have some real furniture.
SM Qingdao

The Crowley tractor tugs

Guard

and

Response

(not visible) assisting the container ship

SM Qingdao

onto the docks at the Port of Seattle. The ships

APL Vancouver

,

Santa Teresa

and

MSC Fiammetta

are visible at right,

still in port

after six days.

The small boats visible underway at left and stationary at lower right are fishing boats belonging to the Muckleshoot tribe, who are allowed by treaty to fish the Duwamish River that flows through the port area. This does complicate things somewhat for port operations, as the big ships must sometimes wait for the fishing boats to clear the area before they can land or depart.
Steadfast

The 210-ft (64 m) US Coast Guard cutter Steadfast returning to the Coast Guard base in Seattle. The Steadfast entered service in 1968 and for 24 years was based in St. Petersburg Florida where it became the first of only two cutters to receive the gold marijuana leaf award for seizing one million pounds of marijuana. The vessel went through a major refit in 1992-1994 and had since been stationed at Astoria, Oregon.
9/29/2021
Carson Garner

At The Victor Tavern with Carson Garner, who was visiting Seattle from Virginia. Carson is a long-time blog reader who in his spare time has founded several small companies, ranging from web hosting to surface mail forwarding. His current project is a marine charting app that looks pretty impressive.
9/30/2021
Baroclinic Leaf

We've had amazingly clear weather most of the time since arriving in Seattle in July, but not today with the arrival of a baroclinic leaf. This rare weather pattern consists of a rapidly developing region of thermal contrast in the atmosphere where a frontal system is forming, and is named for its leaf-shaped pattern. This is the view from our apartment window as the system hit, bringing heavy rain and zero visibility.
10/1/2021
Haulout

Dirona

on the hard at Seminole Marine in West Palm Beach for bottom paint. The yard is adjacent to

Soverel Harbor Marina

, where we first landed in the US following our trip around the world. We spent several weeks at Soverel Harbor and really enjoyed it.
Havaseas

Nordhavn 55

Havaseas

approaching Bell Harbor, Seattle, our old

home port

.
Deep Frying

Making deep-fried battered spicy fish pieces and onion rings for dinner. This is our first time deep-frying at home since we moved out of our Seattle house in late 2008 (we don't view it as safe using deep-fat fryers on a boat). It's been fun to revisit some favorite recipes like this one.
10/2/2021
Breakfast

Breakfast on the deck on a chilly Seattle morning.
10/4/2021
APL Vancouver

The empty berth where the

APL Vancouver

was until today. The ship finally departed Seattle this morning after 13 days in port. That is an unusually long time compared to the more typical 24-48-hour turnaround. The logistics channel really is a mess right now.
10/6/2021
Bill Grady

Out on a tour of the

Link Light Rail

construction site with Bill Grady of

KLB Construction

, one of the main contractors for the project. Bill and his spouse Roni owned the spectacular Nordhavn 68

Zorro

, and currently have a Nordhavn 71 on order. Bill spent the afternoon taking us on a tour of the huge construction site that will connect Federal Way into the region's light rail system. We had an excellent time on the tour and it was great to catch up with Bill, who we've not seen for years.
Komatsu D61PXi-24

One of KLB Construction's many pieces of heavy equipment in use on the

Link Light Rail

construction project. This Komatsu

D61PXi-24

dozer is an interesting example of what's becoming the norm in modern construction equipment. Intelligent machinery know both the construction site layout and exactly where they are in 3D space. This allows them to move earth or equipment much more precisely, quickly and safely.
10/7/2021
Seahawks

At Lumen stadium to watch the Seattle Seahawks take on the Los Angeles Rams. We've not been to a Seahawks home game since 2018, and are excited to be back.
On the Field

The Seattle Seahawks and the Los Angeles Rams playing a sold-out Sunday night game at Lumen stadium. Sadly the Seahawks lost 17-26, but we had a great time and are looking forward to attending a few more.
10/8/2021
Seaspan Yangtze

The Seaspan Yangtze entering the Port of Seattle after spending three weeks in backed-up Los Angeles, while the Maersk Singapore departs for Yokohama, Japan.
Lake Union

Boat traffic on Lake Union, northeast of our apartment.
Ovation of the Seas

Ovation of the Seas departing Seattle's Pier 91 on its penultimate Alaska cruise of the season. After this weekend, there will be only three more cruise ship arrivals into Seattle in 2021.
Sunset

Golden sunset over Bainbridge Island and the Olympic Mountians, looking west from our Seattle apartment patio.
10/10/2021
Buffalo Wild Wings

Our new Sunday tradition of a late lunch at Buffalo Wild Wings sports bar while watching the NFL games. The bar has several dozen screens, covering almost every horizontal surface, and we can always get a seat with a good view of whatever game we want to watch.
10/11/2021
Victoria Clipper

The Victoria Clipper departing Seattle from Pier 69 en route to Victoria, Canada on its final run to Victoria until the spring of 2022. The service was suspended in July of 2020 and only started back up on September 17th if this year. But it was just suspended again, within a month of starting, due to lack of ridership. The main barrier was a requirement for a negative PCR COVID test within 72 hours of arrival into Canada. That requirement discouraged us as well, making it difficult to make last-minute travel plans.
10/12/2021
Brrrrr

An unseasonably cold day in Seattle this morning, with the temperature at 38°F (3.3°C).
Taqueria Cantina

An excellent meal, with wonderful margaritas, at Taqueria Cantina in Belltown.
Police

Shortly after arriving at the Taqueria Cantina, eight police cars arrived at speed with sirens to join us. We kept our heads down and enjoyed a good meal.
10/14/2021
American Constellation

The pocket cruise ship

American Constellation

returning to Seattle after an 11-night "Grand Puget Sound" cruise.
10/15/2021
Sail GP

The fleet crossing the start line on race 4 of the Sail GP series in Cadiz, Spain. The racing was exciting, and our favourite,

team Australia

, won the overall weekend and returned to the top of the points.
10/16/2021
Norwegian Encore

Norwegian Encore arriving into Seattle this morning. The ship will make one final run to Alaska this year before transitioning to the Caribbean for the winter. We're not sure if it's just the lighting, but we've noticed the cruise ships smoke a lot more at night than they do during the day.
MSC Monterey

The beautiful Foss tractor tug Garth and sistership Lindsay easing the MSC Monterey onto the dock at the Port of Seattle. The 155-ft (47m) Voith Tractor tugs are equipped with twin EMD 16-710-G7A engines for a total of 8,000 horsepower and 87 tons of bollard pull.
Leschi

The Seattle Fire Department fireship Leschi testing its pumping system. Fire is a major concern at the port, and the Seattle Fire Department has operated two fireships continuously since 1891. One of the port's worse fires took place in 1968, when an electrical malfunction sparked a blaze that burned for over a half day despite the efforts of 14 fire engine, two fireboats, two U.S. Coast Guard cutters, and several tugboats.
10/18/2021
Seattle Library

The striking Public Library building in downtown Seattle was completed in 2004.
Starbucks

The line to enter the original Starbuck's store, opened in 1971 in Pike Place Market. The coffee shop is a major tourist attraction, and we've never been past when there wasn't a long line outside. This one is actually kind of short compared to the height of the summer, when it wraps around the block.
Gear from Dirona

One of several pallets of gear from

Dirona

stored in the

Yacht Tech

warehouse in Palm Beach. We have accumulate an astonishing amount of gear, spares, and tools over the decade of cruising around the world.
10/19/2021
Moonset

Moonset over Elliott Bay.
Foo Fighters

Dave Grohl and the Foo Fighters take the stage on the first event at newly-completed Climate Pledge Arena. The Foo Fighters put on an excellent show, and we're looking forward to returning to the arena this weekend for the opening game of the Kraken, Seattle's first NHL ice hockey team in nearly a century.
10/20/2021
Test Kit

James has some meetings that require a negative COVID-19 self test prior to attending. This is only the second time either of us has needed to be tested. The first time was for entry into

Horta

during our recent Atlantic crossing.
10/21/2021
Roasting Pan

When you start an household from nothing, an amazing amount of things need to be purchased. This is our new roasting pan in preparation for Thanksgiving dinner.
Ovation of the Seas

Lifeboat returning to Ovation of the Seas at anchor in Elliott Bay. The ship was previously moored at Pier 91 following the return from its final cruise to Alaska, then moved out to anchor here. The ship was originally scheduled to cross the Pacific and cruise New Zealand and Australia this winter, but that itinerary recently was canceled because Australia still has a ban on cruise ships entering the country. The next sailing for Ovation of the Seas is scheduled for March of 2022 from Vancouver to Alaska. It will be interesting to see if they are able to come up with an itinerary for the ship, or if they'll just store it for that inactive period.
10/23/2021
Breakfast

Breakfast on our deck while the cruise ship Norwegian Encore makes its final arrival of the season into Seattle before repositioning to the Caribbean for the winter.
Coolpix P1000

We bought our first digital camera back in 2002, a Canon PowerShot Pro90 IS, and the choice of a lightweight, relatively inexpensive point-and-shoot over a DSLR has continued to work well for us (see

Digital Camera Choices

). We've since purchased several other generations of the PowerShot series, most recently an SX70, at right in the picture.

A couple of years ago, we had a camera failure and really wanted to stick with Canon but they were only a couple of months away from releasing a new camera. Rather than buy what was essentially a 3-year-old camera, we decided to look at others, and Nikon had just released the P1000 at right. It has an impressive optical zoom of 3000mm, but is a monster at 5.76 x 7.14 x 4.68 inches and weighing 3.12 pounds compared to the 1365mm Canon at 4.6 x 5 x 3.6 inches and weighing 1.36 pounds. We have always gone for the biggest commodity camera zoom lens. After 20 years of bigger is better, we jumped on the Nikon figuring we would get used to the additional size.

The Nikon produces excellent results, but we found it too big for long hikes or casual walking around downtown. So when Canon released their next camera, the SX70 HS, we returned to Canon and we have been rarely using the Nikon. Now that we're in an apartment 450ft from the ground, we're loving the Nikon's long lens. So it's back in use, at least when we are around the apartment. The Nikon lens is truly exceptional, but the Canon is still our choice when we are away from the apartment.
Nat Geo Venture

The US-flagged

National Geographic Venture

and sistership

National Geographic Quest

were both built the Nichols Shipyard on Whidbey Island, about 25 miles (40km) to our north. Both predominately cruise in US waters, in compliance with the Jones Act (requiring that all goods transported by water between U.S. ports be carried on ships that have been constructed in the United States and that fly the U.S. flag, are owned by U.S. citizens, and are crewed by U.S. citizens and U.S. permanent residents).

We visited Fanning Island, about 900 miles south of Hawaii, that had once been a weekly stopover for the Honolulu-based Norwegian Cruise Lines (NCL) ships to work around Jones Act restrictions. In order for non-US boats to do cruises that start and end in Hawaii, they need to leave the US. Fanning Island was their stop-over in much the same way that Victoria and Vancouver are for the Seattle to Alaska cruises. NCL eventually built three ships in the US that comply with the Jones Act and stopped visiting Fanning Island.

The National Geographic Venture is seen here departing Seattle after a season cruising the Pacific Northwest and Alaska, and will spend the winter cruising California and Mexico.
Doubled Lines

Several big weather systems are forecast over the next few days and the Norwegian Encore, moored at Pier 66, has double the normal mooring lines.
Polar Star

The USCG ice breaker Polar Star heading out what appeared to be on a multi-day sea trial. The ship anchored for two nights at the eastern end of Juan de Fuca Strait north of Sequim Bay, then spent 24 hours doing multiple laps in the area before returning back home to the the USCG base in the Port of Seattle.
Climate Pledge Arena

At Climate Pledge Arena for the opening game of the brand new NHL expansion team, the Seattle Kraken. Seattle hasn't had an NHL team since the Metropolitans, who played here from 1915 to 1924 and in 1917 were the first American team to win the Stanley Cup.
Player Introductions

Player introductions before the start of the first home Kraken game. Climate Pledge Arena is a beautiful, modern, high-tech facility, created after a $1.15 billion USD redevelopment of Key Arena. The original arena, built for the 1962 World's Fair, was listed in the National Register of Historic Places in 2018. The new arena preserved the roof and exterior and from the outside looks much the same, but the inside is completely different. An additional 15 feet was excavated, putting the arena floor 53 feet below street level with double the arena space.
Game On

The Kraken taking on the Vancouver Canucks in their first home opener. We lost 2-4, but had a fabulous time and are looking forward to attending more games this season.
10/24/2021
Storms

The second of a series of several storms approaching the Seattle area. On Monday the winds will be gusting to 34 knot with rain, ideal conditions for Monday Night Football in our outdoor stadium :(.
Ovation of the Seas

The cruise ship

Ovation of the Seas

departed the anchorage at Elliott Bay and we didn't expect to see it again until next spring when the Alaska cruise season starts up again. But it returned to Seattle to anchor in Yukon Harbor after performing several large loops in Juan de Fuca Strait.

The ship was originally scheduled to cross the Pacific and cruise New Zealand and Australia this winter, but that itinerary recently was canceled because Australia still has a ban on cruise ships entering the country. The next sailing for Ovation of the Seas is scheduled for March of 2022 from Vancouver to Alaska. We wonder if the boat will remain at anchor in Seattle or if they'll find a way to schedule a last-minute cruise or find some other way to get some value from the $1.4B ship.
10/26/2021
Monday Night Football

With our friends Kimanh Moreau and Peter DeSantis to watch the Seahawks take on the New Orleans Saints on Monday Night Football. Russel Wilson, our starting quarterback is out with an injury and we're not doing well this year. We lost to the Saints 10-13 and have a now have a 2-5 loss-win record. But we still had a great time, and will definitely attend more games.
Szechuan Beef

Some of the ingredients for a spicy dish of

Szechuan Beef

. As we stock our kitchen, we seem to be buying another jar or two of spices with every grocery trip.
10/28/2021
2120

A delicious and fun meal on the patio inside the heated tent at 2120 restaurant, with the

Seattle Spheres

visible behind. The pouring rain is send sheets of water down the sides of the plant- and light-filled spheres, making for a unique and beautiful backdrop.
10/30/2021
Patio Heater

Breakfast on the patio with our new

outdoor heater

. The temperature is 39°F (4°C), but the heater provides enough warmth that we can still be outside comfortably.
Click the travel log icon on the left to see these locations on a map, with the complete log of our cruise.

On the map page, clicking on a camera or text icon will display a picture and/or log entry for that location, and clicking on the smaller icons along the route will display latitude, longitude and other navigation data for that location. And a live map of our current route and most recent log entries always is available at mvdirona.com/maps.