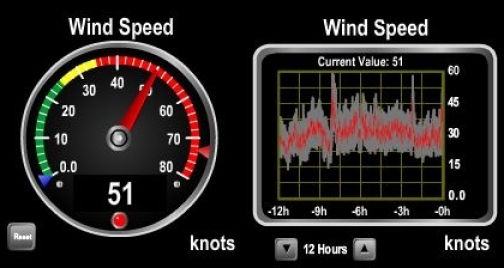 After spending New Year's Eve in Falkmouth, UK, we were booked into the yard in Southampton on Jan 8th for routine maintenance. You would think a week would be plenty to travel the 200 miles from Falmouth to Southampton, but big weather systems, some with 50kt winds, were forecast for most of next week.
We found a brief lull that allowed us to travel 120 miles to Portland, where we weathered the worse storm we have ever seen in a marina. Gusts reached 73-knot winds overnight and waves were breaking over the dock. The power went out in our area, probably because all the dock power pedestals had been under water for such a large percentage of the time. Winds remained steady over 30 kts and often up over 50 kts for another 24 hours. We're glad not to have been out in that.
Below are trip highlights from January 1st through 5th, 2018 in Portland, UK. Click any image for a larger view, or click the position to view the location on a map. And a live map of our current route and most recent log entries always is available at http://mvdirona.com/maps
1/1/2018
Weather Window

Looking at the

XC Weather forecast

for Falmouth, winds are expected to blow into the high 30s this afternoon, but we might have a lull starting tonight that is just long enough to travel partway, 120 miles to Portland, before a major system hits tomorrow afternoon. We'll monitor conditions and make a call later tonight.
E1 Buoy

10:30pm was the lastest we felt we could leave Falmouth and safely reach Portland before the big weather system arrived around 6pm tomorrow afternoon. Conditions at E1 buoy, about 25 miles southeast of Falmouth, looked pretty bad early at 5pm with 27-kt winds and 14.4ft (4.4m) seas on a 9-second period. We didn't feel they could possibly settle down quickly enough for us to leave, but by 10pm they were down to 9.8ft (3m) on 9 seconds and the winds had fallen to 19kts. Still not ideal, but the wind and waves would be behind us, so we made the call to depart.
No Fault Code!!!!

The engine was constantly producing fault codes at higher loads on the run from Dublin to Falmouth and we've now run at 2200rpm for more than an hour without a peep!

Changing the injectors

has solved the problem.
1/2/2018
Conditions, 12:49am

As expected, the winds are about 20 knots with following seas about 10ft (3m) on 9 seconds. But they're both coming from behind, so we're seeing little pitch at just 5° and only the occasional roll to 10° when we catch a wave a little more on the beam. Conditions are better than we were expecting.
Eddystone Reef

We're just passing south of the infamous Eddystone Reef, where four different lighthouse have been constructed, including

Smeaton's Tower

that we saw in Plymouth.
Conditions, 9:51am

We're about 3 hours out of Portland now and have made excellent time. Given the conditions, we'd expected to average only about 6.5 knots and arrive into Portland around 5pm. But we have instead averaged 8 knots and currently are running at 8.8 knots with a push from the current. We should arrive into Portland before 1pm. The winds have picked up a bit as expected and our max roll is creeping up, but the winds and seas still are behind us so it's not an uncomfortable ride.
Portland Race

We're passing south of the infamous Portland Race. That passage between the Bill of Portland and The Shambles looks like an appealing shortcut, but currents there can reach 10 knots and even in much less current the seas can be dangerous. We passed well south of the race, but the seas picked up notably as the remains of the outgoing current met the 25-knot westerly winds.
Roll

We're seeing bigger rolls, to 17.4°, as we turn northwest and Dirona is beam to the waves. But this won't last long as we'll soon be getting into the lee of the Bill of Portland to our west.
Portland Harbour

Portland Harbour, at 1,300 acres (520-hectares) was largest man-made harbour in the world when the British Navy completed it in 1872. It's still the third-largest, behind 11,000-acre (500-hectare) Ras Laffan Harbour in Qatar and 3,700-acre (1,500-hectare) Cherbourg Harbour in France. The Portland Breakwater Fort, built in 1868-1875, and the Portland Breakwater Lighthouse, completed in 1905, flank the East Ship Channel into the harbour.
North Entrance

Looking back to the fortifications along the south side of the North Channel into Portland Harbour. Only commercial traffic is allowed through the East Ship Channel—pleasure craft must use the North Channel.
Chain Knot

Portland has a nice, new marina, but we preferred the simplicity of anchoring. And after our

brush with disaster

in Richards Bay, South Africa, we've learned that marinas aren't always a safer place in a storm, particularly for a big, heavy boat like

Dirona

.

We'd tucked in behind the marina breakwater to get good protection from the upcoming storm, with excellent holding, and were actually kind of looking forward to the storm. We've not anchored since the Isle of Gigha in Scotland over two months ago and after a few rough crossings, our anchor chain is in a complete knot. We've never had this happen before. We had to stop several times to release the tangles.
Harbourmaster

The Portland Harbourmaster sent a pilot boat over to ask if we were aware of the upcoming storm and to request that we move to the marina because Portland is not a protected harbour. We're not sure why they didn't contact us by VHF as we were monitoring 16, 13 and 74 (the harbourmaster's channel). We said we'd rather be at anchor and were told we'd need to maintain a constant listening watch on channel 74. This was a bit surprising as we'd read their

pleasure craft leaflet

, which made no mention of anchoring restrictions or the requirement to monitor channel 74.

We didn't want to move and probably could have stuck to our guns and stayed at anchor, but weren't keen on keeping the radio on all night. And if the authorities aren't happy with something, an enjoyable result doesn't usually follow. So we contacted Portland Marina and got a berth for a couple of nights. It's annoying the world third's largest harbour is so unwelcoming to recreational boats, but there wasn't a single boat anchored in the entire harbour.
2012 Olympic Sailing

The 2012 Olympic Sailing events were held here in Portland Harbour not far from where we are docked. This is where Australian sailor Tom Slingsby won his Olympic gold medal in Lasers. We had watched Tom competing for Team Oracle in the

America's Cup AC45 series

in San Francisco in 2012 and met him in 2014 while we were visiting his hometown of

Gosford, Australia

. We watched him

sailing Moths at Gosford

and at

Team Oracle Foiling Camp

on nearby Lake Maquarie. While in Sydney Harbour during December of 2014, we watched Tom compete in the

Extreme 40s

Racing Series, and at the helm of Super Maxi

Perpetual Loyal

in the

Big Boat Challenge

and the

Sydney Hobart Ocean Race

. A few weeks later, we watched him compete in the

2015 Moth Worlds

at Sorrento near Melbourne, and have since followed him in numerous races on TV or radio. It's fair to say we've become big fans over the years.
Storm Starting

We're tied off on the visitor's pontoon at Portland Marina at 2:40pm. Right on schedule, the winds started to pickup around 6pm as the big storm neared. By 9pm, we had seen gusts to 49 knots and the winds were steady in the high 30s.
1/3/2018
73 Knots

Portland Marina is good and very strong but, wow, the winds are incredible. We saw gusts to 73 kts last night—the worse we have ever seen in a marina. The storm we saw in Richards Bay South Africa (

A Brush With Disaster

) was very similar but the peak wind speeds were less than this one.

Waves are breaking over the dock and the power is out in our area, probably because all the dock power pedestals have been under water for such a large percentage of the time. At 8:30am the wind still is never under 30 kts and often up over 50 kts. It's been like that or worse since the big gusts around 3am. The waves are so big in the relatively sheltered marina, surrounded by breakwaters, that the docks have a wave pattern in them with the dock hinges creaking back and forth.
Fenders

We always tie the boat off super tight and it's now so loose that two of the fenders have blown up onto the walkway and you can see the large forward fender flying up in the wind. It's times like this that we really like our 1-inch dock lines.
Securing Fenders

We ran small lines through the fenders, attaching them together, and tied the ends to cleats. That fixed the

fender fly-away problem

. You can see Jennifer's ponytail is almost horizontal in the wind.
51 knots

It's 11am and conditions still haven't settled down yet. The wind just hit 51 knots. The yellow check light in the bottom left hand of the screen is because the dock power is still out.
Checking Boats

The Portland Marina staff were out checking lines on boats and adding more when needed. Notice how they are all leaning into the wind as they walk. At least one boat had come loose and hit another. Especially after that

brush with disaster

in Falmouth, we specifically put

Dirona

upwind of any boats that may come loose and blow down onto us.
Testing Connectors

The dockside pedestals on the windward side were effectively underwater for a good part of the storm, so they are all leaking current and as a result the pier-end Residual Current Device (RCD) is releasing. We shut off all windward pedestal breakers since they aren't in use and the waves are constantly washing over them. After shutting these all off, the pier-end RCD stayed on but the shore RCD on the feed to

Dirona

still was releasing so we brought our shore power cord in form the storm to find our current leak. Unsurprisingly, the connector between the North American shore power cord on

Dirona

and the

pigtail

we use to connect to 32A European connectors, lying on the dock, was full of salt water and leaking enough current to trip the pedestal RCD.

Modern marinas use very sensitive RCDs which dramatically reduce the risk of electrical shock for those in the water near moored boats. Of course this is a good thing, but it has a nasty side-effect is that very small changes in insulation resistance that, in the old days would just work, now trip RCDs. We're currently plugged into a shore-side pedestal with a 30-milliamp RCD which means if there is 30/1000 of an amp leakage, it'll trip the breaker. There is also a 30-milliamp RCD on Dirona at the end of the shore power cord. Since this isn't popping, we know it's the shore power connector or the cord.
Rinsing Connectors

It looks crazy but here we're rinsing connectors in freshwater to wash out the salt water which causes corrosion and can lead to increased resistance and dangerous heat.
Drying Connectors

After rinsing the salt water out of the connectors, we dried the freshwater since it also will provide an excellent path for electricity and we need to eliminate any current leaks before restoring the shore power on Dirona. We then checked the resistance between phase and ground and found we're back to effectively infinite resistance (no measurable current leak) so we're close to ready to go.
Gaiter

We had a spare

alpine boot gaitor

from

sealing off

the shore power cable retractor standpipe, and used it to protect the connection between our shorepower cable pug and the pigtail that adapts to to the local power source. This should help keep the connection dry when waves are washing over the dock.
Looking for Power

James out with his

power tester

we built in Stornoway in the Outer Hebrides, looking for power in any of the dock pedestals. We now have a good pedestal connection that won't trip the pedestal RCD without our shore power plugged in. We have a clean and dry shore power connection without current leaks so it's ready to go. And, we have the pigtail to shore power connection protected from water intrusion. We plugged it all back in and shore power is back to working well.
Portland Marina

Looking across Portland Marina from the office. Dirona is just visible roughly center in the distance.
1/4/2018
Lull

We had a brief lull in the winds around midnight, but not enough to allow us to make run the 60 miles to Southampton. By 5:30am the wind was climbing back up to 20+ knots as the next system approached. 20 knots is fine to travel in, but 30-40 knots will be here soon.
More Wind

That second system intensified about about two hours ago as the winds shot up almost instantly to 30-40 knots. The winds shouldn't be quite as strong as the previous system.
Don & Sherry

Blog readers Don Herridge and his partner Sherry live aboard Cheoy Lee LRC Outbound at Portland Marina. They noticed we were in the marina, and in fact could see us from their pilot house, and came over for a visit and a tour.
The Boat That Rocks

An enjoyable meal with a harbor view at The Boat That Rocks pub in the Portland Marina Complex. Other than to register with the marina, we've not left the docks with all the storm systems coming through.
1/5/2018
AC Fan Capacitors

We have temperature sensors in several places in the engine room to detect cooling problems early. A particularly important sensor is the stack housing sensor where, if the temperature in the stack starts to escalate, we get email and an on-dash warning. On our last overnight run we saw that warning. We stopped and restarted the ER fans and the problem cleared. Today we dug in to understand why the fans were sometimes working and sometimes not. We pulled the fans and found they they spin well and are powerful. The problem is they both sometimes blow and other times, well, they suck.

The way many single-phase AC power fans work is they have four sets of windings where the power is applied directly to two opposing windings and the other two are fed through a capacitor. The capacitor has the effect of shifting the phase of the AC current in those windings by 90 degrees. This puts a bias into the magnetic field the rotor is operating in such that it is being "pulled" around fairly strongly in a single direction. If the capacitor fails, the fan will usually still spin fine but it often will turn the wrong way.

James went through all of our engine room fans and found that we had four faulty capacitors. Two of these are 7-year old fans whereas the other 2 are only 2 years old. The good news is the capacitors are cheap and under $3.00 each in single unit purchases, and only pennies when bought in volume. They are quite inexpensive, but the bad news is we don't have any on board. We stole some from other fans to keep the engine room fans operating correctly, but we'll need to get some 2.5uF, 250V capacitors in the near future.
Leigh Albrecht

Leigh Albrecht smoking across Portland Harbour off our bow in a

Moth class sailing hydrofoil

. Leigh placed 10th in the Silver fleet in the 2014 Moth World Championships held at Hayling Island, just east of Portsmouth.
Tony & Sarah

Locals Tony & Sarah Birch have been following our blog and came by to meet us and tour

Dirona

. They operate

Wareham Forest Tourist Park

, about 25 miles from Portland, and keep a boat in Poole and a Viking 46 Sports Cruiser in the Bahamas where they have cruised for 40 years. Tony also is an ex-Royal Navy pilot who has flown out of the Portland area. It was great to meet them both and talk boats, cruising and airplanes.
Click the travel log icon on the left to see these locations on a map, with the complete log of our cruise.

On the map page, clicking on a camera or text icon will display a picture and/or log entry for that location, and clicking on the smaller icons along the route will display latitude, longitude and other navigation data for that location. And a live map of our current route and most recent log entries always is available at http://mvdirona.com/maps.