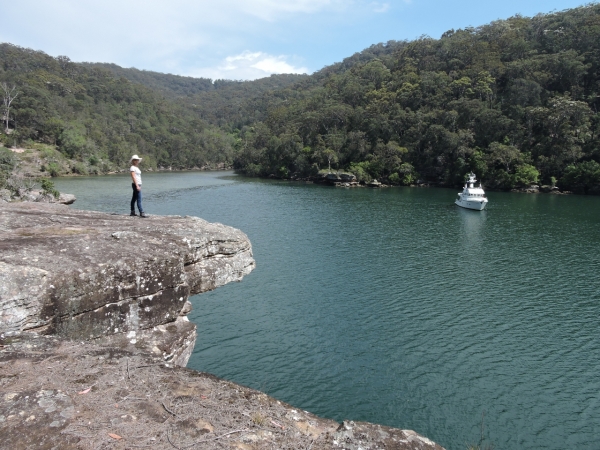 From the Whitsunday Islands, we ran 960 miles south to the Hawksebury River system just north of Sydney. What started out as a side-trip, mainly for a convenient place to leave Dirona while we travelled back to the US, turned out to be a memorable part of the trip. The scenery and anchorages there were beautiful, but the real surprise was the town of Gosford. We went there planning to stop just for a few nights, and finally dragged ourselves away after ten days.
Highlights of the Hawksebury River adventure are below. Alan Lucas' Cruising the Coral Coast had excellent advice–his large-scale charts were particurlarly useful for entering Gosford and navigating the upper reaches of the Hawksebury River, which are largely not covered by our C-Map or Navionics charts.
Refuge Bay

We stopped for our first night at popular Refuge Bay–described by some offshore sailors as one of the most beautiful in the world. That might be a bit of a stretch, but it is worth a multi-day stay. The anchorage has good shelter with bluffs all around and a waterfall and small beach at the head.
Gosford Sailing Club

The active

Gosford Sailing Club

holds a race every Wednesday in the summer. We were anchored just off the finish line and enjoyed an excellent show–we haven't watched a sailboat race from

Dirona

since the

Hawaii Yacht Club's Friday night races

. The sailing club takes their racing seriously–non-racing members apparently are defined as "non-sailing" members.
Lady Kendall II

The people of Gosford are among the most friendly we've encountered on what is becoming a fairly long trip. We had a great time chatting with some of the locals on board the

Lady Kendall II

. The man to James' right is the Gosford

Ocean Cruising Club

port captain. This does not sound like a stressful position–a British boat visited Gosford about three years ago, and we're apparently the only other foreign boat since. :)
Tom Slingsby

Gosford local Tom Slingsby was out in an Oracle Team USA

Moth class sailing hydrofoil

. The five-time Laser world champion was strategist for Oracle Team USA's America's Cup winning team, and currently is stategist, helsman and sailing team manager for when Oracle next defends the cup.
Hydrofoil

On a dinghy tour of the bay, we saw someone assembling what looked like another

Moth class sailing hydrofoil

. We went ashore and met Joel Castle, brother-in-law of

Tom Slingsby

, who'd we'd seen out sailing a Moth yesterday. Joel just had the foils faired and painted, and was reassembling his Moth. We spent ages watching Joel sail around the bay. The Moths are exciting to watch, especially as they come up onto the foils, but look incredibly difficult to manage.
Gosford Sailing Club

David Slingsby, a Gosford Sailing Club director, invited us to the club for drinks after the race. We had a great time chatting with the group about sailboat racing and our trip across the South Pacific. Surprisingly, David's wife Mavis, seated opposite James, also is from Seattle.
Four-Island Cruise

Allan Draper

invited us as his guests on the

Lady Kendall II

for their

Four-Island Cruise

. We had a wonderful day touring the Hawkesbury area–even at eight knots it took the better part of a day to see it all.
Foiling camp

Gosford Sailing Club director

David Slingsby

offered us the opportunity to meet the defending America's Cup champions, Oracle Team USA, who were at nearby Lake Macquarie for Foiling Camp.

Read more …
Hawksebury River

We finally pulled ourselves away from Gosford to explore other parts of the Hawkesbury River system. The scenery along the Hawksebury is striking, particularly on this stretch between the Dharug and Marramarra National parks.
Wisemans Ferry

The ferry at

Wisemans Ferry

is the first of two cable ferries crossings that we will pass going upriver. When the ferry is docked with its flashing yellow light off, the cable will be lying on the bottom and it's safe to proceed. We'd crossed a cable ferry before

in the dinghy

, but never in

Dirona

–it definitely had our attention. This particularly crossing was busy enough that two ferries were running about every ten minutes, so we didn't have much time to pass.
Calabash Bay

We anchored for the night in beautiful Calabash Bay with the Marramarra National Park to our north. We were on the park side of the channel, with houses in the distance on the other side.
Peats Bite

We were thinking of running the tender south to Berowra Waters, and maybe finding a pub for a quick lunch, when

David Slingsby

sent us email asking if we were planning to have lunch at Peats Bite. Our cruising guide showed the location nearby, and we figured we could get a burger there as well as anywhere, so off we went. Our first hint that this was an unusual place is that they don't even have a sign. We subsequently learned they don't have a road, nor utility power, and run everything on generators. Our next clue that this was not a casual pub was the rose sangria we were offered upon landing. The lunch turned out to be a fabulous

seven-course meal

served over several hours. In the intimate setting, we met the owners and many of the other diners–everyone got a kick out of our "we came by for a burger" story. After the meal, we lingered with the other guests in the party-like atmosphere and eventually dragged ourselves back to

Dirona

around 11pm that night. We had a wonderful time–it definitely was the best "lunch" we'd ever had. In fact, it might be the best meal we've ever had. Having enjoyed ourselves so much, it's now obvious why the floatplanes were bringing in guests from as far away as Sydney.
M1 Pacific Motorway

On a low but rising tide, we worked 5-6 miles up Mooney Mooney Creek in the dinghy. The 1,575′-long, 246′-high Mooney Mooney Bridge carries the

M1 Pacific Motorway

across the creek high above us.
Jerusalem Bay

The anchorage at Jerusalem Bay is absolutely beautiful, with sandstone cliffs on one side, forest on the other, and a winding creek at the head.
Monitor

A section of New South Wales'

Great North Walk

passes along the head of Jerusalem Bay. This large monitor was sunning in the track and wouldn't move until we got within a couple of feet. They aren't supposed to be dangerous, but neither one of us was inclined to verify that claim.
Smiths Creek

This is the morning view looking southwest from the anchorage at Smiths Creek.
Cockatiels

Throughout our stay at Smiths Creek, raucous Cockatiels swooped around the anchorage and called out from the trees.
| | |
| --- | --- |
| | Click the travel log icon on the left to see these locations and more on a map, with the complete log of our cruise through the Hawksebury River system. And a live map of our current route and most recent log entries always is available at http://www.mvdirona.com/maps/LocationCurrent.html. |