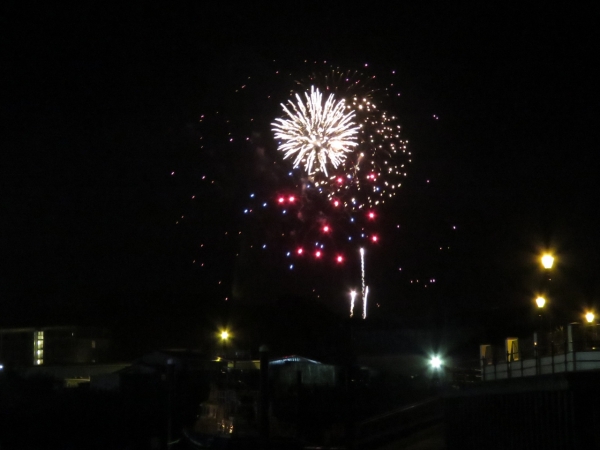 One of the reasons we came to Falmouth for the holiday season was for the New Year's Eve Fireworks display from Pendennis Castle right above the marina. We had a great time celebrating the New Year while watching the display and really enjoyed spending a couple of weeks in the area. Falmouth is crazy-busy in the summer, but quite laid-back and uncrowded in the winter, with lots of excellent restaurants and good train service.
Below are trip highlights from December 16th, 2017 through January 1st, 2018 in Falmouth, UK. Click any image for a larger view, or click the position to view the location on a map. And a live map of our current route and most recent log entries always is available at mvdirona.com/maps
12/16/2017
Falmouth Arrival




We arrived into Falmouth on December 18th after a 243-nm run from Dublin. This run took us past the strong and sometimes dangerous currents off the most western tip of the UK at Land's End, so we we left just before midnight to catch favourable tides.

Read more …
Lock




The lock into the ultra-protected inner basin at Port Pendennis Marina.
RNLI




We're once again within sight of an RNLI boat, this one the RNLB Richard Cox Scott. Dirona is moored just out of sight on the left.
Chain Locker




We've been looking forward to visiting the Chain Locker since reading about

Braun and Tina Jones' visit to Falmouth

on their Nordhavn 64

Ocean Pearl

. The Chain Locker was established in the 1700s and operates in one of Falmouth's oldest buildings. The pub just re-opened in September after a two-year renovation when it was found in danger of collapse. We had an excellent lunch there with a view to the harbour.
King's Pipe




The King's Pipe near the Chain Locker was formerly used to burn contraband tobacco.
The Stable




Falmouth has a large number of restaurants and pubs. We frequented The Stable for their excellent Smithwicks Scorcher pizza. The Stable specializes in ciders and has close to a dozen on tap.
Arwenack Street




Arwenack Street in downtown Falmouth lit up for the holiday season. Falmouth is crazy-busy in the summer, but quite laid-back and uncrowded in the winter. We're loving it.
12/18/2017
Morning




A lovely calm first morning in Falmouth looking north across Port Pendennis Marina to Carrick Roads with the town of Falmouth on the left.
Island Time




Spitfire getting in what we call some "Island Time" sleeping on the pilot house island.
Oosterschelde




Oosterschelde of Rotterdam, behind us at Port Pendennis Marina, was launched in 1918 and restored eighty years later. It is the last of the Dutch-flagged early 20th-century sailing schooners still on the water.
Thai Orchid




An excellent dinner at Thai Orchid in Falmouth. The restaurant was beautifully decorated, with colorful carpets and art filling the walls. We had a wonderful private table in a small nook off to one side.
12/19/2017
Bungee




We have two stacks of

Really Useful Boxes

in our lazarette, secured with bungee cords to prevent them from sliding around at sea. We noticed that the wire hook portion on starboard-side stack had stretched out (bottom of photo where wire attaches to cord), indicating extreme load. Likely that was from the

25.9° roll

we experienced on the way to Falmouth.
Breakers




The shorepower breaker released earlier today. On reset, it repeatedly released. We checked for ground faults and found nothing but when we switched the Residual Current Device (the blue handled unit beside the breaker) off and back on the problem cleared. We'll order two spare RCDs when we are in Southampton and replace this one.
Tesco




Tesco arriving with two cartloads of groceries, including a frozen turkey for our Christmas dinner.
12/21/2017
Plymouth




While in Falmouth, we made a day-trip to Plymouth to visit our friends Jean and Matt Findlay and tour the town. We first met Jean and Matt in 2014 on their Beneteau 57

Superted V on Stewart Island

in southern New Zealand and crossed paths an amazing number of times after, but haven't seen them since

Cape Town

in December of 2015.

Read more …
12/22/2017
KVH V7hts




While in Dublin we upgraded to the latest KVH V7 satellite system, the KVH V7hts. The two highlights of the HTS (High Throughput Satellite) are 1) it's now a screaming 10Mbps rather than the previous 5Mbps and 2) it has a second channel for low speed batch traffic without metering cost. The speed is the exciting one, 10Mbps is faster than some cellular options. It's astoundingly good.

The intriguing option is what KVH calls the V7hts unlimited channel. The primary channel is the high speed channel and you pay for the data you move but on the unlimited channel, it's very slow but not metered. This channel runs at 128Kbps down and 64Bps up. We don't yet have a ton of experience with the UL channel but I'm intrigued by the possibilities. Read more …
12/23/2017
Happy Holidays




Wishing you all a Happy Holidays and best wishes for the New Year.

James, Jennifer & Spitfire
Mike Green




Nordhavn Dreamers

discussion group moderator Mike Green lives in Plymouth and stopped by for a visit and a tour of

Dirona

. And he brought us a bottle of Plymouth Gin. Thanks Mike!
12/24/2017
Router Control




Back in January of this year, we installed a Linksys R7000 router but it's about the furthest thing you can get from a R7000. Rather than running the Linksys protocol stack, we are running the open source DD-WRT system. Both are reliable firmware stacks but the open source system is nearly infinitely configurable. It's essentially a full Linux system with all the control of a Linux system but with the low level packet routing is done in hardware. The standard Linksys has, like most home routers, a single WAN port and several (in our case 4) LAN ports. We configured our R7000 to have 3 WAN ports and 2 LAN ports as well as the dual band WiFi radio system. The three WAN ports are: 1) WiFi, 2) Cellular, and 3) V7hts. The router automaticaly switches WANs to the least expensive connectivity available and it's been working well for the last year.

Router Control is the web application, pictured, that we wrote to change settings on the system. The app allows us to specify which of three wan ports we want to use or select full mode (auto select the least expensive), or restricted mode (auto select the least expensive but don't offer full connectivity on the satelite system since that can add up to real money quickly). We now have the V7hts system which actually has two available channels: 1) HS, the 10Mbps channel, and 2) UL, the unlimited channel that runs at 128Kbps. To accommodate our new satelite system we added a new WAN option: 1) WiFi Manual, 2) Cellular Manual, 3) V7hts HS channel, 4) V7hts UL channel, 5) full automatic, and 6) restricted automatic. The new option is the fourth of this list. We also updated Router Control to track the bytes moved through the the new V7hts UL channel as well as the other three WANs.
12/25/2017
Engine Work for Christmas




We had an intermittent engine control unit fault code on

Dirona

's John Deere 6068AFM75 that started shortly after we departed

Kinsale, Ireland

. We'd been busy having fun, but did have some time on Christmas Day while we were in Falmouth, so we decided to open up the engine.

Read more …
12/26/2017
12/27/2017
Brush with Disaster




A big storm passed through last night and the wind shot up from 15 to 56 knots in minutes, reminiscent of the

brush with disaster

we had in similar conditions in Richards Bay, South Africa. We didn't know it until the next day, but we also had a brush with disaster during the Falmouth storm. Two cleats broke off the boat moored upwind of

Dirona

and the local RNLI lifeboat was called during the middle of the night to tow it to safety before the remaining cleats let go.

Had that boat come loose and blown onto us, we'd certainly have sustained substantial damage. We're really impressed with the Port Pendennis Marina staff, who showed up on large numbers during the storm, checked all the boats and lines, added fenders to boats that were not adequately fendered, found the broken cleats on the boat behind us and called for lifeboat help.
12/29/2017
Waves




When big winds blow from the northwest, substantial waves roll towards the marina from Carrick Roads. Dirona is heavy so we don't move much, but the waves do make a bit of noise when they hit our stern.
45 knots




Another big winter storm in Falmouth bringing 45-knot gusts.
1/1/2018
Happy New Year




Falmouth put on an excellent New Year's Eve Fireworks display from

Pendennis Castle

right of our bow. This was one of the reasons we came to Falmouth for the holiday season. We had a great time ringing in the New Year while watching the display.
Lenovo L1900P




Eight years ago we put 4 Lenovo L1900Ps in our pilot house and another in the salon and we bought a spare. In the Marquesas, French Polynesia back in 2013, we accidentally left open a hatch in rough water and the monitor in the master stateroom was damaged. We didn't have a spare for that one, so James replaced it using the spare Lenovo L1900P. With 6 of these Lenovo in service, we bought three spares which seems like more than we'll ever need but they are relativly inexpensive at just over $100 each. This morning, we got up to find one of our 4 monitors in the PH had failed. We replaced it quickly but, even though we have only had a single failure of the Lenovos, we decided to buy 2 more

spares from Amazon

. It's crazy to have 4 spares but with 6 in use and this monitor no longer in production, it seemed like the right thing to do.
Hydraulic Heat Exchanger Zincs




We used to go through hydraulic heat exchanger zincs every six weeks. I tried unbonding the heat exchanger but I still need to change zincs every 6 to 8 weeks. The weird things is zinc life has been improving. They started looking good after 2 months, so we want to 3. Then they started looking great at 3 months, so we went to 4. This is after 5 1/2 months and they could easily have gone 6 months. Nice to see.
Click the travel log icon on the left to see these locations on a map, with the complete log of our cruise.

On the map page, clicking on a camera or text icon will display a picture and/or log entry for that location, and clicking on the smaller icons along the route will display latitude, longitude and other navigation data for that location. And a live map of our current route and most recent log entries always is available at mvdirona.com/maps.