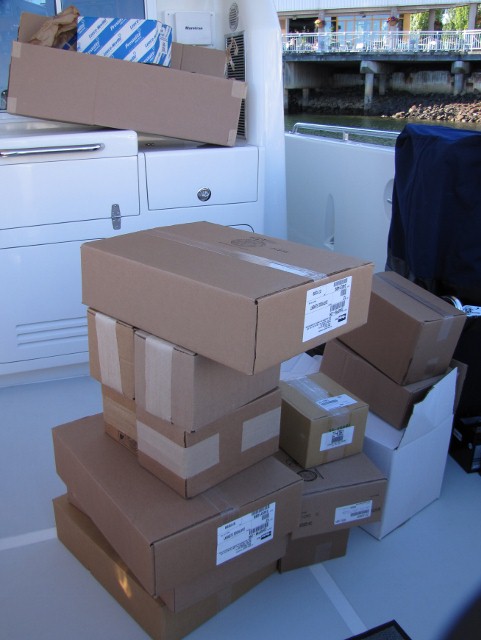 We've been ordering a seemingly endless number of supplies and spare parts for the boat, ranging from fuel filters to zincs to alternators to pumps, and even a spare inverter. Stowing it all has been a big job. The boat has a large amount of storage space in various lockers, bilges and other spaces, but most are irregularly-shaped. To maximize the storage space in an accessible way, and keep the spares safe from damage, we use Really Useful Boxes. The boxes are straight-sided, so don't waste space; are see-through, so we easily can see the contents; and are strong, so can handle heavier parts without shattering. And they come in about 50 sizes, ranging from 0.7L to 145L, so we usually can find a box, or combination of boxes, to make the most efficient use of any space.
In the flybridge brow, we use 5 64L boxes, and other sizes, to store lighter spares such as fuel and watermaker filters: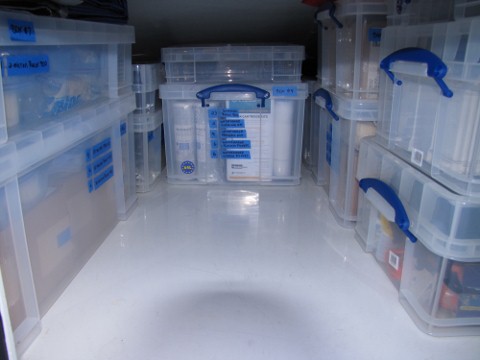 We've used a variety of sizes in the irregular area under the stairs down to the stateroom: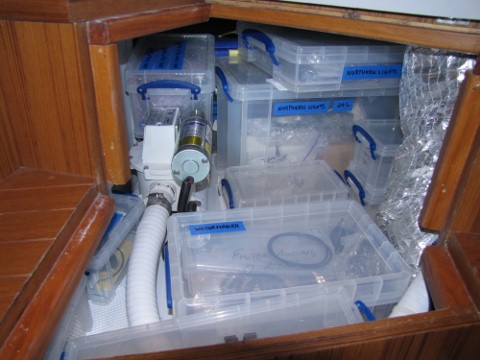 In the lazarette, we've got two stacks of 64L boxes, with a 33L on top. The two 64L boxes have a particularly handy feature in that the front folds down, so we can access the contents without destacking them. We've them held in place with bungee cord, but we easily can unhook the bungee to slide the whole stack out of the way:
The open-front 14L boxes are ideal for storing shoes:
In all, we've probably got 100 of the boxes in various sizes stashed around the boat, and we keep ordering more. We buy them from Office Depot, which carries a limited selection, and online at http://www.reallyusefulproducts.co.uk/usa/.