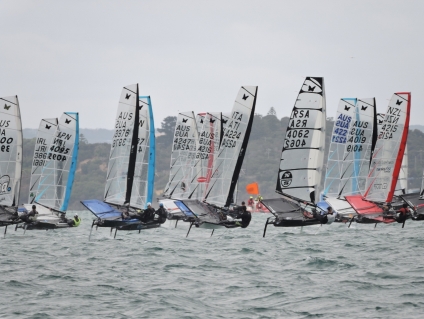 Last week we left Dirona in Hobart and flew to Melbourne to attend the final two days of the Moth World Championships. Moths are 11-foot, 61.7-pound, foil-equipped racing sailboats capable of upwards of 30 knots. They're as incredible to watch as they are difficult to sail. This year's Moth Worlds had a record 158 entrants, including 3 Moth world champions, 8 Olympic medalists, and 15 America's Cup sailors.
The event was hosted by the Sorrento Sailing Couta Boat Club, a ninety-minute drive south of Melbourne. We took a 6am flight from Hobart and arrived at Sorrento via rental car by 9:30 that morning.
We were lucky in that many races earlier in the week had been canceled because of too much, or not enough, wind. So for the two days we would be there, the racing would start earlier than scheduled to allow additional races. When we arrived, moths were spread out along the beach on both directions in various stages of preparation for the day's event.
The entire group from the Team USA Foiling Camp were competing at this event. On the left is Joel Castle, who'd we'd first met at Gosford when he was sailing his Moth. On the right Tom Slingsby, helmsman, strategist and sailing team manager for America's Cup Team USA, is rigging his sail with help from David Slingsby.
Some photos of the action are below. Joel Castle is in the foreground of the first picture and finished 39th overall. In the second, Tom Slingsby is rounding a mark. Tom finished 30th overall and would have been close to the front if not for numerous equipment failures and an early start that was unsuccessfully protested.
Peter Burling, of America's Cup Team New Zealand, was the overall winner. Defending Moth world champion Nathan Outteridge of Australia placed second. Burling won an impressive nine of the fourteen races held in the regatta. He's pictured below with the New Zealand flag after his victory, and in a press interview.
2012 Moth world champion Josh McKnight placed third despite breaking his boom. Josh's upbeat view of his placement was one of our favourite quotes of the event: "I had hoped to challenge Nathan for second place, but there's nothing wrong with third. Look at it this way, I finished with guys who have America's Cup contracts either side of me, and I'm a uni student who loves sailing a Moth."
A number of Sorrento Sailing Couta Boat Club members provided spectator boat support for the event on their own vessels. We were on board Tony Wescott's beautiful Nepean 30 Craigie Lea. We loved Tony's boat, and he kept us close to the action.
Nothing makes a race more exciting and interesting than knowing all the details of what is happening. We were lucky to have a lot of knowledge on board with the parents of Joel Castle, Tom Slingsby, and Josh McKnight. From left to right in the group picture below are Mave Slingsby, Shirley Castle, Dennis Castle, Jennifer, and David Slingsby. We appreciate Mave arranging us a spot on the Craigie Lea to join them in watching the races.
Here is some video footage of a start, and of Australian Les Thorpe sweeping past the Craigie Lea.